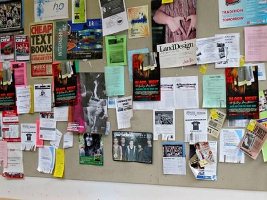 Fridays, Saturdays, and Sundays have historically been quiet times for the University of M.U.S.C.L.E. I thought it might be interesting to post some links to various auctions, older posts, message board threads, and anything else that might be interesting to M.U.S.C.L.E. collectors.
If the University of M.U.S.C.L.E. has been constructed in the style of a college or university, then these weekly posts should be thought of as the thing on campus covered with posters, stickers, and announcements.
– $810 for crap? Probably.
– Blackhawks Junior Reporter. If you don't die laughing, then you're already dead.
– Cool figure – does anyone know what it is worth?
– Great painted M.U.S.C.L.E. figures.
– Once upon a time, people wanted X-2.
– As a Star Wars fan and a movie fan, this is terrible news.
– Cupcake + M.U.S.C.L.E. = Awesome
– Anyone looking to do a custom HiWay Hauler?
– More hints about the custom M.U.S.C.L.E. 10-pack.
– Does everybody know about Wolf Voigt's website?
– MOTU (M.U.S.C.L.E.S. of the Universe)
– Did He-Man and M.U.S.C.L.E. cross paths before?
– Good deal on 28-pack…when I saw it.
– Introducing Please, Do Not Eat! from Halfbadtoyz.
– Are 48 figures really a HUGE lot?
– Dumb interview but a great picture.
– Nama-Niku's (King_the_100t/Tyler) figure for the "Mad Collaboration."
– Even AintItCoolNews.com knows about the "Mad Collaboration," kind of.
– The mention is even more buried on the AICN website.
– Jump the Shark…again…
– Coke, Libya, and a Smile
– This will be filed as one of the dumbest M.U.S.C.L.E. auction strategies ever.
– Would this work for selling custom M.U.S.C.L.E. figures?
– New stuff from Rampage Toys – VERY, VERY cool!
– Maybe I should end with this every week?