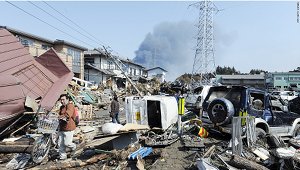 Originally today's post was going to be a celebration of some of the amazing custom M.U.S.C.L.E. figures that have been created lately. Instead, I am issuing a challenge to M.U.S.C.L.E. collectors.
Donate, at least, the same amount as your last M.U.S.C.L.E. purchase.
There are several reputable agencies currently excepting donations for the situation in Japan. Some potential options are:
– The Red Cross (or text REDCROSS to 90999 to make a $10 donation.)
– Save The Children
– The Salvation Army (or text the words "Japan" or "Quake" to 80888 to make a $10 donation.)
– Doctors Without Borders
There are likely even more, but these were some reputable groups that I felt comfortable recommending.
As a fellow human being there should be no question why you would want to help. However, if you need an extra push consider that M.U.S.C.L.E. would not exist without Japan. I think George Takei said it best:
Today We Are All Japanese.