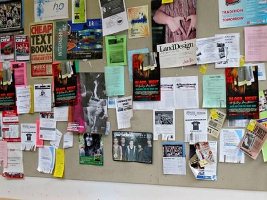 Fridays, Saturdays, and Sundays have historically been quiet times for the University of M.U.S.C.L.E. I thought it might be interesting to post some links to various auctions, older posts, message board threads, and anything else that might be interesting to M.U.S.C.L.E. collectors.
If the University of M.U.S.C.L.E. has been constructed in the style of a college or university, then these weekly posts should be thought of as the thing on campus covered with posters, stickers, and announcements.
– Aronofsky bails. I'm surprised it took this long.
– MUSCLEMANIA Red #6 on eBay. $25 is too high for a BIN. I'd say it was a $10 – tops!
– Some awesome painted M.U.S.C.L.E. figures.
– Which side is worse? The Players or the Owners?
– The only thing that has been more virally popular than Japan videos.
– What more stragnge this change or the FBI guys in E.T losing their shotguns? I think it's this one.
– This seems like a crazy good deal.
– I never thought I'd see Straight Edge toys.
– I assume most M.U.S.C.L.E. collectors have this book.
– Is your collection complete without a shitty 4-pack? It looks like for a few bidders the answer is, "Yes!"
– A l.designs figure for sale on eBay.
– Nestle Quik Figure.
– Two #153's are at $20 already?!?!
– Interesting Deka Kinkeshi lot.
– Have we ever seen unused ring figures?
– Nothing special, but a nice lot.
– Sealed 50/50 10-Pack.
– Another sealed 50/50 10-pack.
– Sealed 10-packs are SO rare, make sure to over pay!
–What a stupid price! Wait, is the Kinnikuman set worth $200?
– Wolf Voigt's Custom He-Man and Skeletor customs on eBay.
– Class A #165 Salmon.
– Drugs + Space Ships = It has to be awesome…right?
– Simon Pegg and Nick Frost's Star Wars (Yes, I know its basically a "viral ad" for Paul – but it doesn't make it any less funny.)
– Would any other country's politician care this much or his people care so much for him?
– Have you ever wanted a High School basketball team to win more than this one?