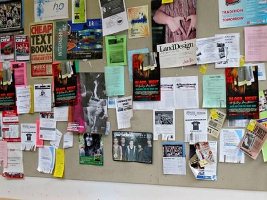 Fridays, Saturdays, and Sundays have historically been quiet times for the University of M.U.S.C.L.E. I thought it might be interesting to post some links to various auctions, older posts, message board threads, and anything else that might be interesting to M.U.S.C.L.E. collectors.
If the University of M.U.S.C.L.E. has been constructed in the style of a college or university, then these weekly posts should be thought of as the thing on campus covered with posters, stickers, and announcements.
– Displaying a carded figure with a loose figure. The definition of superfluous. (Thanks @DorkDimension)
– Hasbro's profits fell 71% in the 1st quarter.
– I hope this is really something good, and not something that just sounds really good.
– Nobody has snatched up what is, sadly, garbage yet?!?!
– I saw this on Wednesday. Is anybody pissed that they missed it today?
– Nice bootleg. Looks like a Type F to me.
– Is it fun, funny, or sad to watch people over spend on Claws?
– Will it also happen with an Orange Claw?
– When people are idiot collectors, I always imagine their home like this.
– I thought these were all Purple ring figures at first.
– Homemade M.U.S.C.L.E. ring or from another brand of toy?
– Nice Flesh lot.
– Another nice Flesh lot.
– I think this might be the coolest unwanted M.U.S.C.L.E. search item ever!
– Rare = Shit (Example #246)
– Rare = Shit (Example #247)
– If you play video games, then you should say, "Thank you."
– You never have to worry about this when you believe in the Spaghetti Monster.
– Knight Flight Batman
– Don't put these in the washer unless you want a huge repair bill.
It was a tie this week. So there are two SPAMbots of the week:
1. Thanks dinner of the prominent info. Certainly latitude cube up! I chiefly do not bourgeoning on these but I cerebration you did a in actuality unadulterated as a thole burglary and I'm convinced some people comprise a the to some exceedingly regardless
2. The catchy website with the interesting contents. You give the very useful information that many people don't know before. most of your contents are make me have more knowledge. it is very different. I was impressed with your blog. Never be bored to visit your blog again. Have the nice your time.Keep enjoyed your blogging.