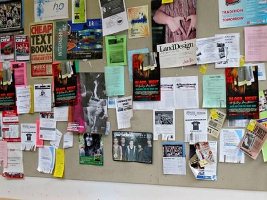 Fridays, Saturdays, and Sundays have historically been quiet times for the University of M.U.S.C.L.E. I thought it might be interesting to post some links to various auctions, older posts, message board threads, and anything else that might be interesting to M.U.S.C.L.E. collectors.
If the University of M.U.S.C.L.E. has been constructed in the style of a college or university, then these weekly posts should be thought of as the thing on campus covered with posters, stickers, and announcements.
– I think this is what some collectors imagine will happen with their Non-Poster figures. (In my mind I see a Kids in the Hall skit with a Cindy Sherman vs M.U.S.C.L.E. discussion taking place.)
– "Job Lot." Love it! It makes me think of Al Snow's, "Pin Me. Pay Me."
– Pretty cool t-shirts.
– Anyone know what that silver thing is?
– This auction is in the running for the Oddest Pictures Used award.
– I felt dumb for a minute because I didn't see the M.U.S.C.L.E. figure. I felt even dumber when I realized there wasn't one in there.
– You might not buy it, but that box is AWESOME!
– I hope most of those figures end up painted or cut up.
– I don't know that its worth $85, but a sealed 50/50 28-pack is pretty cool.
– This guy is making a killing on the #153 craze.
– Maybe it's just the picture, but that looks like the best Orange #163 I've ever seen!
– I don't know anything about these, but they're interesting!
– Just a great lot. I wonder what it will go for?
– I think this is the 2nd week with a "cute" auction.
– WOW! Check out the warp on #78.
– Are basic M.U.S.C.L.E. auctions becoming sane again?
– Nope. There are still plenty of idiots.
– They look a little dirty, but a pretty nice mixed lot – MUSCLEMANIA too!
– An old-fashioned lot of 28 figures.
I thought I would stick with only funny videos, but this was too awesome not to share.

Oh, SPAMbots. Everyweek one you you just cracks me up. However, this week one of you dared me to dream:
I am almost sure this subject matter was dealt with on Sixty Minutes