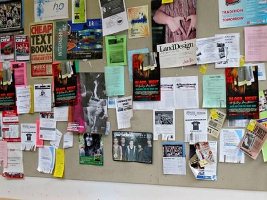 Fridays, Saturdays, and Sundays have historically been quiet times for the University of M.U.S.C.L.E. I thought it might be interesting to post some links to various auctions, older posts, message board threads, and anything else that might be interesting to M.U.S.C.L.E. collectors.
If the University of M.U.S.C.L.E. has been constructed in the style of a college or university, then these weekly posts should be thought of as the thing on campus covered with posters, stickers, and announcements.
– An absolutely deplorable situation – probably one of the worst black eyes for M.U.S.C.L.E. collectors ever.
– Something totally awesome from our friends at Halfbad Toyz and l.designs.
– "Colours" always gets my hopes up.
– This must be good because it says, "SUPER ULTRA RARE" and "HTF."
– I had never really seen these Kinnikuman cards. At this price, it might be worth it?
– 101 Color figures. I wish it came with this book.
– As of posting this ($15.50) I already feel that someone is paying about 175.76% more than they are worth.
– A better auction for Weird Ball Wrestlers than M.U.S.C.L.E. collectors.
– I always think lots like this will have the next undiscovered figure.
– Instead of complaining about the BIN – what do you think a true, fair offer would be?
– 99 figures, but philharmonic pitch ain't one. (Yeah, I know the auction will have ended. But I made myself laugh so it stays.)
– 60 looks to be the magic number this week.
– Nice opening price for 63 figures.
– Nice lot of 60+ figures.
– "GREAT detail and cuality ! if u dont have a flesh satan cross hear is ur chance at custom while u whait 4 the flesh one ." (Who says the written word is dead?)
– Good per-figure-price and free shipping.
– Are bad auction pictures taking the place of planking?
– Nice enough auction (108 figures), but I've never read greater bullshit then the auction description here.
– Very cool custom figure from Muscle Things and Halfaway.
– Nice lot of 86 Flesh figures, but I hope it doesn't go too much past the opening bid price.
– Pointing out a Satan Cross feels like pointing out a #208 to me.
– Why is this lot already so high?
– Ok lot, ok opening price, but crazy shipping cost.
– It's hard to beat a mixed lot of figures at this price (currently).
– This reminds me of this.
– I have to buy this – it's my favorite ESB drawing ever.
– I have a feeling that only hot girls in "nerd" costumes will be wearing these.
– Interesting – I wish this link had actually been a gif.
– I think this picture can be seen as beautiful in nearly infinite ways.
– If you haven't saved your money, then don't look at these amazing pictures of Eric Nilla's Deka Claw.
– Awesome news from our friend Tyler at Namu-Niku.com!
– Somehow these flew right under my radar.
– Somebody does the right thing – and this is what they (might) get.
Sometimes it's just too easy to pick the video for the week:

SPAMBots. We need to have a talk. You sucked this week. None of you made me laugh. Consider this your first and last warning. You're sitting out this week. If you fail again, you're of the Epilogue team. Think about it SPAMBots. Think about it.
Since the SPAMBots dropped the ball, let's try something new. Here's the most fun and most memorable picture of the week: