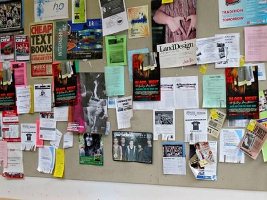 Fridays, Saturdays, and Sundays have historically been quiet times for the University of M.U.S.C.L.E. I thought it might be interesting to post some links to various auctions, older posts, message board threads, and anything else that might be interesting to M.U.S.C.L.E. collectors.
If the University of M.U.S.C.L.E. has been constructed in the style of a college or university, then these weekly posts should be thought of as the thing on campus covered with posters, stickers, and announcements.
– Purple Claw + SolarColorDust.com + One Shot Toys = AWESOME!!!
– These M.U.S.C.L.E. figures are here just to avoid word spamming.
– Class A Magenta #125.
– The box art seems better than the figures.
– $10 as an opening bid would have sold this lot.
– Have you ever seen a #153 with more flashing? Wow!
– Is this seller racist? Based on the city, I\'m guessing yes.
– This seller has the worst lots. No joke, he just does.
– The starting bid is $50. The starting bid should be $10. It wouldn't get higher than $30.
– Top 10 Worst Auction – for sure.
– 206 Figures. I like the damaged ones the best.
– Great counterfeit lot. Maybe even awesome.
– Why is this lot already so high?
– Sadly, I spent $30 on one of these figures last week thinking I needed him.
– This seller's price suck – but the M.U.S.C.L.E. ones are terrible.
– You can't beat a $5 starting bid.
– Rare. Really?
– 91 Figures. Under the radar.
– Mrs. Veers would look hot. And the kids would love it too.
– If I wasn't afraid the boys would cry, then I'd buy this.
– I think M.U.S.C.L.E. collectors should like talking about this stuff.
– For the little guy.
I asked Mrs. Veers if she saw something that made her laugh this week. I think this is why we are married:

SPAMBots. I think your day has passed.
Maybe it's not the best thing I've ever seen, but his really made me smile: