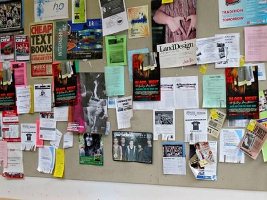 For anyone that was interested in the School Store Logo Contest the only thing that matters in this week's Epilogue is the announcement of a winner.
For most of the contest it looked as if one person was going to easily runaway as the winner. But on the final day of the contest some incredible designs came in – forcing a very tough decision.
A huge thank you to each person that submitted a design! The vast majority of the designs will be used as rotating logos for the school store. So, without an ounce of sarcasm, I can say almost all of the designs were good enough to win and in some small way the use of them proves that. However, there can only be one winner of the prizes.
The winner of the School Store Logo Design contest is:

It was incredibly difficult to decide, but here was the deciding factor. This logo was almost the winner, however the "R" was a little difficult to read – but I loved the playfulness, balance, and "Shop Now" button. The other thing that helped push the winning design over the top was the inclusion of some banners that could be used once viewing the School Store.
Starting today you will be able to see many of the contest entries as rotating School Store logos (just hit your refresh button). Thanks again to everyone for entering the contest!
– I think the picture makes me like this lot.
– Cool lot of Z.O.M.B.I.E. figures.
– What is worse? The write-up or the price?
– Over 100 M.U.S.C.L.E. figures – best if you live in the UK.
– 40 Figures and a $0.99 starting bid.
– 75 Figures and a $0.99 starting bid. (FYI, that's better than the last one.)
– Class B #210 Salmon.
– Very cool custom Bad Eggz Bunch auction.
– $14 plus $10.30 shipping?
– Not a M.U.S.C.L.E. figure, but an interesting keshi.
– I'm always fascinated by what a seller's thought process is when putting a reserve price on a lot of figures like this one.
– What the fuck are these?!?!
– Wow, this guy is dreaming.
– 159 figures, too bad the Flesh look ruined.
– Even with a big 17 on the bottom, will it sell?
– Finally! A shitty 4-pack listed at the right price.
– I count 4 M.U.S.C.L.E. figures and a lot of Tim Mee Galaxy Laser Team.
– I'd buy all of it, except two things. Can you guess which two?
– Does this really need to be sold in XL?
– Looks like well be getting some special Nama-Keshi from Tyler, Eric, and Man-E-Toys.com
Here's my video of the week. It's not actually the best highlight ever, but stealing home to win the game is pretty awesome. Frankly, I'm jealous. Not only did this kid score the winning, walk-off run by stealing home but you know he was riding a crazy adrenaline high for like 3 or 4 days.
I also think it's a good clip for M.U.S.C.L.E. collectors. You can have a great plan, but sometimes you need a little luck too.

Remember the scene in The Wedding Singer where Adam Sandler screams, "Well I have the microphone, so you will listen to every damn word I have to say!" Well, this is my parallel to that moment. This picture got stuck in my head. I'm sorry. It's the picture of the week. I can't help it.

Picard, did they click?