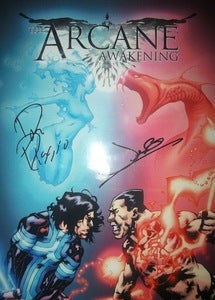 There's only one more signed copy of The Arcane Awakening. These special signed books have almost sold out much quicker than I expected. So for this last book, I'll make a guarantee.
If you don't like it, I'll refund your money. I will personally pay for you to read this book.
However, I feel very confident that you'll enjoy it. And maybe even regret not ordering it sooner. Thanks again to everyone that ordered a copy. If you missed out on the signed copies, then you can still go to MessBucketComics.com and purchase a copy.
– If you aren't reading this, then start.
– Don't miss out on this awesome 22% off sale.
– 525 M.U.S.C.L.E. figures. Huge, huge lot!
– 138 Flesh figures, but I can't see any additional bids.
– It's turning into fall, why aren't these long sleeves?
– $49.99 opening bid AND someone bid. I can't decide which truly shocks me more.
– Set of board game figures.
– Decent lot of 58 figures.
– Red. Salmon. Who cares? This is a nice big lot of 254 figures.
– Flesh or Salmon this is a fucking terrible price.
– Based on the auction title and this guy's feedback – it's a keshi Dr. Bombay.
– Class A Purple #60.
– This opening bid feels more like a final price for this lot.
– Wow. Someone spent a lot of money and then decided they don't like Kinnikuman.
– A brutally haggard lot.
– 42 Flesh figures started at $0.99, check it out.
– This thing has been listed almost as many times as the AFA ring. What dummy finally bought it?
– Probably the guy that will end up buying this.
I realized I didn't get a chance to post an Epilogue last week.
When the whole YouTube-Innocence of Muslims stuff was unfolding I thought, "That should be my Video of the Week!" But the week got anyway from me and nothing was posted.
Then this week a French magazine published some comics depicting Mohammad and, again, I thought, "That should be my Picture of the Week."
And then I felt just picking this as my Video of the Week was probably the best. I don't want to get shot in the chest. (Just click on it, it's a YouTube video.)

If that's too upsetting, then this should help you calm down. Thank you Allison Brie, thank you for being a hardened professional. You, above all, know how much cleavage we need.