I have no data to support that idea. I've probably said it the past six or seven weeks. I'm just going to stop thinking it. That will cut out a lot of stress and disappointment from my week.
– 200 figures.
– Top row, in the middle. What is that?
– In case you miss out on this Flesh #208…
– There's a Flesh #208 in this lot too.
– Wow, this is a gem of a lot.
– Does a Canadian auction get you excited? This won't.
– Said in a comic book slime ball voice, "This will be a great lot to break-up and sell."
– What a colossal waste of time. (Says the guy commenting on the auction.)
– All junk, except the Harry and the Hendersons candy head thing.
– If you don't know why I love this lot, then you don't know me.
– 90% of the value is in the Purple #180 figure.
– This choice guarantees business success or failure – but nothing in-between.
– Just a super fun mixed lot of treasures.
– The opening bid should be the final bid, but I have to admit it's a good lot.
– Where were you at Halloween?
– You. I'll be wearing on Saturday.
I think last year I did some kid-tested endorsements of toys for the holidays. I should probably do that again, because we have just about all of them. But right off the top of my head, I do have two suggestions:
1. Imaginext Pizza Planet: You probably need a fair amount of Imaginext toys to make this set super fun. That's the case with us. But at $18.99 this is a great big toy that is sure to get a big reaction.
2. Jake and The Never Land Pirates: If you have toddlers, then I'm sure you've watched this. This package of 3-pack allows you to "play Jake" without spending more than $11. Unless of course, your kid is a stickler for Captain Hook.
This will probably be the first and last time that the Picture of the Week will come from Vanity Fair, but I loved Freaks and Geeks. I loved it so much that I thought Undeclared was a good show (watch it again, it won't stand up). Anyways, this is one of the coolest pictures ever.
I actually forgot "Biff" was in the show. He and I mad fun of a lady when we were in the elevator together at the House of Blues in Chicago. Where am I going with this?
Here's you Picture of the Week: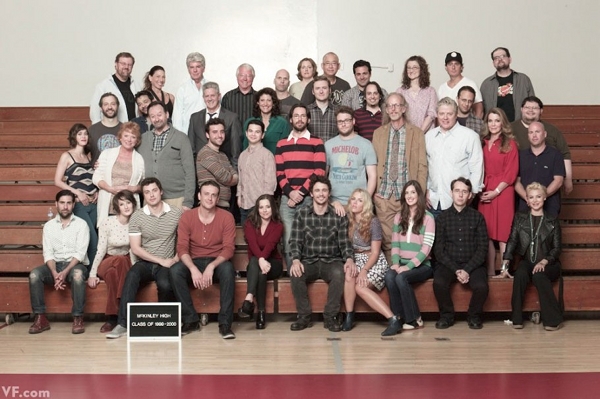 I won't lie. I didn't have a Video of the Week going into Thursday night. For a minute I thought it should be the new Star Trek trailer, but I know you've seen that. So I went with this:

I shit you not, it had
SEVEN
views when I found it. I don't know if it make me miss college, want to find God, or go eat Chinese?
All of those things seem like fair options. Knowing myself, food will win out.
Every week I keep thinking, "This will be the week. Things are going to get a little bit easier this week."