This week the topic of discussion is a Non-Poster M.U.S.C.L.E. figure. He is known to M.U.S.C.L.E. collectors as Black Hole Sunshine or BHS.
I am a fan of the Sunshine brand of figures and have approximately 80 different Sunshine figures in my collection. The reason I have highlighted the BHS in this week's MMMM is because of the interest that surrounds this figure – plus Sunshine figures are some of the most popular M.U.S.C.L.E. figures.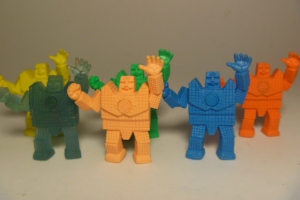 The BHS figure, to be perfectly honest, is just too expensive of a figure for my liking – especially when I can have all six versions of his kinkeshi for a fraction of the cost. In this case I spent $120 on the six figures. I have this opinion of all Non-Poster M.U.S.C.L.E. figures. Having said that, if I had my choice of trading (not buying) for any Non-Poster figure, the BHS would be the one I'd take.
So why BHS? To me, he's got this appeal in that he's the only sunshine figure that has a moveable part. This leads to that movable part being lost in a lot of cases and, therefore, having the figure complete is more of a challenge. As with all action figures with weapons/small parts, the figure is only complete if everything is there.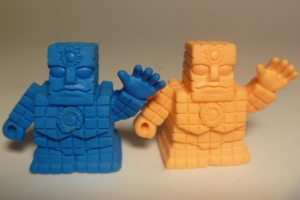 I'm going on a bit of a rant this week as I'm of the ilk that owning a Non-Poster M.U.S.C.L.E. isn't what it's cracked up to be. And this is why: besides yourself, and the M.U.S.C.L.E. community who sees your collection if you share pics, who knows the Non-Poster figure is special? It looks like all of the other figures to the untrained eye. I'd like to hear some comments from any Non-Poster owners – why do you own it?
Does it sit on a throne on your shelf?
Does it sit in a box?
Until then, see you all next week.