I read this post early in the week and felt such an odd mix of sadness and happiness. I felt sad that this little boy couldn't have the backpack he wanted. I felt shitty about the world. It broke my heart. The post was written so beautifully that I really felt both the boy's and father's angst. Luckily, for my own psyche and this kid, it sounds like the boy has a great family. I have hope that a happy well-adjusted kid will become a happy productive adult.
Ok. On to some M.U.S.C.L.E. stuff.
There is a seller, nomimax_japan, selling a mountain of single figure keshi figures on eBay. I couldn't, or more accurately won't, comment on many of his auctions – mainly because it feels like a total mixed bag to me. For some of the figures it seems like a terrible rip-off and some feel like the steal of the century. I saw this one and thought, "I can't believe this hasn't sold already?!" (Maybe I'm a sucker for these types of figures?)
But seeing nomimax_japan's auctions really crystalized my own perspective on single figure auctions, which is: 90% of them are pretty terrible – because of the price, the figure, the condition, or some combination of those things. However, regardless of the figure, if you have a fair, reasonable price then the auction isn't so bad.
I think the vast majority of people selling single M.U.S.C.L.E. figures on eBay fail to recognize that idea. They also fail to recognize the market. I believe most M.U.S.C.L.E. buyers are transient in nature. They get excited about M.U.S.C.L.E., want to add some (not all) to their shelf, and then move on to something else. Those people want lots. They want to open the box and re-discover M.U.S.C.L.E. figures, maybe even see a figure for the first time.
For the collectors that stay with M.U.S.C.L.E. – they want to buy lots too. It's more fun, potentially allows for the replacement of figures in poorer condition, and leaves collectors with a fun surplus. I specifically say fun, because I suspect that the fun surplus gets painted, given away, traded, or something that makes the collector feel happy.
I recognize there are some people that believe the single figure auction has its place. And it does. But a, very often, 200% (or more) mark-up does not make very much sense. Even for the laziest of buyer.
Who is the Asshole of the Week? I guess it could be me. But if being too thin-skinned in bad, then should this be upsetting or just funny?
– Is it the flash or are those super, clean green?
– ♩♩ Don't stop believin'… ♩♩
– ♩♩ Hold on to the feelin' ♩♩
– The technical term for this is "BIG ass lot."
– Dear Kinnikuman experts – please explain. Thank you.
– Looking for the cheapest way to buy 418 keshi figures, this might be it.
– Hasbro M.U.S.C.L.E. figures. Ok, that is rare.
– I was searching for something "RARE!" Now I found it!
– I like the bootleg and the "purple mouse," but not the price.
– Is Salmon one of the #153 people care about?
– Nice lot. 28-pack and 48 figures.
– Really Sherrie?
– Pretty nice lot of over 150 figures.
– What do you think about $0.78 per figure for this lot?
– Does he think the painting or the figures are worth that price?
– Yikes. Is this the first $0.99 I don't like?
– I think 30 figures is the magic lot size for selling figures.
– Three custom resin #153 figures. (But that's not how you crack a resin #153. Remind me to show my cracked resin #153!)
– If it wasn't for keyword spamming I wouldn't have found this – but what did I find?
– Someone please correct me. Are those four bootlegs being sold for $59.99?
– I wanted some grilled cheese and Nesquick as I read this.
Don't get me wrong. This isn't a cry for pity. I really like doing UofM. I'd keep doing it because I love it. Even if the website traffic was a small fraction of what it is now I would continue. But I also like being able to ramble a little bit in the Epilogue. So listen up.
WWE M.U.S.C.L.E. Figures continues to get more and more "Likes" on Facebook. I'm happy to see that. I think there is tremendous opportunity for Mattel with the M.U.S.C.L.E. brand. If it is handled correctly I believe M.U.S.C.L.E is a can't miss property – but enough about that.
I created the WWE M.U.S.C.L.E. Figures page. It took zero effort. I've posted a couple of relevant things. But it's been almost entirely hands-off. For me, the WWE M.U.S.C.L.E. Figures page is summed up by the gif below. Zero effort. Total reward.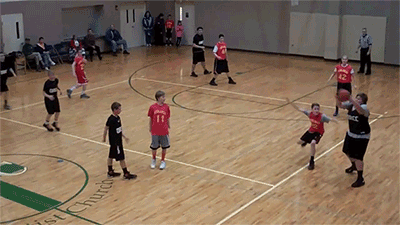 UofMUSCLE.com has been a ton of effort. I've enjoyed 95% of it too. Sure it was a little work, but it was a fun hobby for me. But 5% has been incredibly stressful and frustrating. When I see the "Likes" effortlessly pile up for WWE M.U.S.C.L.E. Figures but barely trickle in for UofM it's a little frustrating. I think my feeling is best summarized by the gif below.