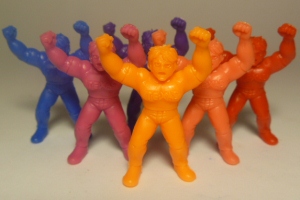 This week people I want to talk a little bit about M.U.S.C.L.E. figure #208, also known as Dickieman or Texas!
This is one sweet figure and in my opinion, quite underrated. Maybe it's because there is no Class A figure that he is overlooked, maybe it's because he has no real backstory in the Kinnikuman manga – apart from him being a student of Terryman and looking similar to him.
I like the fact that he has no real connection to other figures in the M.U.S.C.L.E. line and that he stands tall and proud over other figures. He certainly is not undersized!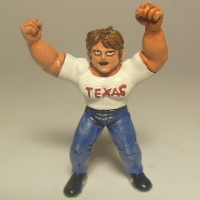 I got a Flesh Dickieman then I went Dark Blue and then Purple. I couldn't handle the pain anymore and found Salmon, Red, and lastly Orange. I'm not sure what was wrong with me but I had an Orange one when I was a child.
Lastly, I will mention the custom job I got from my surgeon Plastic Playhouse – hands down the best customs in the hobby!