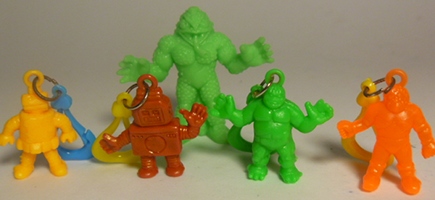 This week's MMMM is all about bootleg key tags (or key chains, whatever you call them).
I've had these little (and I do mean little – look at the size comparison) figures for a while now. They tend to get lost in my collection among all the larger figures I have. But they are no longer lost as they get to be in the spotlight this week!
I have chosen to talk about these little guys for one major reason – rather, one major question, "How many of the things exist?"
I won this little lot on eBay for $10. They are made in Hong Kong. That's all I know. Perhaps they were a vending machine price?
All of this begs the question, did I overpay? Possibly. But I haven't seen any since – except a #23, which briefly appeared on the web and disappeared quicker than I can wave bye-bye (insert Costanza waving)
A pity too, I love little #23.
The figures I have are replicas of M.U.S.C.L.E. figures #41, #75, #80, and #89. Here is where I have a little chuckle to myself – why those 4 figures? None of them are overly popular. In fact, I'd go on record to say they're unpopular, particularly #41 and #75. This leads me to believe there are many more of these little guys. Maybe a full set of M.U.S.C.L.E. key chains? That would be something.