M.U.S.C.L.E. figure #23 (Iwao or Rock)
by Professor Terry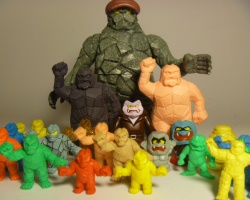 For such a little figure this particular figure brought me so much joy when I was a child. He is one of my two all-time favorite M.U.S.C.L.E. figures. I had an orange one and he was one of the first M.U.S.C.L.E. figures I came across. He fit in my shirt pocket on my school shirt or shorts and went everywhere with me. It was right around the time Rocky 4 was a big hit in Australian cinemas and I had my own little Rocky Balboa-like figure!
Fast forward to my adult obsession with M.U.S.C.L.E. figures. Getting this little guy in all of the manufactured colors was goal number one. Finding out he had a Class A version was a letdown, but also increased my desire to own all of them. Imagine my surprise and joy when I found him in a Canadian lot, with approximately 20 other Class A figures, on eBay with a Buy-It-Now of $180. This auction was listed at 6:30 AM my time and I hit the BIN button quicker than the center snaps a football in the NFL.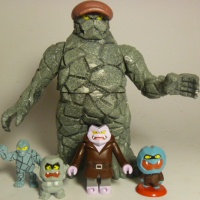 Having #23 in all of his M.U.S.C.L.E. colors I turned my attention to the Kinkeshi versions. I found a great Glitter Kinkeshi as well as a few other new colors. I then found Iwao in Romando, Deka Kinkeshi, and Banpresto. I even added a One Shot Toys custom Deka. All was right in the world – I had a great collection.
Then my love of pinball machines entered into the fray. I had been desperately seeking a Creature From The Black Lagoon pinball machine to round out my collection and needed some cash to get it done. A collector wanted 42 of my Class A M.U.S.C.L.E. figures – which gave me the funds I needed for my pinball. The catch was I had to include my light blue #23. After a bit of thinking I pulled the trigger on the deal. I love the pinball machine, I really do.
But I miss my little mate – my collection of Iwao figures just isn't the same without the Light Blue #23 M.U.S.C.L.E. figure.