Kinnikuman Key Rings
by Professor Terry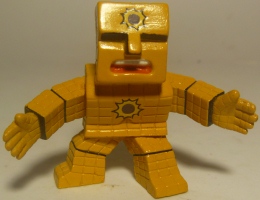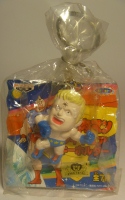 This week features possibly the cheapest multi-figure buy I have ever had. I came across these key rings on a Japanese auction for a total of $1. That's correct, $1 for nine key rings! I really like them. They are about 2- to 2 1/2-inches tall, so just a tad taller than the majority of M.U.S.C.L.E. figures, but much chunkier.
The picture of the Terryman shows how they are packaged. I decided not to open the Terryman because he didn't look like an easy figure to stand up. Plus, I always like to keep one figure in its original packaging to remind me of how they are packaged.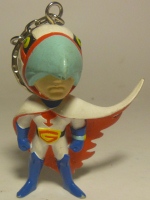 I don't know how many are in the set. I have 11 and I'm certain I have seen a few more in various auctions. I don't plan to chase them all down. However, if I see another bunch together in a lot I will be very tempted to purchase them.
The other wonderful feature of these key rings is that the chain part of the figure is easily removable. So if you didn't want to display, or use them as key rings, then you could just display them as regular figures because they are able to stand on their own.
I have discovered that the company that produced the Kinnikuman key rings also produced the Battle of The Planets key ring (or Gatchaman in Japan) that I own. Both brands are made of identical material but the Gatchaman is slightly larger in size. I like the Gatchaman so much that I purchased a lot of eight Gatchaman key rings – which I believe is the complete set.
It makes me wonder what other key rings were created.