I must still be a little rusty because this second Epilogue came up incredibly fast.
I am a big fan when Ironhaus and Imperfecz work together (Example #1, Example #2, and Example #3). They recently teased what was coming next from their collaboration. If I'm being 100% honest the teaser images excited me less than the idea of them working together. Essentially past experiences were building excitement for future experiences. But then LRG members got a special sneak peek.
I hope they don't mind me sharing it here too. Because this picture has me incredibly excited!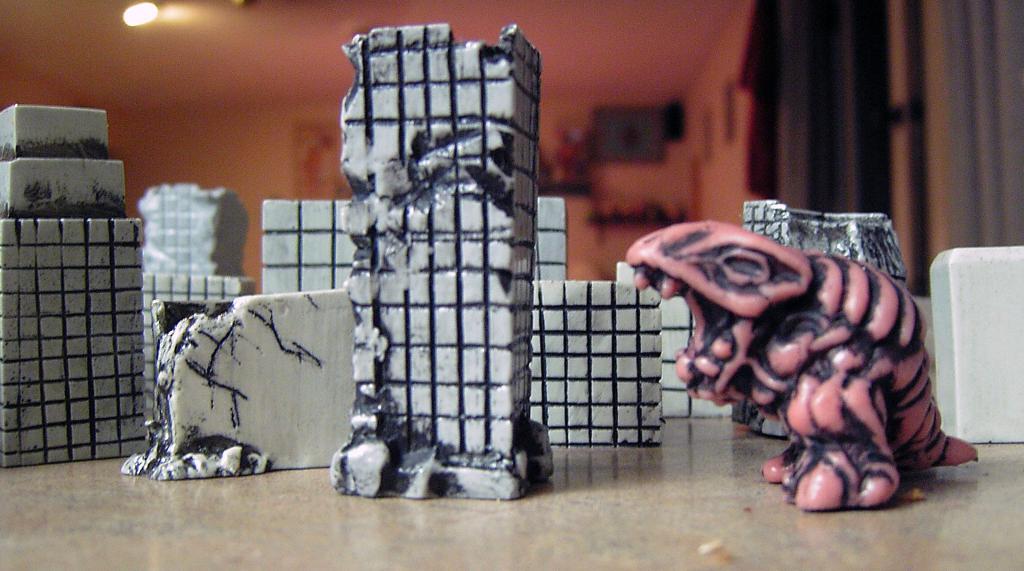 For minifigure collectors this concept is brilliant. Having a tiny city for your tiny monsters – brilliant! I'm not only excited by this one picture, but by the potential this idea has to expand. Not only could we get more amazing monsters, but we could get an every expanding destroyed metropolis. Playgrounds. Suburbs. Power plants. All waiting to be destroyed.
I have one request. Please don't limit the quantities. Go ahead and make some special editions, but please have the "base" buildings and monsters readily available. This is going to be a series that lends itself to a bit of "army building" and I'm ready to build.
– What is more upsetting? Calling it a MIXLOT or the $7 BIN?
– I've never seen this, but I like it. I have NO idea if the BIN is fair.
– It always surprises me to see a custom come up for sale like this. I don't know why.
– I guess he's having a TGB blowout.
– These days – 28 figures starting at $9.99 is one of the best auctions on eBay. Oh, and the SC.
– 54% off. Fuck you.
– I genuinely like MUSCLEMANIA. Seeing this makes me want to get organized.
– 78 Flesh figures starting at $30.
– I don't like the shipping cost or opening bid, but it is a nice lot.
– $28.99 – try and guess.
– 128 M.U.S.C.L.E. figures.
– 42 M.U.S.C.L.E. figures.
– 39 M.U.S.C.L.E. figures. But probably less than 24 hours left.
– Even if you're trying to snipe this; is $90 even a good deal?
– Lot of 242 M.U.S.C.L.E. figures. Classic example of needing to have a $0.99 starting bid.
– Are you shitting me? Didn't we all agree $5 was the top price?
– $60?!?!
– This lot was MUCH bigger than I thought.
– If you spend all that time playing for the last time, then snap some decent pictures.
– Every damn time. I see it and think, "Salmon #107?"
– I will not be bringing back AOTW. This person will hold the title of Asshole of the Month.
I can admit that I might be a bit histrionic when it comes to M.U.S.C.L.E. figures and eBay. But I do wonder what will happen to the M.U.S.C.L.E. hobby if non-collectors price out new collectors?
In the past eBay was often the gateway to the hobby. Now Facebook, Instagram, etc. often serve as the portal. But that doesn't seem like the easiest way to start collecting. I don't really have an answer.
What do you guys think? Is eBay for only selling big-ticket items? Are the days of easily picking up a few, cheap M.U.S.C.L.E. figures over?