Professor Terry's Childhood M.U.S.C.L.E. Figures
by Professor Terry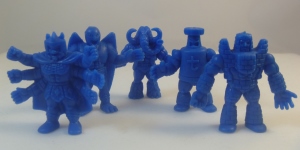 MMMM #54 focuses on the actual colored figures from my childhood. Through various moves in my life (I've moved house 31 times in my 38 years of existence) some M.U.S.C.L.E. figures were certainly culled. These are the ones that survived; due to them being my favorite figures of the time.
I do have a chunk of flesh ones but the focus today is on the remaining colored figures.
I have extremely clear memories about the M.U.S.C.L.E. figures from my childhood. I'd like to share some observations about what I believed in childhood versus what I know today – and why certain figures are still with me.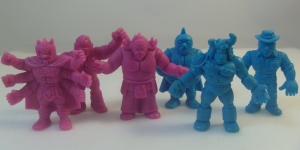 Keep in mind I'm in Australia. What we had shipped out here may have been vastly different to North America or other parts of the world.
I thought Red was the toughest M.U.S.C.L.E. color to find. I had only 11 in my collection compared to many more in all the other colors. Today, we all know that's not the case; no color is tougher.
28-packs were only released in Flesh color in Australia. This is why none of these figures are from a 28-pack. And why my favorite sculpts today are from the 4- and 10-packs.
The #109 and #134 figures were the only ones I had in two different colors. I did have friends that had some of the same figures as me, but in another colors. I thought the figures were only released in two different colors. I never saw three different colors of the same figure.
When I found the #56 Magenta figure, as a kid, I thought I'd struck gold! I had never seen this figure before in any form; nobody else had one. Once I had mine, I scoured every single outlet looking for another but never found one. He is still one of my five favorites today because of this story. (See MMMM #33 for more info.)
I have noticed a large selection of Class B figures in the ones I have. Maybe a good chunk of Class B's, and not Class C, were sent to Australia? This is, possibly, why I have never seen some figures, such as, the #56 figure? Putting it out there…
I now know that there were figures from 4- and 10-packs that never crossed my path. I thought I had every M.U.S.C.L.E. figure. It turns out I was roughly a dozen short (not including Satan Cross – he never appeared in my market).
I didn't keep any purple figures. I wasn't a big fan of the color or any of the sculpts I had in that color.
I really liked the #73 figure. I could spin him on his head in the same vain as #195. Try it if you own a #73 figure. It's a lot of fun!
I have owned all these figures, in all the available colors, except for the #68 and #153 figures. Some have been sold, but it might be time to get them back. It shows how much these sculpts mean to me. They sit proudly on display 24 hours a day.
I actually like these colors, of these sculpts, better than the Class A versions. To me these are the colors they are meant to be in.
See you next week!