Hard Knockin' Rockin' Ring Wrestling Arena
by Professor Terry
MMMM #71 is about a piece of M.U.S.C.L.E. history that is very close to my heart – the M.U.S.C.L.E. Hard Knockin' Rockin' Ring.
One of the very first items I wanted to purchase when I started to collect M.U.S.C.L.E. figures as an adult was the Hard Knockin' Rockin' Ring or Wrestling Ring as it is probably better known. It relates to the childhood experience I had with "The Ring".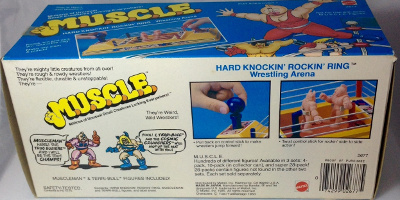 As most would know, the M.U.S.C.L.E. ring was heavily advertised as the accessory to have. It made perfect sense to have a ring for the figures to wrestle in; seeing the figures are wrestling related figures. I was desperately seeking one for Christmas in the summer of 1987 – it was the only way I was going to get one as I just couldn't afford one of my own (I'm certain the price was much more in Australia than the $9.99 price tag that is on my current box).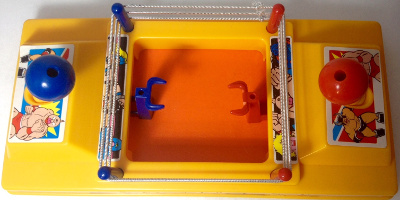 So I bugged my mother for months, showed her what it looked like every single chance I had, to make sure that she bought the right thing when Christmas came around.
Fast forward to Christmas, I received the M.U.S.C.L.E. Hard Knockin' Rockin' Ring! I was the happiest kid in the world…for a little over a day.
On Boxing Day (the day after Christmas for those that don't celebrate it) one of the tabs that holds the figures in place broke when I tried to fit a figure that was obviously too big into the slot. I super-glued it back in place but, of course, it didn't hold very well and broke over and over again. I was so devastated I'm pretty sure I cried. The ring was eventually thrown out.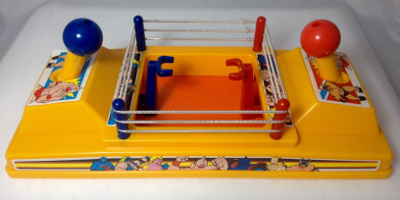 Here I am now with a Hard Knockin' Rockin' Ring in my collection that will never have figures put in it. As an adult it is pretty obvious most M.U.S.C.L.E. figures do not fit in the slots. I'm too scared to even try, the red prong has a slight stress mark. But that's the only real fault with the one I now own. The box is in quite good shape, the ring itself doesn't have the wear most seem to have from the swiveling left and right of the joysticks, the ropes are still there in great shape and the 2 ring figures are mint. I'm really happy with it. It will only sit on display but is that a waste?
On that note, the poll question I will ask this week is this:
If you owned/own a M.U.S.C.L.E. Hard Knockin' Rockin' Ring, then would you place figures in the slots and have a "wrestling match?"