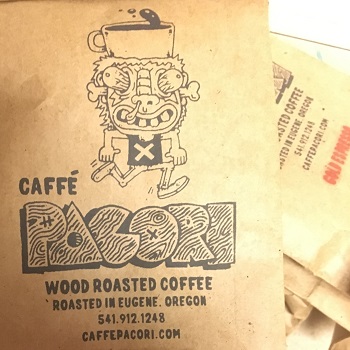 On Wednesday I received some coffee from @caffeinesanta. I should start by saying I'm not a coffee snob. Black and warm are the most important coffee traits for me. But I can certainly appreciate the taste and smell of a great cup of coffee. When I received the package from Caffé Pacori I was instantly ready to brew. It smelled awesome.
I know that's not descriptive enough. I lack the coffee expertise to paint you a picture of the smell. But good is good, and that coffee smelled great. The only downside was that some of the ground coffee had leaked out. Opening the package left a bit of a mess – a small price to pay.
There were some buttons in the package too. My boys quickly claimed them as their own and begged for them to be added to their backpacks. I'm willing to bet they are the only kids with coffee buttons from Eugene, Oregon.
I haven't been able to sample them all, but it made my Thursday morning a little bit more fun. If you're a coffee drinker, then check out another M.U.S.C.L.E.-head's coffee business. I would recommend this one. Plus, it mixes a M.U.S.C.L.E. connection into your morning. That was enough to make me smile.
Until the fucking traffic. Fucking shitty drivers. We're the goddamn Motor City – let's drive people.
– I read this is my smarmiest used car salesman voice, "Not going into detail of each figure… It's the whole set or nothing. Serious collectors know what you are looking at."
– I love these figures, but not the price tag.
– A broken ring and too many doubles for that price.
– $9.99 – guess the lot.
– Someone bid $25 for this lot?!?! I'm speechless.
– One person is watching this auction.
– Ten bucks says the watcher is this guy.
– I was going to praise this 30 Flesh figure lot, but the shipping seems way too high.
– "Salmon." You can trust this guy.
– "One Time Shipping." Isn't it always one-time shipping?
– At first glance, I thought a V had been cut into the box.
– I don't know if I like the auction picture or the auction itself.
– I made a quiet sound when I saw this auction. A quiet scoff.
My boys love playing games. They're starting to get to an age where the competitiveness is really kicking in. It's great when we can find a fun game that just about anybody can play. Klask is the game that has been getting lots of tabletop time.
If you're looking for a gift or something to play with your kids, then pick this one up. I can't recommend it enough. The price tag is high for a game, but it's worth every penny. I'd rather play this than most of the other games clogging our closet.
This week there wasn't a minifigure picture in my feed that I loved. Plenty of good and ok, but nothing that stood out. However, Nathan had a picture that looked great. I don't really know too much about the Rogue One merchandise. I haven't even seen it in a store yet. My Rogue One excitement (or lack of) didn't influence my admiration of this picture.
As a standalone picture it just looks fantastic – far more impressive than logic would suggest it deserves to be. Looking at it, as I wrote writing this, forced me to continue thinking about the picture. That's when I thought there might be a subconscious connection to the picture.
I think Nate's picture reminds me of the vintage cardback pictures. I don't know if that was intentional or a happy accident. Either way I loved his picture this week.
| | |
| --- | --- |
| [instagram url=https://www.instagram.com/p/BLOBmlpg4hE/ hidecaption=true width=320] | |