M.U.S.C.L.E. Figure #109 (Ashuraman No Chichi)
by Professor Terry
This week I'm going to talk a little about Ashuraman No Chichi which I believe means Ashuraman's father. This figure is my personal favorite of all the figures that have six arms and it's always been that way.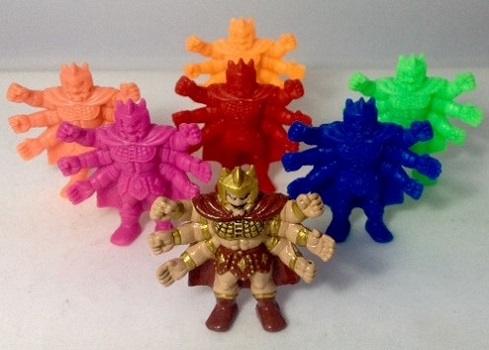 The reason why is he has the meanest looking face and wears a cape – pretty simple. It just looks a lot better than all the other Ashuraman figures in the M.U.S.C.L.E. line. In saying that it's not much of a contest anyway as I don't really like any of the other Ashuraman figures.
I had the Magenta and Dark Blue versions of this figure as a child, still have both of the original ones I had. I guess that's why I do like this figure, it's all about the childhood memories. I do remember a point in my childhood where I was sick of seeing this figure though, he seemed common. I know for a fact that I traded at least one of my Magenta ones, pretty sure I had three or more of the Magenta one. Or did I have multiples of the Dark Blue one? To be honest I'm unsure but I know they are the only two colors I had this figure in.
One of the biggest misconceptions I had as a child vs adult collector is that I thought each figure only came in two different colors back then. I never had, nor saw, any figure in three different colors. I chuckle to myself when I think about that.
You'll also notice I don't have the Purple figure #109 pictured – I did sell that figure along with a bunch of other Class A figures and it's one of the very few I regret letting go.
I have also had one custom #109 figure painted – it had a nice gold and maroon colored theme (coincidentally they are my state's sporting team colors – off topic I know) However, I would like to have another custom painted figure done for this guy one day, just to try a different look with him, probably have him in silver and black, I think that would give this figure a vastly more sinister look about him.