10-Packs
by Professor Terry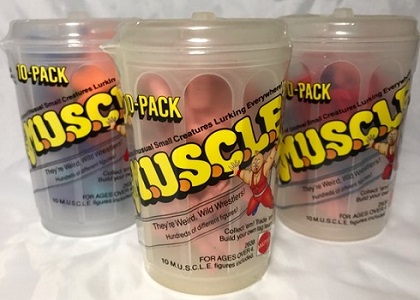 I own only three sealed 10-packs in my collection. One of each variation: (1) Flesh; (2) mixed Flesh and Color; and (3) Color. All I wanted was one of each of the variations and so I own three. I didn't choose them for any special figures but upon closer inspection I've been pleasantly surprised by what figures are sealed inside. Of course you can very rarely identify every figure within a 10-pack but I'm now going to try and identify most of mine:
The Flesh 10-Pack contains: #3, #56, #36, #139, #34, #206, #163, #112, #231, and one other which I think is #211.
The verdict: Really happy! Figure #56 was a holy grail figure for me. Figures #3, #112, and #163 are some of my favorite sculpts and I quite like #36 and #139 as well. Not a massive fan of #206, #231 or #34 but overall I couldn't ask for a much better Flesh 10-pack.
The Mixed 10-Pack contains four colors: (1) Flesh figures #33, #133, #134, and #155; (2) Dark Blue figures #77 and #141; (3) Red figures #19 and #177; and (4) Purple figures #195 and #223.
The verdict: It's okay – a massive hit for me with figures #134 and #155 in Flesh. The #134 is my favorite sculpt. A miss on the other Flesh ones and a massive miss on the Color figures. Though #195 is a nice bonus and #141 in Dark Blue is a great figure too. I just can't stand figures #19, #177, #77 and #223. They don't excite me at all. I don't hate any M.U.S.C.L.E. figures but those are certainly not high on my list.
The Color 10-Pack contains: Red #56 and #195, Magenta #34, Orange #155, Light Blue #93, Salmon #68, Green #46, Purple #11 and #166, and Dark Blue #112.
The verdict: This pack again hits on some of my favorite sculpts as #56, #112, #68, #195 and #155 are contained within it. With half the pack being figures I really like, it's hard to give this a poor mark. However, the other half isn't overly exciting. Still, I'm happy with the result.
Overall, I can't complain too much about my 10-packs. No, I don't have a Claw or Satan Cross in them and that doesn't bother me. What I really would have liked is to have a #23 figure, #185 figure, or #15 figure in my packs. Otherwise I got a good hit rate of figures exclusive to 4- and 10-packs that I like with some of them appearing twice.
The other note I must make here is it took me almost 20 minutes to identify the 30 figures within my 10-packs and I'm 100% certain what 29 of them are. It's a bit of work but I'm glad I went through this exercise.