Have you ever come face-to-face with something you're ashamed of doing? It's a very specific and unique feeling of shame. It happened to me as I was working on the site.
I stopped what I was working on to immediately make myself the AOTW.
Here's a stupid joke I made for Auction Watch #101.



In a state of complete oblivion, I made the same stupid joke for Auction Watch #201.


Seriously, fuck me. I can't believe I, unknowingly, recycled such a terrible joke. I'm so embarrassed I think this qualifies me for the AOTW Hall of Fame.
After I got over my embarrassment something else shook me. I had predicted that AW #200 would be on March 26, 2014. AW #200 was actually posted on January 12th. It was not in 2014 or 2015 or 2016, but, disappointingly, in 2017.
Does it sound weird to be disappointed by that?
Life threw a few curveballs in that time, so I know why posting stopped. It had to stop and I'm glad to be posting again. But seeing that "lost" time leaves me feeling like I need to fight to stay focused on things. Some things are easy for me, like kids and work, but others can be more difficult, like exercise and relationships. It really gave me that remember-what's-important moment of reflection. And to spend a little more time on the silly, stupid, fun stuff. Time can just slip right past you.
Ok, let's get back to the silly, stupid, fun stuff.
This week I looked through 228 silly, stupid, fun auctions. Well, not all of them were fun.
I love auctions, as many collectors do, but is Satan Cross worth live-auctioning?
The answer is no.
With their live auctions eBay says, "We're opening the doors of traditional auction houses, giving global shoppers a new way to bid on world-class art and collectibles."
The seller seemed to have some nice stuff. I don't know if it's world-class, but it's stuff I've seen at other auction houses. I've never seen any M.U.S.C.L.E. items for sale at Dumouchelle's. Nor should anyone ever see M.U.S.C.L.E. items at an auction house.
M.U.S.C.L.E. collectors are such a small community. If you're willing to auction it, then why make it harder for potential buyers?
List SC for $0.99 and let the craziness ensue; minimal work with maximum result. Even if we were talking about a SCS-like figure, a $0.99 regular eBay auction is the way to go.
– This 4-pack is in really nice shape. But the remnants of the price tag look ugly. Would you guys rather have the price tag or sticker residue?
– Kind of an odd lot, but a good one starting at $3.99. (I thought it was a Light Blue #82 for a second.)
– As a rule, I don't like keyword SPAMMING. This is an exception to the rule.
– 127 mixed figures starting at $8. (I like the warped #93.)
I have to admit something. Every time I see a large lot from California my mind drifts to the third M.U.S.C.L.E. commercial. I start to wonder, "Is this the lot that has an 'unproduced' figure?"
– 27 Flesh figures starting at $65. Perfect if you're looking to spend $2.41 per $0.50 figure.
– Is this lot re-listed with a lower price? $8? Tempting. Tempting-ish.
– What's the monkey from?
– Twelve 4-packs. I like the price stickers. Even like the price too.
– I'm curious to watch this ring because of free shipping.
– Clean board or Claw? Which is driving the price?
– Thought this was a Light Blue #31 at first glance.
– What's driving this price up? The Decoy?
– Fucking awesome tag on the Red #117. Is it the same one or just the same error?
– "not sure what it is or what it goes to , but I'm sure it's rare" Always a perfectly safe assumption.
– "RARE STRETCHY MUSCLE" Not at all rare, but super fun.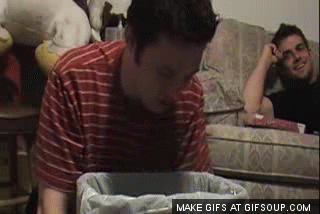 This week there were 4,237 BIN listings. When I look through auctions there are 50 listings per page. I start with the newly listed first.
I made it to this, at the end of the sixth page. Then I vomited. I couldn't take anymore.
I'm starting to think that the BIN option might be the filter M.U.S.C.L.E. collectors have needed.
Broadly speaking, the M.U.S.C.L.E. listings with an auction format seem to be the more reasonable listings. When there is a BIN without an auction option (even if it has an option to make an offer) the listing is far less reasonable.
It's not a perfect filter, but it's not bad either. The M.U.S.C.L.E. BIN's just seem to be the same things listing again, and again, and again.
The only major downside would be missing the very occasional absolute-bargain-basement listing.
I don't know that this Nestle Tube is a bargain-basement listing, but it's certainly an interesting BIN that happened this week.
I haven't even heard discussions about a tube since the last Nestle Tube update in 2014.
I have two questions:
1. What do you think is a fair price?
2. What do you think it is worth?
I've always argued those are significantly different things with M.U.S.C.L.E. figures. Let's not argue that idea today. Let's just answer the questions.
As much as I love the tube (as I said on LRG) it's just a cardboard tube. That's a fact that can't be argued. I'd love to have one, but I don't think I could spend $100. I wouldn't even want to spend $50.
That's not because I don't like it (or even that I'm cheap). I just don't need to own it. I would, forever, be the only person in my house that would care about it. Even if you told the history of the tube there wouldn't be a single person that appreciated it.
That tube is hardcore MUSCLE nerd only. And I'm fine just knowing about it.
With all of that said, I think $75-$100 is a pretty fair price. I don't believe there are that many people that would actually want it. Plenty of people would let it fall into their lap, but almost none are chasing it down.
I think it's worth less than $20. It's a stamped cardboard tube.