Kinkeshi Premium Set Vol. 1
By Professor Terry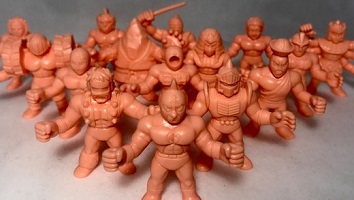 MMMM #98 is about something I've waited quite a while for.
The Kinkeshi Premium Set Volume One.
Ever since I saw the post on UofMuscle back in October last year, I've been dying to get a hold of the new Kinkeshi figures being released!
(Editor's Note: Can anyone help me get a set? Or custom cast the new figures? 🙂 )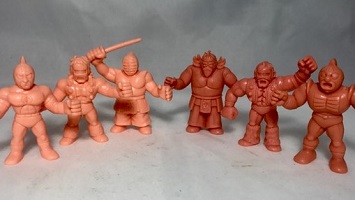 In fact, to me this was a much more exciting new release, more so than the MOTU M.U.S.C.L.E. and even the Street Fighter M.U.S.C.L.E. figure. Why? It's new M.U.S.C.L.E.-like sculpts damn it!
They are only available in Japan and sold out quite quickly – the only way to obtain them now is through a resale.
There are 15 figures in the Vol. 1 set, of which three are completely new figures and the other 12 are new sculpts of Kinnikuman figures. The figures are as follows: Kinnikuman, Robin Mask, Terryman, Mr Carmen, Neptuneman, Big The Budo (Neptune King) The Mountain, Black Hole, Curry Cook, Canadianman, Skyman, Ashuarman and the three new sculpts.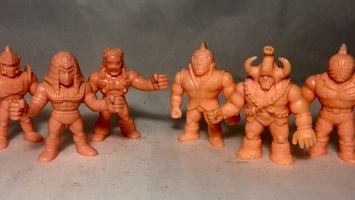 I have opened my sealed box to display and photograph the figures and so here are some observations:
The flesh coloring is not the same as M.U.S.C.L.E. of course but also not the same as 1991 Kinkeshi – it's actually in between.
The rubber is much more flexible than M.U.S.C.L.E. – it's similar to the original Kinkeshi.
Most of the figures are a hair shorter than the M.U.S.C.L.E. and 1991 counterparts though the Mountain figure is bigger and certainly more impressive.
The Curry Cook figure is also a whole lot better than his M.U.S.C.L.E. counterpart.
Now the three completely new figures. It's early days and so I'm not 100% sure how I feel about them yet.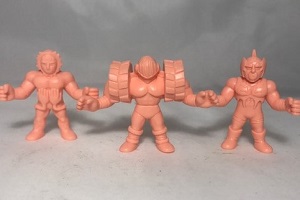 The guy with the tires across his shoulders is impressive to say the least. The figure with two hands in front of his stomach and the outline of the sun around his face I don't really get.
The third figure which is a version of Kinnikuman with what looks like a devil type mask and shirt is in fact pretty cool, I don't mind it at all.
Quite a few of the figures have the same pose of two fists out to the side which is a little disappointing as it would have been nice to have a few different poses but it's a very slight criticism of what is an extraordinary set. And now Vol. 2 is on its way to me – look out for my review in a future MMMM.