The Sunday Paper isn't showing up every week, but once a month isn't too bad.
Jesse sent in his continuing project to UofMUSCLE@gmail.com. He followed the vast majority of guidelines which kept things easy for me too. Thanks Jesse!
Remember the Sunday Paper is open to anybody. If you have a M.U.S.C.L.E. topic/question/rant that you want the world to see, then please feel free to send it in. I know M.U.S.C.L.E. collectors would love an extra day of content.
---
---
M.U.S.C.L.E. Market Analysis – May 2017 Edition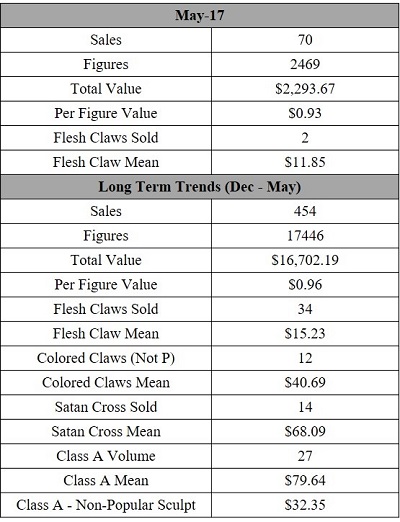 May marks the milestone sixth month that I have collected data on eBay sales of M.U.S.C.L.E. figures. Unfortunately, May also turned out to be a pretty slow month, with a fairly low volume of both sales and total figures sold. A total of 70 sales were added to the database, accounting for 2469 figures with a value of just under $2,300. For May, the single figure price dropped from last month's high back to $0.93. A few more Claw and Satan Cross sales brought the 6 month averages to a little over $15 on flesh flaws, while Satan Cross stayed steady at an average near $68 and colored non-purple Claws still right at $40. Overall the prices and sales this month were fairly boring and on par, but at least the data is helping to grow the database.
The total volume of sales over the past six months comes in at just over $16,000, which is incredible to me. I never would have guessed that M.U.S.C.L.E. figures would account for so much money in a six-month period. I would love to see this break $40,000 for the year, but I am guessing $30,000 is more likely.
Since May was slow, I decided to take a very cursory look at another factor that might tell us something about the current state of the M.U.S.C.L.E. market, and that is how many listings didn't sell. Since I primarily track sales of larger auctions (I only do single figures for desirable sculpts), I focused solely on multiple figure lots. Low and behold, at least 66 multi-figure lots went unsold, not including any sealed products. So very roughly half of all multi figure lots sold, and half didn't. All of the multi-figure lots that did not sell had pretty bad prices, so I think that if sellers were more reasonable in their listing practices, the monthly volume of sales could be at least 25% higher than it currently is.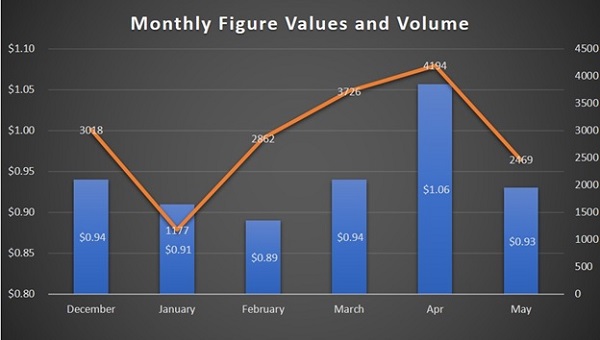 Now, this does not really paint a fair picture of the eBay market, as a quick search will show well over 1000 auctions up any given day, the vast majority of which are horrible single figure auctions. However, the single figure sale conundrum is a discussion for another day.
Thanks for reading another month of M.U.S.C.L.E. Market Analysis. Hopefully something exciting or interesting occurs in June! It looks promising so far, with one true auction of a Purple Claw and a huge 500+ figure lot already underway. Until next month, happy hunting.


---
---
Thanks Jesse!
If you're feeling inspired, then please sent in your article and pictures to UofMUSCLE@gmail.com.