Infestors Slime Team One
By Ironhaus Productions and Luke Harris (Imperfecz)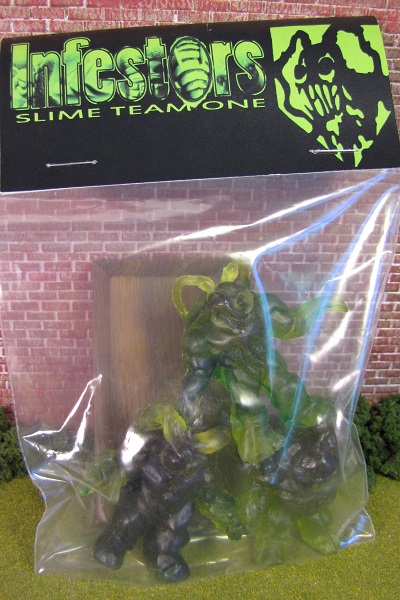 Objective:
Slime Team One is the newest expansion of the Infestors brand. It is technically the fourth Infestors set (already reviewed Set 1, Set 2, and Set 3).
There are three brand new sculpts. The figures are cast in a keshi-like rubber. The available, but random, colors include a mixture of translucent yellow and green. Buyers can select to add a "black wash" to the figures. This option was not selected for this set.
The set costs $30. Single sculpts can be purchased for $12.
The figures are packaged in a clear plastic bag with a new Infestors cardboard header.
Subjective:
I need to admit I was a bit apprehensive when I ordered these figures. Thus far the Infestors figures had been spectacularly on-brand. I was nervous that when I received the figures I wouldn't feel the same way. I recognize that branching out, both literally and creatively, is necessary for any brand of figures. Knowing that didn't make me less nervous.
Thankfully my nervousness instantly went away as soon as I opened the package. These figures made sense to me. I saw them as the mutant-mutants in the Infestors' world. I think it was the combination of the name (Slime Team One), sculpts, and coloring.
That's an oversimplification. I have felt strongly that Infestors has a very specific brand. They've managed to capture a specific look without being copies of each other. That's why these figures felt so familiar. The first figure I grabbed instantly felt like a mutated Grunt.
I don't know if that was the goal, but that was my reaction. I also don't want readers to have the impression that I'm suggesting they simply "tweaked" a Grunt figure. This is a new figure.
I also love the coloring of this, and all, of the figures. I think this is a huge reason that the Slime Team works.

The second figure does not feel as directly connected to other Infestors figure. If I was absolutely forced to choose, then I would suggest a mutated Jetsam. But this feels like the most unique figure of the set.
This is a hulking minifigure. I believe he is the most mutated of the group. In the best possible way, he is almost unidentifiable as a bug. I was glad that I didn't get the black wash on these figures (because I think it makes them less slimy), but I'm very curious how it would look on this figure. My figure's coloring makes some of the detail difficult to see. I would have liked the detail the wash adds.
The third figure was my favorite of the set. He felt like a mutated Venturo. Obviously the sculpt is cool, but he's got the best coloring mix of the group too – a happy accident of perfection.
Very specifically, I love the antennae and shell of this figure. They just seem super cool to me. That's not the most elegant explanation, but it's the truth.
You can order the figures here, I recommend picking them up today! I have been told even more Infestors are planned. If there was a pre-order, then I would do it today.
You may already know these artists. But just in case you need to find more information, here are some places to find more information about Ironhaus Productions, check out these links:
– Ironhaus Productions on UofMUSCLE.com
– Ironhaus Productions' Store
– Ironhaus Productions' Blog
– Ironhaus Productions on Facebook
For more information about Luke Harris, Check out these links:
– Luke Harris on UofMUSCLE.com
– Luke's Imperfecz Toyz Store
– Luke's Imperfecz Blog
– Luke Harris on Facebook
– Luke Harris on Twitter