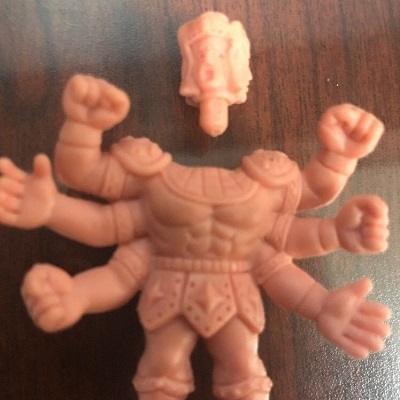 Do you know what people want the most in a SHA?
"…a nice tight fit." Collectors are always complaining about sloppy SHA's. They hate when they are all blown out; totally overused. I've never complained about any SHA. If I'm lucky enough to closely inspect a SHA, then I'm not worried about fit.
Maybe it's something about me? Maybe anytime I'm around it is guaranteed to be a tight fit.
– I don't care about this one, but a $0.99 starting bid deserves a nod.
– "There are a total of 6 or 7 different colors represented." Do they really not know? That makes me feel sad.
– "Some rare A figures, some common. HUGE mix." This is exactly how Donald Trump would talk about his M.U.S.C.L.E. listing.
– If you need to sell a Flesh figure for $6.95, then you've made some very poor life choices.
After I saw this I had to share a 100% true story. Several years ago I had delusions of creating minifigures. Before I had done anything else I thought, "My figures need a name."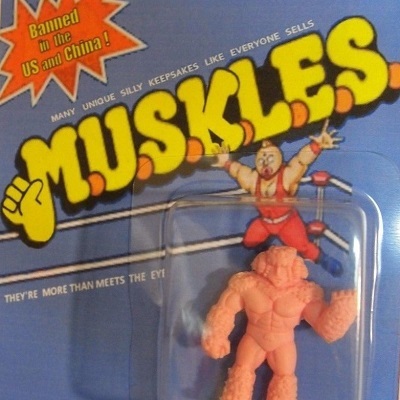 My very first thought was MUSKLES, because they were just a little different than M.U.S.C.L.E. figures. I immediately felt ashamed for having such a stupid idea. I was ashamed because it wasn't clever or even a little kitschy. It was the easiest, laziest first thought. It wasn't even good enough to be cliché because it was so dumb. I was relieved I never shared it with the world.
This is like watching my own, shameful, private nightmare coming to life.
– "20 years in storage." Obviously these were stored in a whore's stomach for 20 years. Obviously.
– What if terrible M.U.S.C.L.E. prices are making Kim Jong-un crazy too?
– Too much effort was put into these pictures; with not enough results.
– C'mon.
– "All items are sold as is and all sales are final." They're pushing it harder than before.
I'm buying these for work. It's going to be a magical tool to help stupid people that don't know how to behave appropriately.