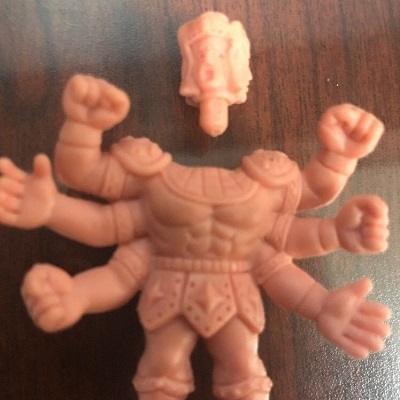 Damn. People seem to love a "…a nice tight fit."
Trite orifice humor aside, $697 is an absurd price.
SHA's have sold for about this price before (e.g., $600). We've even seen a SHA, without his head, sell for $676. Of course, we've also seen a headless SHA sell for $91.
I'll spare all of you a re-writing of this post.
I have realized, every day, I am becoming more and more of an outsider to M.U.S.C.L.E. figure collecting. I'm not just talking about prices; it's everything. Don't get me wrong, I'm stuck being a fan of M.U.S.C.L.E. for the rest of my life. But when I look broadly at M.U.S.C.L.E. "commerce" I feel separate from it. It's like reading about a war in a textbook versus being in the war.
Jesse has almost single-handedly kept the Sunday Paper alive. Again, I thought more people would want a M.U.S.C.L.E. platform to rant and rave. At least we have Jesse.
And speaking of Jesse, he floated the idea of updating some classifications at LRG. I'm not doing that. We've already talked about it.
But I do have a 100% serious question, "Does anybody have Red #68, #131, #134, #135, and #139?"
I'm asking because I wonder if these figures weren't actually production figures.
I'm not saying they aren't real M.U.S.C.L.E. figures. I know what it is like to have a real M.U.S.C.L.E. figure, but know there is only one of them.
I've never heard anybody talk about this idea, which is why I wanted to share it.
If 25 collectors post their Red #134, then clearly he was a production figure. (Or, at least, as common as SHA.) But if nobody has these figures, then what if the story is…different?
I'm not 100% sure what the narrative becomes, but I'm hoping to hear some thoughts and see some pictures.
There is "evidence" of a Red #68, but it's part of the $7600 drama. Not the strongest piece of evidence to build a valid argument for it's existence.
Speaking of drama, I'm sure readers will remember the recent Quik Tube that we've all been following. Did you see the most recent listing of it?
The auction price didn't hit the reserve. Do you know the final top bid? $29.
I couldn't look at the BIN's this week. Sorry guys. It was too much. I could only stomach the auctions – and even that was pretty tough.
– $1 for the "uncommon pair."
– 21 figures starting at $0.99.
– I like the "little man" the best.
– Started at $0.01. Love this!!!
– I know why "motu" was used to keyword spam, but I was still surprised.
That felt like a good ending.
Have a great weekend everybody!