The first auction, Lot of 11 Muscle Men M.U.S.C.L.E. Men, is a lot of 11 Flesh figures with a $0.01 opening bid price. I couldn't remember the last $0.01 auction listing. I did a quick UofM search and the most recent I could find was from early September of this year. The seller actually has a bunch of $0.01 opening bids.
I am not only happy to see this, but I'm very curious to see the final prices. As of writing this first lot is at $4.25 ($0.37 per figure). My gut says it is not going to go much higher. Of course, I could be wrong. It wouldn't be outrageous for this lot to end around $8.25.
The cool part is that there will be eight final prices to examine. If I had to place a bet on the average per-figure price of all the auctions, then my bet would be $0.60. I can't wait to see the results. I am very, very curious.
The second auction,
1985 Mattel MUSCLE/ M.U.S.C.L.E. Trash Garbage Can Kinnikuman
, continues to stoke my curiosity. The last lone trash, that I can remember, sold for
$1.04
– admittedly it is a Canfull of Monsters can, but I consider it a piece of M.U.S.C.L.E. history.
As of writing the listing is at $3.25. I can't see this passing $5 as a final price. But that is what is so interesting to me. I love auctions that can be driven by collectors.
I love these "mundane" listings because I feel like it gives us some interesting insight into he current state of M.U.S.C.L.E. collecting. Because the listings aren't particularly attractive the MRT, and even shenanigans, are not something we have to worry about. Of course, they could be a factor, but it is less likely.
The first and second auctions could be written off by some people as foolish listings. I've been told "nobody wants to watch,wait and bid for a week." In the interest of fairness I thought I should take a look at some comparable BIN listings.
The third auction,
M.U.S.C.L.E Men Lot 100+ Kinnikuman Vintage Mattel 1986 Muscle Men Mixed Colors
, was going to be my first comparison.
But it is a terrible comparison. The lot is starting at $99.99. There are over 100 figures. And it includes six MUSCLEMANIA figures.
I was just excited to see the MUSCLEMANIA figures. They look to be the firmer figures too; which are the ones that I think are far superior to the softer figures. They look to be pretty clean too.
I want to confidently say there is no chance this auction will sell, but M.U.S.C.L.E. auctions have become ridiculously unpredictable. I wouldn't be shocked if someone put in a bid for this lot.
After the MUSCLEMANIA excitement subsided I needed to find some better comparisons.
The fourth auction, m.u.s.c.l.e. figures little rubber guys toys, was interesting to me. There are 15 figures, including the #153 figure.
The lot has an opening bid of $35. I think the first auction is going to show the absolute absurdity of a $35 opening bid.
Of course, the #153 figure is very popular. It routinely commands an absolutely absurd price. I still don't believe anyone will bid $35 (or more).
Don't get me wrong. I don't care about the price anymore. I'm fascinated by the logic.
If I needed the money, then it benefits me to get $10 (perhaps) instead of nothing at $35.
If I don't need the money, then why even bother?
The US minimum wage is $7.50. To me, that means you're willing to put in about 4 1/2 hours of work to handle everything associated with selling that lot. If you don't need the money, then I'm guessing your time is worth much, much more than $7.50 an hour. I know my free time is worth much more to me.
Am I the crazy one for thinking like this? I'd rather get my $10 and quickly move on.
Maybe the fourth auction isn't a good comparison because it includes the #153 figure?
The fifth auction,
MUSCLE Men Action Figures Lot Of 14, Vintage Toys 1980's
, controls for that issue. This listing has 14 routine Flesh figures. That's as close as I'm going to find to the 11 figures in the first auction.
The starting bid for this lot is $17. That works out to about $1.21 per figure. As of writing the first lot is at $0.37 per figure. The price of the first lot could double and still be well below the fifth auction. Hell, it could basically triple and still be under the fifth auction.
But that's the fun – isn't it?
Taking a look at the auctions and comparing them to each other. I guess my sense of fun could be much different. If my life has shown me anything, then it's that my sense of fun (and humor) can be much different than other people.
The sixth auction, M.U.S.C.L.E. Kinnikuman Y/S.N.T. (10) flesh w/ trash can garbage can 1980s (B), seemed like the perfect final comparison.
It has a BIN of $26.
Will the first and second auctions combine to a price anywhere near $26?
No, I don't think so.
But maybe I'll be proven wrong. Or maybe people will send this seller this Auction Watch and say, "You fucking clown. Look at what price this stuff actually sells for when M.U.S.C.L.E. collectors by it."
I'm sure the seller will say, "Oh wow. Thank you! I had no idea. I'm just trying to raise money for my kid. He has cancer. We don't have insurance and I need every penny. I need this stuff sold yesterday."
As a group, M.U.S.C.L.E. collectors will respond, "Fuck you. Fuck your kid. We just want our stupid plastic men for as cheap as possible."
Yeah, my sense of fun and humor isn't for everyone.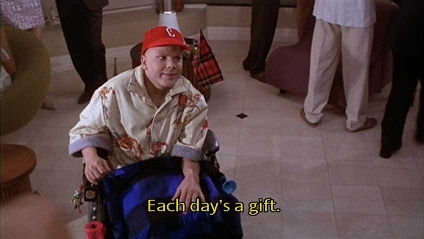 It feels good to be surprised by M.U.S.C.L.E. activity on eBay. I was prepared to rant about holiday-influenced prices; sellers trying to fund their holiday purchases. I'm sure I'll still get that chance before the end of the year. I'll probably get a second chance when all of the bills are due at the start of 2018. In the meantime, I had my expectations shattered.