Last year I wondered if the M.U.S.C.L.E. hobby was at a crossroads. I thought we were either seeing the beginning of the end or the moment that the insanity started to disappear. The 2020 Year in Review was going to be when I checked back to see which was more correct. Some days it feels like we don't have to wait that long. It can feel like there is plenty of insanity and the M.U.S.C.L.E. hobby is starting to die.
But some days it is filled with joy and excitement.
Maybe the hobby isn't at a crossroads? Maybe what felt like crossroads last year was really a realization. It was a realization that more than ever before the M.U.S.C.L.E. hobby is filled with higher-highs and lower-lows.
Keeping the tradition alive might give us some better insight as we ask the question, "What happened in the M.U.S.C.L.E. community this year?"
January
I thought the M.U.S.C.L.E. year started very with some interesting discoveries.
I don't think the guy that contacted me with the Hauler ever sold the truck. It's interesting to me that more people didn't contact me about buying it. I think Bill may have been the only person. The Hauler is a weird piece of M.U.S.C.L.E. history. I don't think most M.U.S.C.L.E. collectors would pay top dollar for it because it wasn't part of the actual commercial release. I think it is simply an interesting Hot Wheels story for M.U.S.C.L.E. collectors.
This feel like a positive story to me. Let's keep score:

| | | | |
| --- | --- | --- | --- |
| Positive Story | +1 | Negative Story | 0 |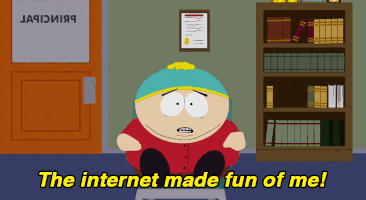 I don't think I can count this story as a negative or a positive. This entire situation was really a zero sum game.
The seller's prices could be a negative. The fact that he's selling them could be a positive. My commentary could be a positive. I don't think it can be a negative. If it is, then I am much more important than I realized and expect much more respect. Maybe get a street named after me?
Maybe put up a statue in Oshawa? It could be me and Larry Flynt; heroes of free speech.
Sarcasm may not translate to the printed word, but I think absurdity and silliness can be read without any issue.

I wish I could say that Auction Watch #202 was simply the "Ugly Duckling" story; something bad became something wonderful. That part of the story is true. The Purple #107 auction became one of the best stories of 2017. The M.U.S.C.L.E. tube went on to be one of the worst of 2017.
Maybe Auction Watch #202 is closer to a Grimm's fairy tale instead of a Disney one.
This feels like each side should get a point with this story:

| | | | |
| --- | --- | --- | --- |
| Positive Story | +2 | Negative Story | +1 |
February
This second Hauler may have been slightly buried in the February's first Epilogue, but it is an amazing appearance. I still can't believe two HiWay Haulers came out of nowhere to start the year.
I believe this one eventually ended up in the collection of, the previously mentioned, Bill.
Just seeing a second Hauler is very cool in my book. I think this is clearly a positive:

| | | | |
| --- | --- | --- | --- |
| Positive Story | +3 | Negative Story | +1 |
The next February story from 2017 is the swan from Auction Watch #202. I won't try to recreate the story, please read it if you don't know the story.
Taking myself out of the story, this should count as 100 million positive points. I hope more and more people follow Chuck's example.
[instagram url=https://www.instagram.com/p/BQWBP7yAC-n/ hidecaption=true width=320]
(This is a last minute edit, but I saw that Chuck and Brian are both doing this and leading by example. I think it is so great! Another 100 million positive points.)
The only regret is that I haven't been able to get the new trading-centric M.U.S.C.L.E. Database (MUSCLEDB.com) up and running. Chuck had made the suggestion and I think it is a great one. If you have the time, money, and/or experience to help it get launched, then please let me know.
I have probably been able to devote less than a dozen hours to it since February.
Like I said, I want to give 100 million positive points to this story. However, we'll keep the scoring pretty standard. This isn't tennis:

| | | | |
| --- | --- | --- | --- |
| Positive Story | +3 | Negative Story | +1 |
February's last story also comes from an Epilogue. Actually there are two stories.
The first story comes from
Lucas Rage
; known here, affectionately, as the King of Counterfeit figures. He created some chocolate M.U.S.C.L.E. figures. I hope he plans on selling these at some point.
Valentine's Day will be here before M.U.S.C.L.E. collectors know it. This is the perfect gift to give a loved one and say, "I love you almost as much as I love M.U.S.C.L.E. figures."
If Lucas is taking suggestions for 2018 chocolate sculpts, then I would suggest the (wink, wink, nudge, nudge) ultra rare Red #234 which was also in the same Epilogue.
The Red #234 could be seen as a negative story if you were born without a sense of humor. I fell in love with the Red #234. I added it to the #141 Figure Guide entry.
Chocolate figures and the ultra rare Red #234 seem like two easy points for the positive side:

| | | | |
| --- | --- | --- | --- |
| Positive Story | +5 | Negative Story | +1 |
March
March started by documenting what I believe is the greatest error ever. It's oddity makes me stop every time.
I recognize other M.U.S.C.L.E. collectors may not share the same level of love for this error. That's ok. Picking a favorite is a lot like picking your favorite piece of art. It is ultimately a subjective decision.
I know a big piece of this figure's attractiveness to me is its similarity to the extra flashing of a FLAF figure.
This is an easy point for the positive side:

| | | | |
| --- | --- | --- | --- |
| Positive Story | +6 | Negative Story | +1 |
If the last story was an easy positive, then the next story is an easy negative. In fact, it should probably count as two negatives because two shitty situations were explored.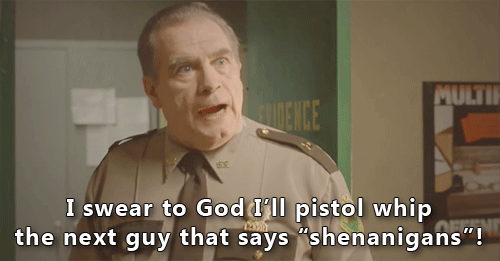 The post was called, "eBay M.U.S.C.L.E. Shenanigans." Long-term M.U.S.C.L.E. collectors are used to the bullshit behaviors we see from various eBay sellers. Sadly, nothing can be done about it. The only thing that can be done is to share information and experiences.
A few months later the tube was relisted. Same old shenanigans but, at least, M.U.S.C.L.E. collectors could point to something tangible and say, "Be careful."
I have been an active M.U.S.C.L.E. collector since 2002. It makes me sad that in 2017 I still see this kind of behavior in the community. It makes me even sadder that, in most cases, it is the same handful of people.
These are two painfully easy points for the negative side:

| | | | |
| --- | --- | --- | --- |
| Positive Story | +6 | Negative Story | +3 |
I never expected Alien Robot Monster to be able to follow-up their M.U.S.C.L.E. Car. And I certainly never expected they could make a minifigure that balanced a known property (Stranger Things) with a M.U.S.C.L.E.-like quality.
I was doubly wrong and Stranger Minis were some of my favorite figures of the year.
Months after the figures initial release they are still available (even if this particular set is for a limited time). There have been several colors made available since the original release and I think that's fantastic. These figures are so amazing there is no reason to deny people the opportunity to own them.
The upside-down left me feeling really good (ugh, that was dumb). That was a positive point, but that lame joke should count as a negative for the year. It won't, but it should:

| | | | |
| --- | --- | --- | --- |
| Positive Story | +7 | Negative Story | +3 |
I loved these Gorewad Monsters. And my kids might have loved them even more. When collectors talk about minifigures it becomes too easy to focus on the "collectibility" and artistic merit. Collectors forget about the figures as toys. I believe that is one of the greatest strength of the Gorewad Monsters. They are fantastic toys.
That does not mean they are not collectible or artistic – they had that in spades. But when I saw my kids react to these figures I felt like I got to see myself as a child reacting to M.U.S.C.L.E. figures. It was priceless.
If anyone is cynical enough to suggest that the last two stories shouldn't count as part of the M.U.S.C.L.E. hobby, then just stop collecting toys. The child-like fun has died off inside of you.
Thanks to Gorewad Monsters, one more point for the positive side:

| | | | |
| --- | --- | --- | --- |
| Positive Story | +8 | Negative Story | +3 |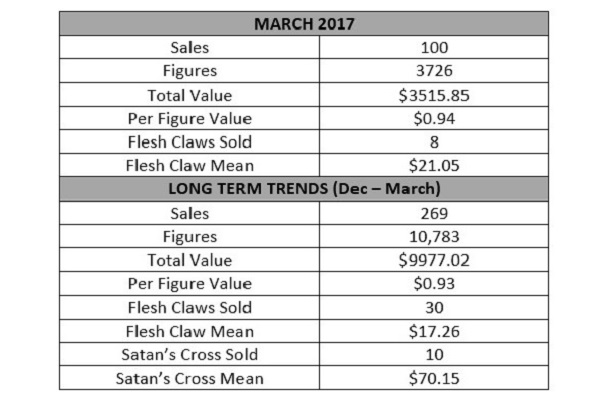 April
The Sunday Paper never took off, but it also never died. It was the fifth installment from Jesse that kicked off a monthly posting exploring some M.U.S.C.L.E. prices. The 2017 tracking recently ended.
I want to also take this opportunity to remind collectors that Sunday Paper is open to anybody. If you have a M.U.S.C.L.E. topic/question/rant that you want the world to see, then please feel free to send it in (UofMUSCLE@gmail.com). No editing. No censorship. I know M.U.S.C.L.E. collectors would love an extra day of content.
The only rule is to follow the guidelines which keeps things easy for me when it comes to posting.
I hope other people thought Jesse's contributions were another point for the positive side:

| | | | |
| --- | --- | --- | --- |
| Positive Story | +9 | Negative Story | +3 |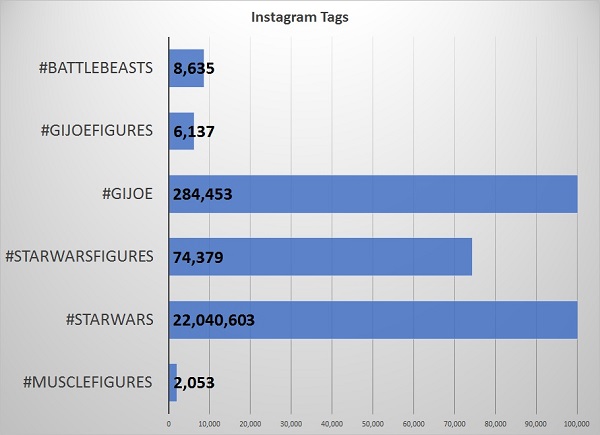 May
I had a lot of fun writing this editorial. I don't know that I figured out exactly how many M.U.S.C.L.E. hobbyists, but it was an interesting process.
My regret is that I did not push my final guess further, but I would have needed to make some major assumptions. Even with US Census data I would have needed to estimate the age range of M.U.S.C.L.E. hobbyists, and how much of the 35~45 (?) range is even knowledgeable about M.U.S.C.L.E. let alone interested. Maybe that's a project for next year?
I hope other people think it counts as a positive for the M.U.S.C.L.E. hobby:

| | | | |
| --- | --- | --- | --- |
| Positive Story | +10 | Negative Story | +3 |
The size of the M.U.S.C.L.E. hobbyist population wasn't the only M.U.S.C.L.E. mystery tackled in April. There was also the Mapman Mystery.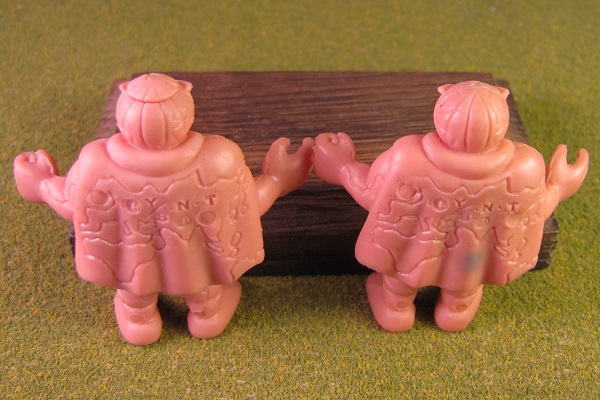 Like the last mystery, this one is unsolved too. I re-watched the video and it didn't help.
The best option for discovering the truth is attempting to re-create the figure. If we think someone did it by messing around with a toy, then it shouldn't be rocket science building another one. I've added it to my "To-Do" list, but don't hold your breath. Officially solving this mystery is pretty far down the list.
Maybe another M.U.S.C.L.E. collector could attempt it and document the process with lots of pictures. I'm sure M.U.S.C.L.E. collectors would love to read it in the Sunday Paper after it was emailed to UofMUSCLE@gmail.com.
The mystery may not have been definitively solved, but it was fun thinking about it:

| | | | |
| --- | --- | --- | --- |
| Positive Story | +11 | Negative Story | +3 |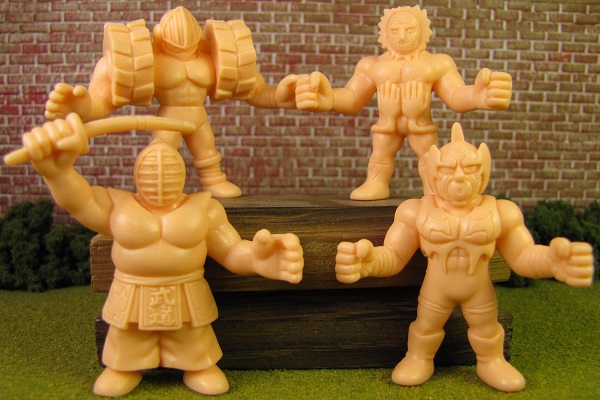 June
I was instantly in love with my four new M.U.S.C.L.E. figures. I am still in love with them.
This should count as four positive points, but we'll stay with one:

| | | | |
| --- | --- | --- | --- |
| Positive Story | +12 | Negative Story | +3 |
The next story probably shouldn't count for 2017 because the figures came out in 2014. But do you know what? I don't care. I'm just one man doing the best he can. Sadly that meant an Infestors (Set 3) review that was three years overdue.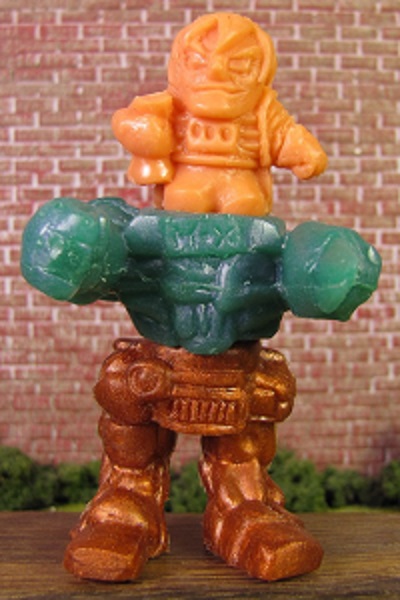 I should stress how cool the Infestors figure look. You can still order most of the characters and I encourage you to do it.
But I was so excited to complete and share the Build A Figure. This figure is a symbol of fun to me. You can see that I keep him front-and-center when I'm shooting figures.
I really wish this figure would be re-released in 2018. I think it's such a spectacular injection of fun for minifigures.
I didn't think the midpoint of 2017 would be so positive:

| | | | |
| --- | --- | --- | --- |
| Positive Story | +13 | Negative Story | +3 |
July
Speaking of fun, the Roast Ghost was another sensationally fun story. The Roast Ghost figure alone would have been a positive story for the M.U.S.C.L.E. community. But they found a way to make it even better.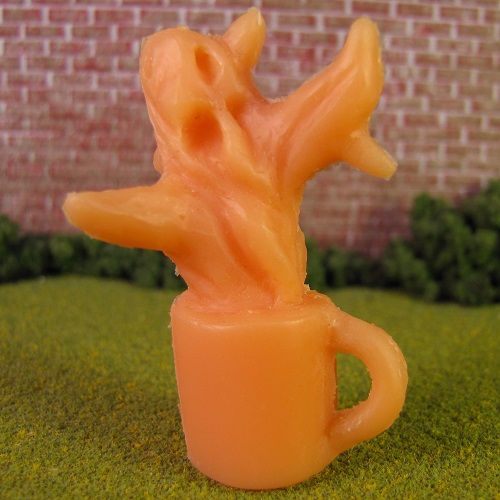 The Roast Ghost had a second color that was only available with a bag of coffee. It sounds so simple, but it recaptured my M.U.S.C.L.E. Nestle Quik childhood excitement in a completely real and original way.
It was perfect.
They found a way to catch lighting in a bottle. I hate to lean on that cliché, but I don't know that we'll ever see such a perfect homage again.
Even better, the coffee was fantastic.
Either 2017 was pretty good or I'm skipping too many negative stories:

| | | | |
| --- | --- | --- | --- |
| Positive Story | +14 | Negative Story | +3 |
If you're still reading this post, then you know I'm rarely short of things to say.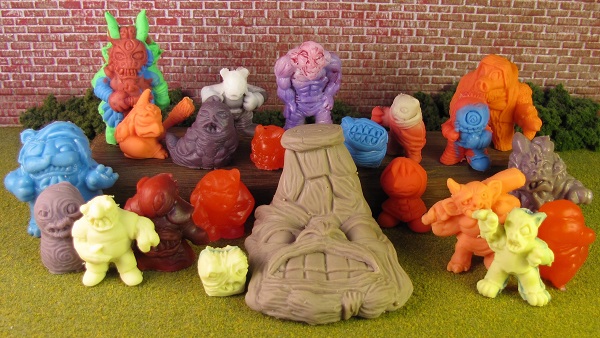 The Ironhaus Figure Onslaught left me dumbsturck. You had to see these figures. My ramblings didn't add anything.
I can't stress enough the conflict these figures caused in my house. My boys and I held a draft to fairly divide the figures. The figures that fall under the Ironhaus Productions banner have been able to capture the incredibly important toy element of minifigures.
Another positive for the scoreboard:

| | | | |
| --- | --- | --- | --- |
| Positive Story | +15 | Negative Story | +3 |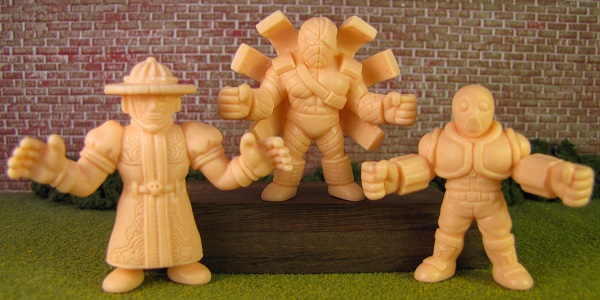 August
More new M.U.S.C.L.E. figures drove me to overspend. I still can't believe I spent $168.99 on these things.
I said it in the post, and I still feel the same today, that the spidery-arm guy represents $160 of the purchase price in my mind. I still need to pick up Vol. 3 and Vol. 4, but I don't plan on spending $170 on each set. I could live with $100 for each set.
How can new M.U.S.C.L.E. figures be anything but another positive for the scoreboard?

| | | | |
| --- | --- | --- | --- |
| Positive Story | +16 | Negative Story | +3 |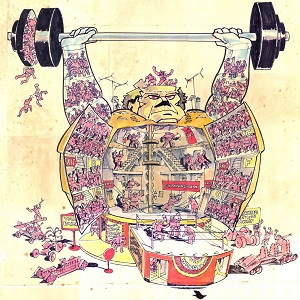 Forget the scoreboard for a minute.
The Body Building was the most exciting M.U.S.C.L.E. event of 2017 for me. I don't think anything else is even close. The last event that is even close might be the SGS, but we had seen him as a Kinnikuman figure. The Body Building was a brand new discovery.
All of it was made possible by Stan Resnicoff. He couldn't have been a nicer man. You can get a sense of it in Mattel & Me – a book he wrote about his career. If you're a fan of 80's toys, then you should have read this book.
I read it at night when we went camping. I finished it in two nights. It was fascinating. I would have finished it in one night, but I couldn't be exhausted when we went hiking the next day.
A very easy positive point for 2017:

| | | | |
| --- | --- | --- | --- |
| Positive Story | +17 | Negative Story | +3 |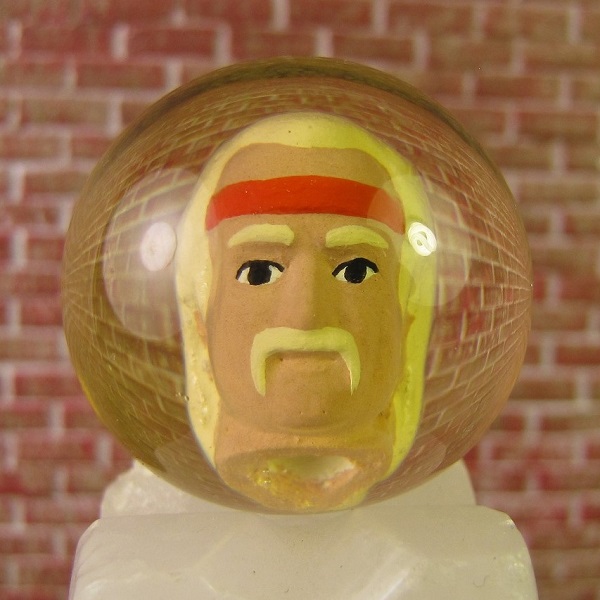 September
Stan offered some invaluable insight into M.U.S.C.L.E. when he shared his experience with Marbleheads.
I think the Marbleheads story and the M.U.S.C.L.E. story are very analogous. Understanding the Marbleheads story provides us both the fullest-picture and best insight, we will ever receive, into the cancelation of M.U.S.C.L.E. figures.
I'd be a liar if I said I wasn't humbled by his gift. It feels more like owning art, then a prototype toy.
Not exactly a M.U.S.C.L.E. story, but I think the insight was a positive point for the community:

| | | | |
| --- | --- | --- | --- |
| Positive Story | +18 | Negative Story | +3 |
October
Auction Watch #225 is kind of interesting if you just take a quick look. If it was just four lots (a video game, board game, and two MUSCLEMANIA listings), then it wouldn't have made the list.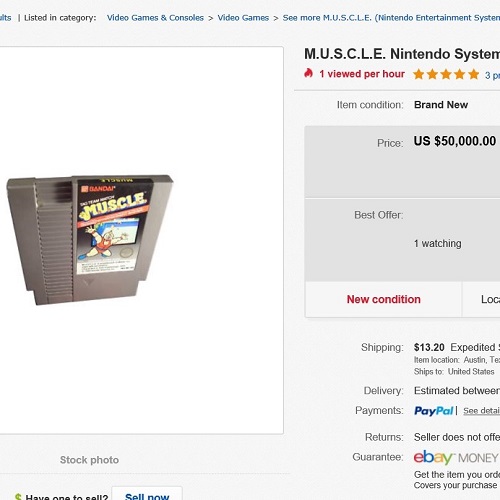 You need to look closer.
The guy is trying to sell a sealed Tag Team Match M.U.S.C.L.E. Video Game for $50,000. He doesn't even have a picture of the item.
I honestly don't know what is more shocking. Is it the price or the lack of picture? This is the Schrodinger's Cat of the M.U.S.C.L.E. world.
Joking aside, I truly believes this can hurt collectors that just want to add the game to the collection on their shelf. Most people are quick to damn nearly every aspect of the game. As a defender of some of the game's positive qualities I can admit the game is weak; even for the time it was originally released. The game should never demand a premium.
Pretending this game has EVER been anything but clearance fodder is silly. This was, and continues to be, a negative for the community:

| | | | |
| --- | --- | --- | --- |
| Positive Story | +18 | Negative Story | +4 |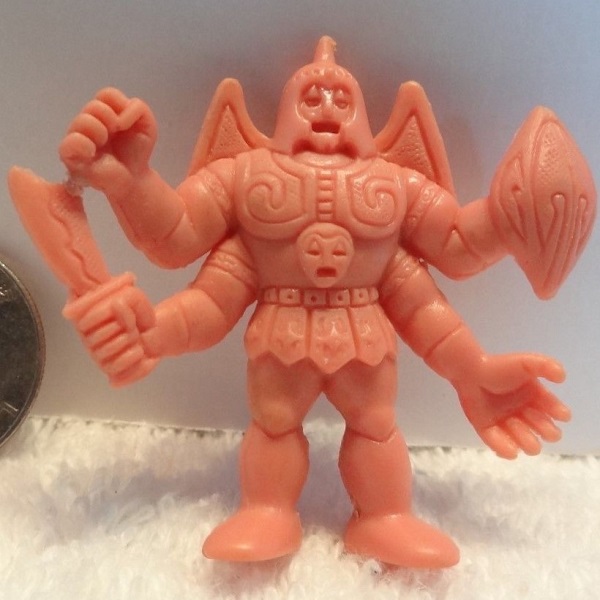 The MMMM #112 won't get tallied as a positive or negative. It doesn't likely matter to anyone else, but it was a big M.U.S.C.L.E. breakthrough for me.
I spent a decade and a half trying to explain to people that Satan Cross was a Flesh figure. I used data and logic and it didn't budge a single person.
Once faced with the opportunity to own a Satan Cross figure; emotions always take over the collectors' brains. You can't win an emotional argument with data. This might be obvious, but it was a M.U.S.C.L.E. blind-spot for me.
Don't get me wrong, that doesn't mean I'm going to stop sharing opinions on eBay prices. Jesus. I'm trying to do a daily post on a toy that was released for two years three decades ago. I need something to talk about.
And there was plenty to talk about in Auction Watch #228.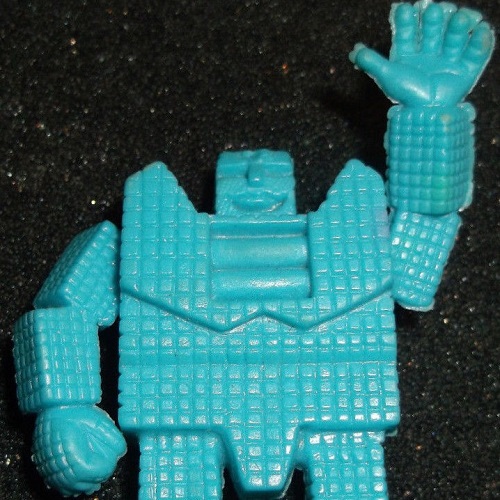 First and foremost, a Light Blue #3 figure helped us to discover the "M.U.S.C.L.E. Fallacy." This term refers to when a M.U.S.C.L.E. seller sets a single figure BIN price and there is no logic explanation. None.
The Light Blue #3 figure is fairly priced at, probably, $0.75 to $1.00. This listing was $24.68. Obviously it didn't sell.
It was relisted for $19.86, and relisted again for $14.70.
It is a figure with an absolute-top-dollar-price of $1.00. The M.U.S.C.L.E. Fallacy.
I also thought it was interesting that, 10 months later, our Light Blue #154 error figure reappeared. He sold for about $20. There was one bidder. I had said:
I wouldn't be shocked if this auction wins on a single bid.
These kinds of auctions are as odd as the figure itself.
Although the sale of the Light Blue #154 isn't a good or bad thing. It's just interesting to note as it helps to open and close the M.U.S.C.L.E. year. However, the M.U.S.C.L.E. Fallacy is a bummer. Score one for the bad guys:

| | | | |
| --- | --- | --- | --- |
| Positive Story | +18 | Negative Story | +5 |
November
If I'm being honest, then I need to admit that November was kind of dull in the M.U.S.C.L.E. universe. Hey, we can't discovery the Body Building every month.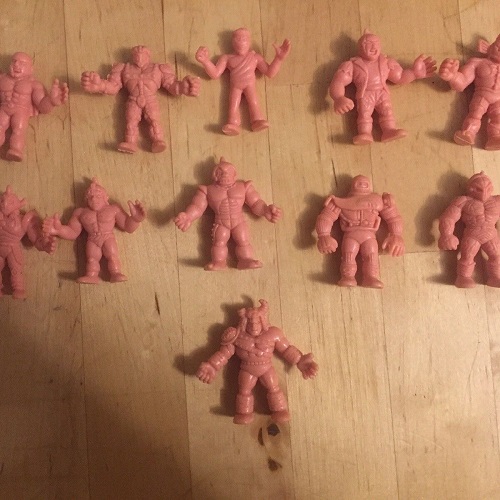 There was something in Auction Watch #231 that gave me hope for the future. It also helped me improve the website for M.U.S.C.L.E. collectors.
A completely unspectacular set of 11 Flesh figures were auctioned at had a staring price of $0.01. It sparked an optimism and curiosity. Maybe we were going to see more $0.01 auctions in the future?
We won't know the answer to that until, about this time, next year.
But we do know the answer to the final price of that lot. Auction Watch #232 gave it to us (it was $8.00 or $0.73 per figure). I like to think it also improved Auction Watch. Moving forward the previous week's results will kick-off the new week. I like to think M.U.S.C.L.E. collectors will appreciate that week-to-week and years into the future. I know there are auctions results I wish I knew.
I hope that kind of information counts as a positive influence:

| | | | |
| --- | --- | --- | --- |
| Positive Story | +19 | Negative Story | +5 |
[instagram url=https://www.instagram.com/p/BdL3i0dFAQZ hidecaption=true width=320]
December
When I started putting this post together I didn't have any posts for December. I figured I was going to say something like, "The M.U.S.C.L.E. universe ended with a whimper in 2017."
I was wrong. The M.U.S.C.L.E. hobby is roaring into 2018 thanks to the Magenta #161 Miracle.
What more can I say about it?
It was the perfect story to add one more point to the positive column:

| | | | |
| --- | --- | --- | --- |
| Positive Story | +20 | Negative Story | +5 |
After taking a look back I don't feel like the M.U.S.C.L.E. hobby is at a crossroads.
I feel like we're becoming a stronger community than ever. Sure there are highs and lows, but there are more highs and better highs. The lows are a pain in the ass, but they aren't as low as they used to be.
Are we supposed to be surprised or disappointed when the same old people are pissing on the M.U.S.C.L.E. community? Not me. Not anymore.
The M.U.S.C.L.E. hobby is a small little group. When a person makes waves in our little pond; they get noticed – but that doesn't have to be a bad thing. Some of the biggest waves this year were caused by people being kind, and helpful, and selfless.
I'm proud of our M.U.S.C.L.E. community. I'm excited for 2018.
Thank you to every M.U.S.C.L.E. hobbyist that made things better. I think the scorecard proves that it made a difference.