Place your orders! Eric and Tyler are re-releasing their absolutely epic M.U.S.C.L.E. cans. I already have the big one, but somehow I missed the little one. It must have come out during one of the UofM dark periods.
They're also releasing the M.U.S.C.L.E. Thing figure. I think this is the first time it is available. I've already placed my orders. If you're reading this article, then you should own these figures.
I noticed Eric also has some Super Rare Kinkeshi Sculpts for sale. I think that's great. If I collected Kinkeshi I would buy all of them. Hell, I almost bought a few because I like them but I'm trying to keep the LRG budget under control.
I won't re-write this post, but I think the M.U.S.C.L.E. community would benefit from, at least, considering why they are buying something.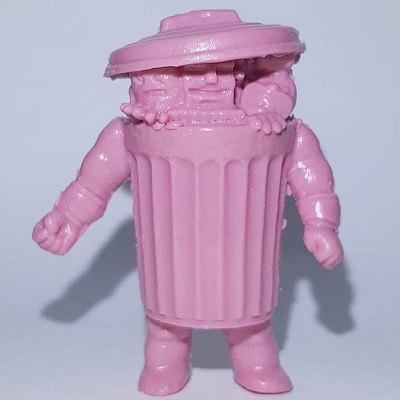 I think a custom Non-Poster collection would be a huge hit. As long as people like the figures and not just the exclusivity.
Speaking of buying, the can-centric minifigures aren't the only new figures on my radar. The Gutter Kawaii are being released today. I think it is fair to say I am a fan of everything Ironhaus (except for Odd Narook's card).
I can't wait to have them in my hand, because they are always such an amazing surprise. In the past I've joked that Jimmy can't take a good picture of his figures. In all seriousness, it is hard to photograph his figures. They're always so much detail and craftsmanship packed into a tiny figure. They are figures that you must have in your hand to fully appreciate.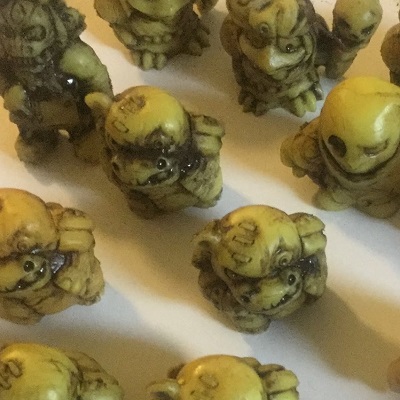 I believe the figures with be for sale here, but I'm 100% sure as of writing. (I'll update the link if I'm wrong.)
If you guys know of other minifigures I should be buying, then please let me know. I'd love to know of some Instagram people I should be following so I can buy their figures.
As a general rule I prefer minifigure toys over minifigure art – but rules are made to be broken. Thanks in advance!
And just post the links in the Comments below. I'm sure other people would want to know too.
I feel like I'm transitioned from figures that will absolutely sell to figures that are unlikely to sell. Maybe eBay will prove me wrong.
As of writing, there are 213 M.U.S.C.L.E. auctions.
– "Kept indoors…" Is that worth mentioning? It's a nothing statement. It could have been kept indoors and a sulfur factory.
– Wow, these are in bad shape.
– You know what is tough? Getting eight figures in one picture.
– 128 figures that started at $29.99.
– 4-pack that started at $5.
– What is worse? The opening bid or the BIN?
– Far from mint condition, but I'm surprised there isn't a bid (as of writing).
– 65 figures that started at $16.
– "Rare & Clean" No.
– Turns out I can dislike a $0.99 opening bid. Wow.
– Class B Salmon #58 figure that is starting at $27.
– Class B Dark Blue #7 figure.
Let's talk about Class B figures.
I know I pointed out the seller's other Class B, Green #105, in Auction Watch #238. I thought people might react to the overall 16 Class B figures he has listed. I haven't noticed anything. I'm curious to see them all unfold.
As of writing, only the Dark Blue #7 figure has a bid. I assume the Green #105 will be purchased too. But what about the other 14?
It's hard to say. I think the seller would have been better off putting these 14 figures into a lot. That might have gotten more money. But if a Master Set Fool doesn't need these, then they are going unsold.
As of writing, there are 3,700 BIN listings. And look, some more Class B figures.
– Magenta #189 for $80
– Class A Salmon #60 with $80 BIN
– Class C Red and Flesh for $59.99.
– Class C Red #60 for $49.99
– Is this crazier than the above listings?
Sellers might be a little bit totally overzealous about Class B figures, but none of them are even close to Asshole of the Week. This seller might earn direct entry to the AOTW Hall of Fame. What do you think?
I have, probably, taken thousands of M.U.S.C.L.E. pictures. I'm amazed at what lighting can do. I've been curious how bad pictures are achieved with modern cameras.
What are the chances this seller chose to use a picture that makes their figures look like Class A red figures?
Sure, they said "NEON PINK" in the title and "PINK COLORED" in the description. Sure, the second picture illustrates the figures aren't Red.
But I don't think they did that out of the kindness of their heart. I believe it is there so you're stuck if you try and jump on buying the Red #68, #104, #110, #113, #131, and #134 figures.
What do you guys think? Happy accident or malicious intent? I fully believe it is the latter.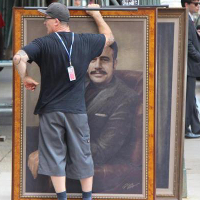 This week I saw a post about the Jeffrey Dean Morgan painting from Batman v Superman. It was so mysterious the first time it popped up online. When I was an extra I got to see the painting in person.
It was in Zach Snyder's gym when they were filming in the Wayne County Building. I saw it when I was sneaking around the set. I learned that as long as I walked confidently, and never asked permission, that I could do almost anything I wanted. One of my walks ended up in the gym.
That's why I was so surprised to see Zack Snyder still has it in his gym. He should put the same commitment he has for working out into storytelling.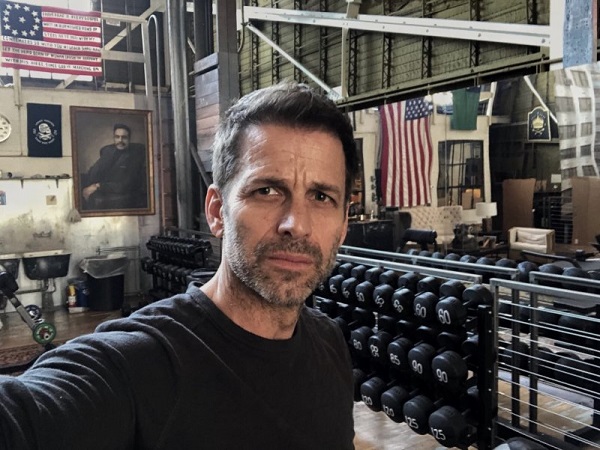 Welcome to your weekly installment of "Damn the torpedoes!"
Last week was very dramatic, what does this week hold?
Nothing. No change.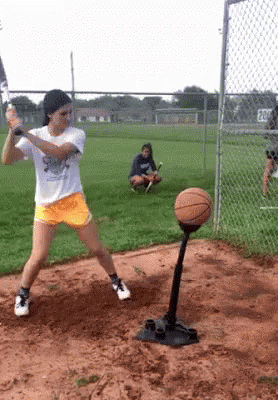 That's an anti-climatic way to end the Epilogue. Although, doesn't it look like Zack Snyder is looking disapprovingly at the two racers?
If any creative person wants to make a race logo, then that would be very cool. I'm going to try and come up with something but I'm outside of my comfort zone. I also don't have artistic talent. That seems like two big strikes.
Strikes. Baseball. Better Epilogue ending. See what I did there?
This gif cracked me up. My oldest has already started baseball this year. Crazy.
Anyways, we do this drill. It's great for getting your hands through the zone. But you want to use a slightly deflated basketball.
I'm going to keep an air pump in the baseball bag. Whenever someone gets out of line I'm going to fully inflated the basketball and make them do some tee work.