[instagram url=https://instagram.com/p/BfjFBIPFcMm/ hidecaption=true width=320]
Every now and then I have a moment of clarity. A moment when I realize what an utter M.U.S.C.L.E. crazy-man I am. The picture to the right provided that moment of clarity this week.
Did you see it too?
My eyes went directly to the M.U.S.C.L.E. poster. The He-Man stuff didn't even register. That was a M.U.S.C.L.E. picture to me.
I forget that people read this site. I ramble on about various M.U.S.C.L.E. topics sharing my thoughts and perspective; feeling like I'm shouting into the abyss. Every now and then I'm caught off-guard and an unknown voices shouts back. This week two voices shouted back.
Adrain (the buyer) and Lou pointed out the odd ending (and restart) to a listing that has been on UofM since 2016 when the listing was awarded AOTW.
In fact, thanks to the seller's laziness, I know I've mentioned the listing eight times since September 30th, 2016. I feel like I recently predicted this ending.
Both Adrain and Lou pointed out the ending of the auction that had been comically overpriced; only to suddenly, and unexpectedly, start with a $0.99 opening price. That listing sold, to Adrian, for
$103.50
. Adrain was able to add some specifics from their email:
I won this auction, prob overpaid, and the seller cancelled with out of stock or damaged immediately a second after I paid.
Adrain and Lou both pointed out the negative feedback. The lot is once again for sale on eBay with the ridiculous opening price ($399) and BIN ($599).
I need to create a AOTW Hall of Fame that combines with the eBay M.U.S.C.L.E. Shenanigans so potential buyers can quickly see all the negative shit that poisons our little hobby.
Let's take a look at eBay.
– Is this the worst way to sell M.U.S.C.L.E. figures?
– "hours of fun." Huh?
– I was going to mention how dirty these figures were, but the pube was grosser.
– What color are these figures?
– What were they trying to say? "…is in fair condition with dust cover as played."
– I want to buy this lot for the counterfeit #141.
– Terrible main auction picture, but cool counterfeit figures.
– Here's a Class A Purple #156 selling for $55. Here's one that sold for $8.
– SC in a lot of 74 Flesh figures.
– That's a shitload of shitty M.U.S.C.L.E. listings.
– This lot is perfect if you're looking for a "gem." (Never funny to explain a joke, but I guess I have to this time.)
– I do like these counterfeit figures, but I wouldn't call them "collectables." I know that both versions of the word are correct, but I vastly prefer "collectible." Does anyone else care?
– I'm going to cut off four arms too. It looks pretty cool.
– I was going to joke about "18 💥 M.U.S.C.L.E. 💪," but he started at $0.99.
– I hate when people sell an open 10-pack like this.
– Started at $0.99, but check out the bidders. Quack.
– Wow, pretty cool lot.
– Class A Red #108 figure.
– $32 BIN. Guess the lot.
$900 BIN. Wow.
I thought I had already seen the most ridiculous lots. I figured those two would never be overshadowed. Wrong. The eBay seller collectingtreasure508 did it. The $900 listing feels like a copycat crime.
I guess that AOTW Hall of Fame is necessary.
Not a terrible transition either!
Welcome to your weekly installment of "Damn the torpedoes!"
After 2 years, 6 months, and 24 days would you still dick around with the price?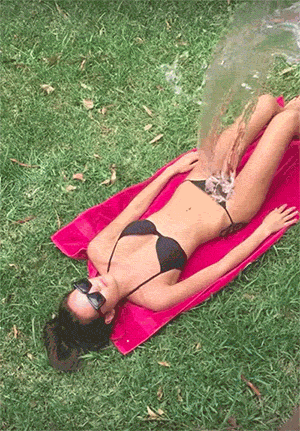 As a seller, don't you have to manually adjust the percentage discount? I think that is correct. Someone please correct me if I'm wrong. Adjusting the price by a few dollars week after week seems like a colossal waste of time. Even worse than playing around with this site.
I guess, as I get older, there's just some things I can't imagine doing. I can't imagine wanting to make money off M.U.S.C.L.E. toys. I can't imagine trying to scam people on eBay. I can't imagine eating fast food everyday. I can't imagine caring about your religion. I can't imagine staying angry.
I also can't imagine any woman thinking the prank to the right is funny.
Don't get me wrong, I probably would have thought it was funny in my twenties. Hell, after a few beers this summer I might think it was funny. But I'm old enough to know that my wife would divorce me for doing this.
You might be able to get away with it in college, but I'm pretty sure most women are stabbing you after doing this "prank."
However, I'm definitely doing this to my boys.