Gutter Kawaii – Bird Wizard
By Ironhaus Productions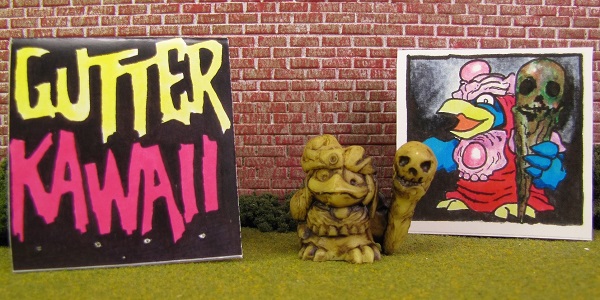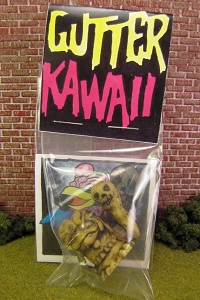 Objective:
Gutter Kawaii is a new brand of minifigures from Ironhaus Productions. The original release of these figures, on January 26th of this year, was a yellow-ish figure with an ink wash (called "Antique Style" in the store). A more recent release has the figures cast in unwashed, basic colors.
The figure comes with a small two-inch, square trading card.
The back of the header card is different from the back of the Lieutenant of Doom.
The figure is smaller than the two-inch card. It is approximately 1 1/4-inch tall.
The figure cost $12, plus shipping.
The Ironhaus Productions blog suggested that there are "a couple surprises throughout this batch." This figure appears to be a regular version.
Subjective:
I wish that I could say more about this figure. I wish I could properly articulate my feelings. I can't.
I simply love this figure. He is a Bird Wizard.
Like I said in the Lieutenant of Doom review, I was surprised people were "meh" about the antique style. I think it may be the secret to this figure's success.
Don't get me wrong. This sculpt is fucking awesome. But the wash really makes it pop!
I think the wash is key to the skull. It makes the skull scarier, which helps the bird look sillier. I don't know if that was intentional, but I think it is charming. If you hear Bird Wizard, then I think "funny weirdo." This figure perfectly captures it.
I called Jimmy the King of Microfigures in the last review, and this figure strengthens the argument.
For more information about Ironhaus Productions, check out these links:
– Ironhaus Productions on UofMUSCLE.com
– Ironhaus Productions on Instagram
– Ironhaus Productions' Store
– Ironhaus Productions' Blog
– Ironhaus Productions on Facebook