Dr. M.U.S.C.L.E. still makes me smile. Steven knocked it out of the park. I've just never had the time/energy to get him released into the world. Would anyone actually want him?
Puripuriman is one of my favorites. I can't believe it was the first time I used the Objective/Subjective format. I went back and looked at some of Luke's other work before I make this statement. Luke has made some great figures, but Puripuriman might be my favorite.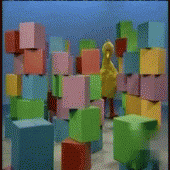 I would also argue it is best custom M.U.S.C.L.E. figure that is too often overlooked by collectors. Agree or disagree?
Finally, there was the Epilogue. I think my hypothesis has been proven correct. The ebb-and-flow is gone. It has been replaced by three eBay categories: (1) the members of the AOTW club; (2) good auctions; and (3) largely irrelevant auctions.
I also love this Big Bid gif.
It always makes me smile. You can thank me for not jamming it into nearly every post.
A short week five years ago, but a good one.