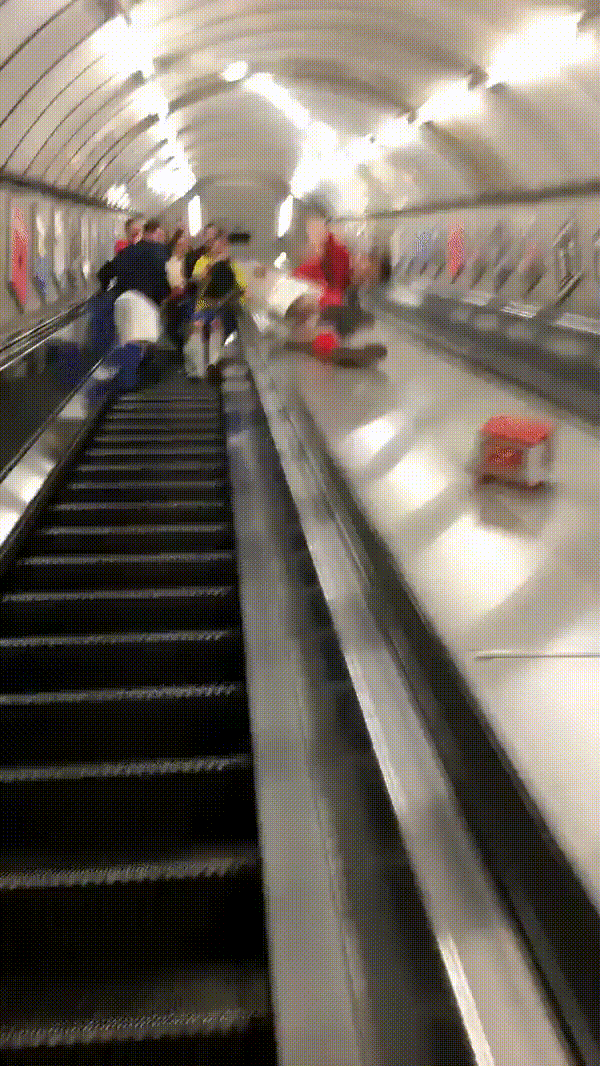 Usually the Epilogue ends with some silly picture or gif. Why be so predictable?
This week's Epilogue starts with a gif that cracked me up. It reminded me of all the stupid stuff I observe that doesn't get the instant justice it deserves.
In my mind, there is no question that the guy on the other escalator quietly muttered, "Fucking turd." And then stepped over him.
I like the window-box, but that prices seems way too high. I specifically feel that way because the condition of the box isn't great. Plus the seller said, "The window box has a very small crack on it but it's not even noticeable, only minor in my opinion."
This belt listing, to me, is a perfect example of a seller trying to capitailize on the Nov./Dec Over-Spend.
– Nice lot that started at $0.99.
– Hahahahahahahahahahahahaha…
– C'mon Canada.
– Seriously Canada?!?!
– What did I do to you Canada?
– My disappointment and frustration is peaking.
– Forget it Canada.
– You've broken my heart for the last time.
– 19 figure lot starting at $0.99.
– The auction title would win an AOTW title match-up.
– Why does this have a bid?
– This unchanging listing makes me laugh.
– "Can't find too many of these out there!" Oh, please.
– If this isn't shill bidding, then I don't know what is.
– What is going on here?!?!
– Almost an AOTW nominee.
– This seller would be a front-runner in the AOTW seller tournament.
Speaking of AOTW, let's get to it.
Last week
we added our third winner. I was surprised, but happy, to see the votes so spread out among the combatants. Hopefully this week has some tough choices too.
The AOTW #1 has a $60 BIN for 15 figures and they are "RARE!!!" Plus, "Some of these are rare and in rare colors."
The AOTW #2 has a crummy $109.99 BIN, which is $1.11 per figure. It seems even worse with three Red #168 figures staring directly at potential buyers. The AOTW #3 is also a terrible lot. It has 86 figures with a $350 BIN.
Finally, there is the AOTW #4. It is an empty 10-pack can with a $24.99 BIN. Wow. That's bad.
Cast your vote and crown this week's AOTW Fatal-Four Way winner. Here are the four combatants:

| | | |
| --- | --- | --- |
| | vs. | |
Remember to cast your vote and crown this week's AOTW Fatal-Four Way winner:
[poll id="49″]