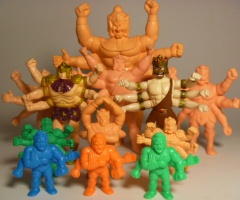 The SUS time machine takes us back five years, starting with Professor Terry easing us in to quite a week.
I've always like the picture to the right. The differences in color, scale, and sculpts makes this a really well composed picture.
The only thing I dislike about MMMM #25 is my formatting of the post. I wouldn't do it the same way today. There's too much white space. I would leave the three-picture table, but stagger the remaining three pictures.
I have previously shared my OMFG/Tommy Tanker frustrations. I won't repeat it. Based on the title of the post, you might expect this Dr. M.U.S.C.L.E. post to be a low. It isn't. It is a high point for me.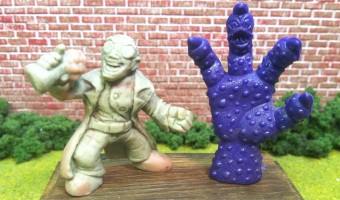 I still had a little hope that Dr. M.U.S.C.L.E. would find his way into the wild. A few guys kindly reached out to help, but it never went anywhere. And that's fine. I had finally grown enough to walkaway from an effort I no longer enjoyed.
Plus, that's a great "final" Dr. M.U.S.C.L.E. post. It features some nice pictures of the sculpt and a video that always makes me smile.
Coming off that high, the story from the Epilogue takes you extra low. It is the story of the Red #68. If you don't know the story, then I suggest you read this Epilogue – five years later and I still feel the same way.
However, the story doesn't end there – it begins. M.U.S.C.L.E. collectors knew that
Alex Forbes
was the top bidder, but we didn't yet know the
truth
. Maybe the most amazing thing is that the story is later corroborated by everybody's favorite seller
newhobby905 make-an-offer ohsooffices_1.
Even she knows the story and
hates it
.
Does the story end there? No. The shenanigans continue. Everything from pretending to be Chuck (keep in mind Chuck might be the actual opposite of Alex) to whatever the recent aligigli0 situation turns out to be.
"Why to you keep talking about Alex? He's always been cool to me."
That has been
explained that before
. Plus our hobby is
tiny
. You can't ignore what is right in front of your face. And, as
I've said before
, it has become a sad, tragic story.
He went from this nice kid to the poster-child for M.U.S.C.L.E. scamming. That's not a legacy I'd want, nor would I continue to try and ruin it farther.
And if this isn't a sad, tragic story, then it turns far too dark.