Kinkeshi Premium
figures have been released as complete boxed sets. Bandai added to the Kinnikuman Kinkeshi Premium figures by releasing a series of figures in vending machines (
Gashapon
). The capsule has a checklist and single sculpt. The main Gashapon series has six sculpts in three colors: (1) Flesh; (2) Blue; and (3) Red. Some sets have painted chase-figures. Some of the sculpts are two-piece, which was a trait of some original Kinnikuman figures. The
fourth series
,
sixth series
,
seventh series
, and
10th series
has already been reviewed.
There are also special "best of" sets. These figures follow the same format, but the colors are Flesh, Green, and Clear. The first and second sets of this special "best of" figures have already been reviewed.
Bandai has released yet another special set. This new set features two-piece combinations of characters. The sets contain five two-piece sets. They only color that is available is the original keshi/M.U.S.C.L.E.-flesh color.
The set is called, "Kinnikuman Wazakeshi Premium." This is the first volume of the new Wazakeshi sets.
There was hesitation buying this set. I had never really liked the two-piece figures because they were not a part of Mattel's M.U.S.C.L.E. line. I saw them as exclusively Kinnikuman keshi figures. That changed with the Gashapon #7 set. The two-piece figures became a part of these new M.U.S.C.L.E. figures; I purchased the set.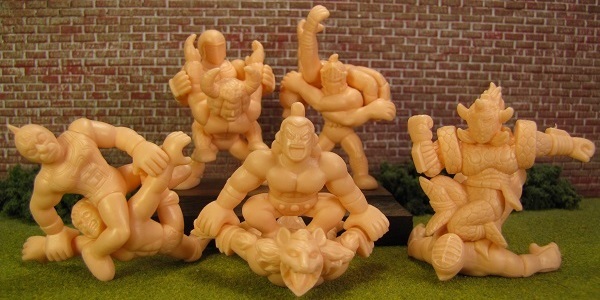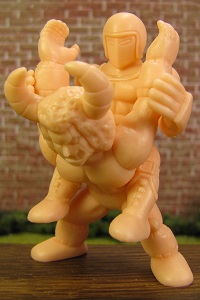 When the set showed up, to my surprise, I really liked the set – except for one combo. It seems like I've had a problem with every Terri-Bull sculpt and this one is no exception. I hate his face. He doesn't look to be in pain or struggling. He looks happy. He looks like he has a shit-eating grin – like he's the one winning. I can't get past it.
And it is a shame, because I like everything else about the combo. In fact, it would have been my favorite Terri-Bull sculpt so far. But I can't get past his smile.
The sculpts don't work on their own at all, but that's ok. Terri-Bull, like the Kinnikuman in Special Gashapon #1, looks to be "serving dinner." Warsman looks like he's taking a dump and a newspaper has been ripped out of his hands.
I fully realize it sounds like I'm tearing this combo apart – not my intention. I like everything about this combo, except for the smile. Maybe I'll try displaying it sideways.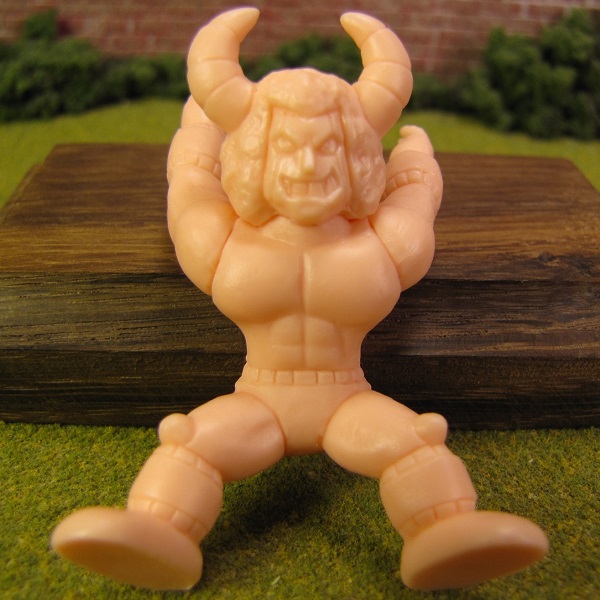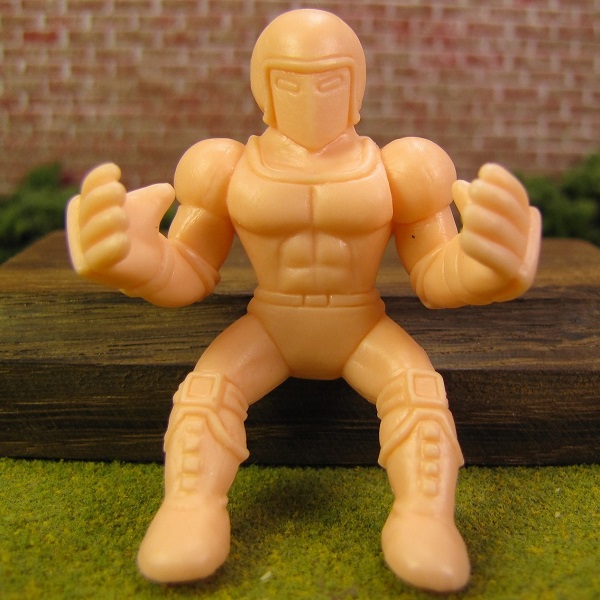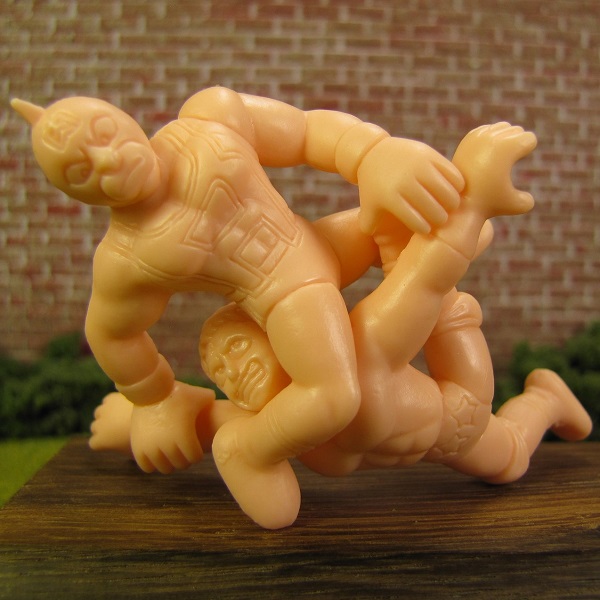 If the smile ruined the last combo, then the faces make this combo.
I have no idea what move is being performed with the combination. I don't care. The face on Kinnikuman is awesome. He looks pissed like I've never seen before. I especially appreciate how it looks like he is staring directly at his opponent. That subtle success might be the reason I like this combination so much.
Kinnikuman's opponent can't be forgotten either. He is also making eye contact (another subtle success) and looks to be genuinely in pain. Terri-Bull could learn from him.
It really surprised me how much I like this combination. It also surprised me how absurd these figures look apart. I could even figure out how to best photograph Kinnikuman's opponent (here's an alternate angle).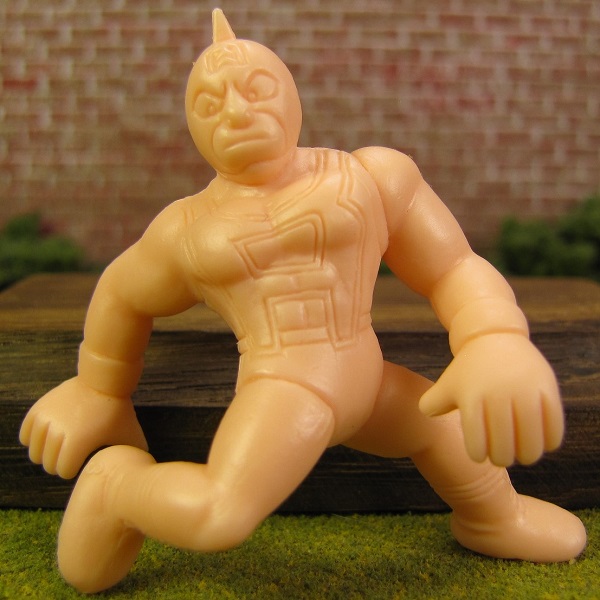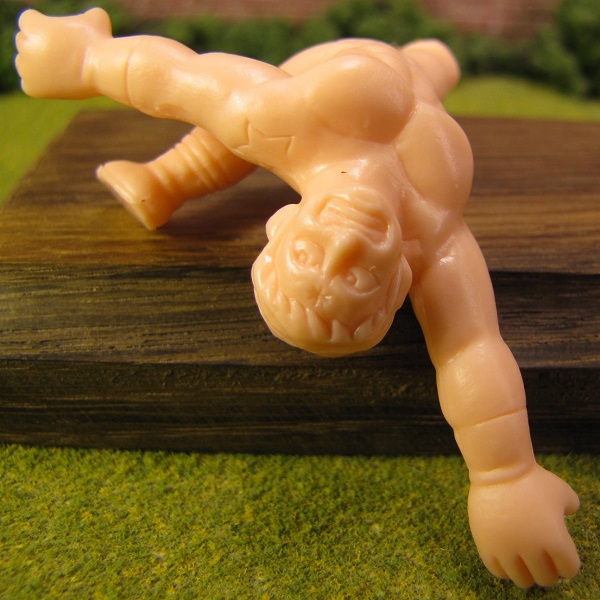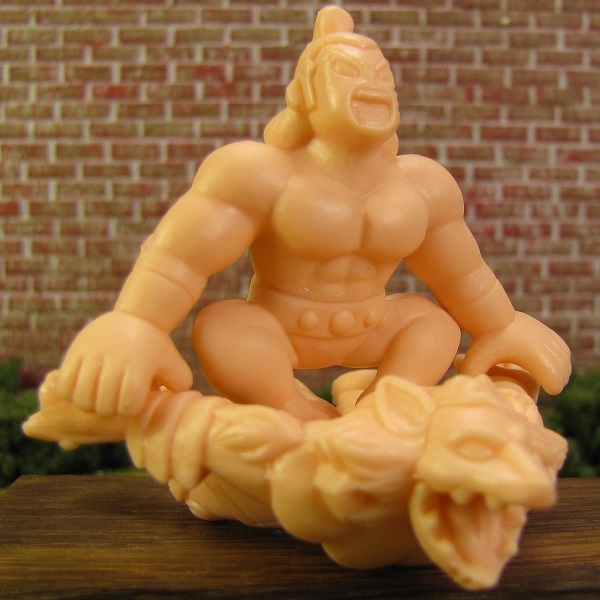 This combination looks pretty cool in the pictures, but the pictures don't do it justice. This figure looks even better in-person.
I'm starting to believe that the secret to two-piece figures isn't as simple as the speed of the move. I think there are lots of pieces and parts that need to come together, but the one that might influence me the most are the faces.
For example, with this combination the move being performed isn't overly exciting. However, both faces create energy and emotion.
The only bummer with his combination is that you don't get to see much of the figure on the bottom. The figure has pretty nice detail, but it's only visible if you stand the figure up.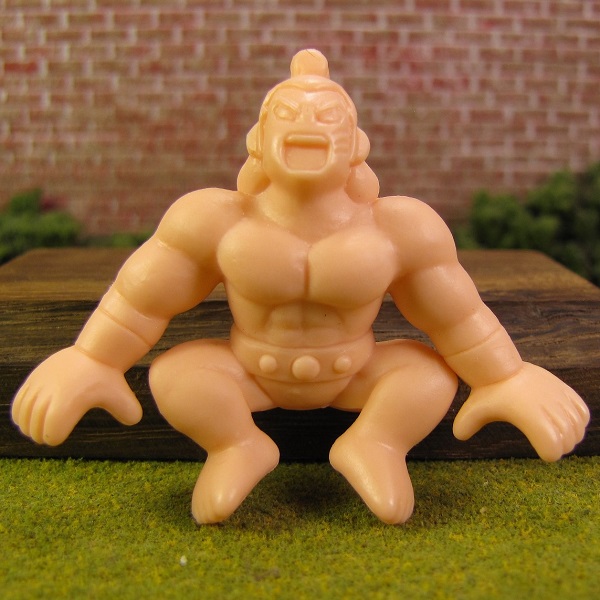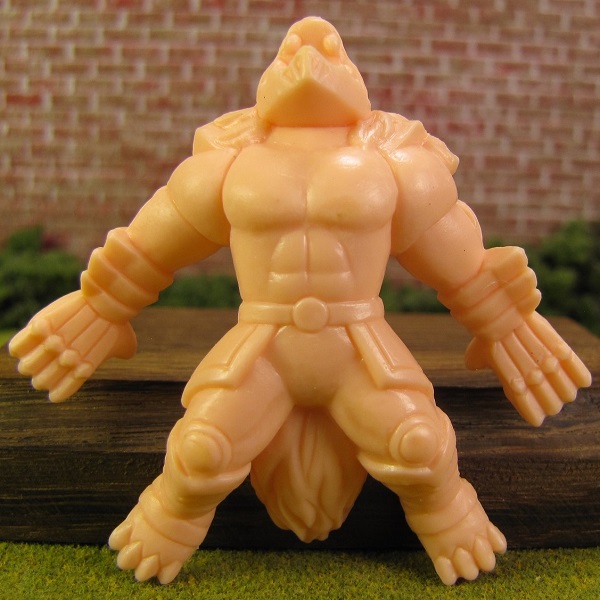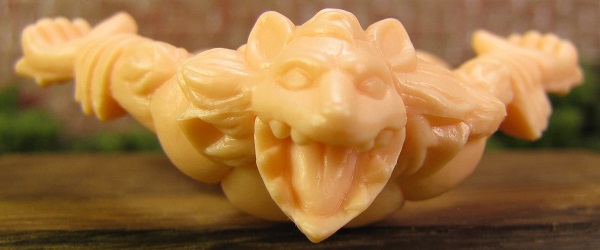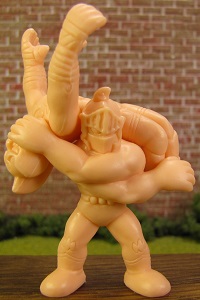 This was another combination that surprised me because it runs counter to almost everything I've said. These figures don't have emotive faces. They aren't in a quick move. The sculpts aren't very detailed.
But none of that mattered. This combination just looks cool.
How cool does it look? I didn't obsess over Robin Mask's arms. When the two characters are together his arms never bothered me. But then I separated the figures and started to wonder if the scale/positioning actually made sense. Who cares? This figures are never going to be displayed apart. Why worry about something like that?
I don't know if the other guy is Kinnikuman or some other dude that looks like him. The figure is positioned so oddly it was difficult to photograph. Obviously you can see the angle I tried first below, but I also tried a second angle. I don't know if it is better, worse, or the same.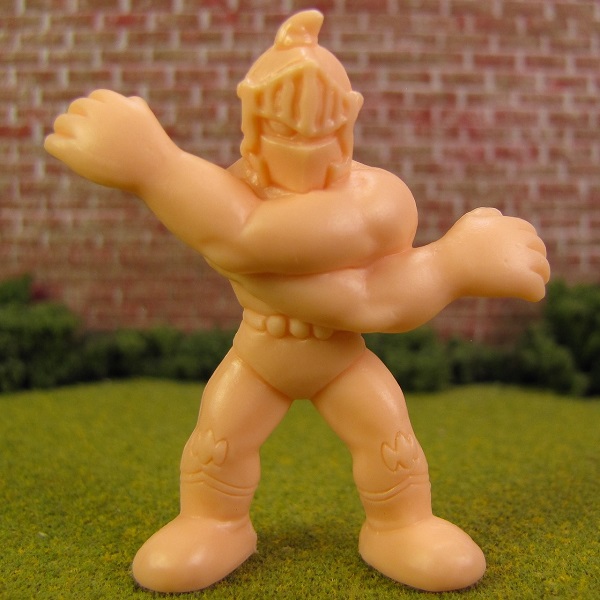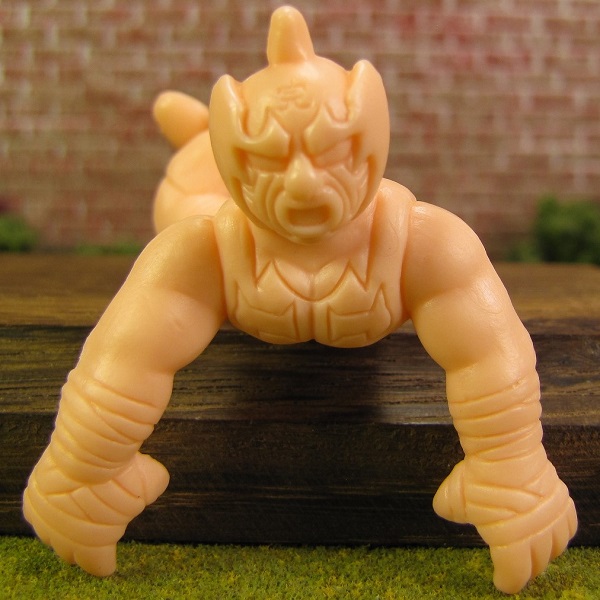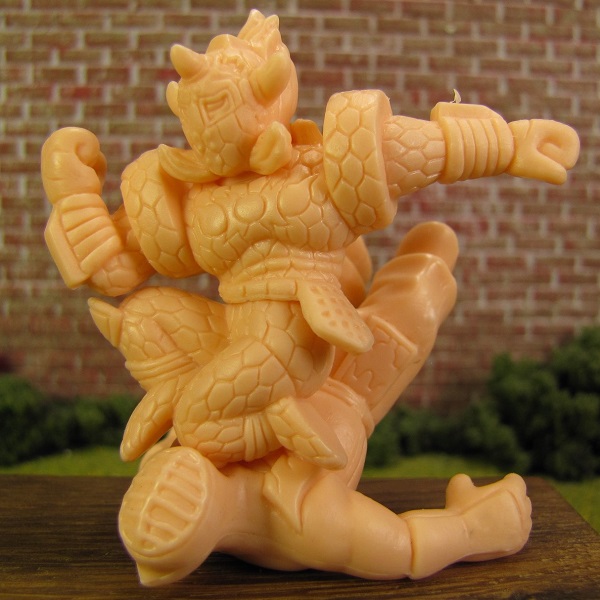 I saved my favorite for last.
If you're like me, then your first thought seeing this combination was, "Hey, haven't we seen this before?"
No. We haven't, but we did see a combination that was pretty darn close. But close only counts in horseshoes and hand grenades. The detailing on the guy dropping the knee is beautiful. This is a sculpt that works alone or together. It really feels like a piece of art.
I also love that Big the Budo (that's his name, right?) has his chest/uniform/whatever cracked open. It looks so cool. I wish there was a better was to display it, because I love that detail.
As a M.U.S.C.L.E. collector, like me, you may have been hesitant to buy the two-piece combinations. If you start with this set, then I promise you won't be disappointed. There are lots of ways to buy this set. My suggestion is Mandarake. I think I spent about $40 and it was worth every penny.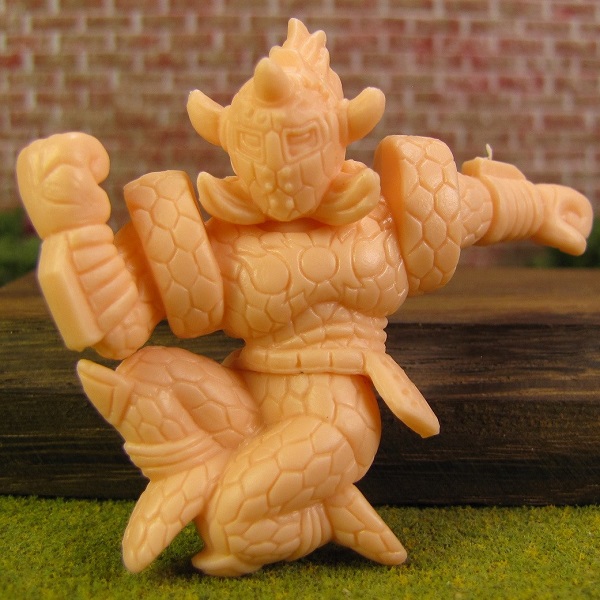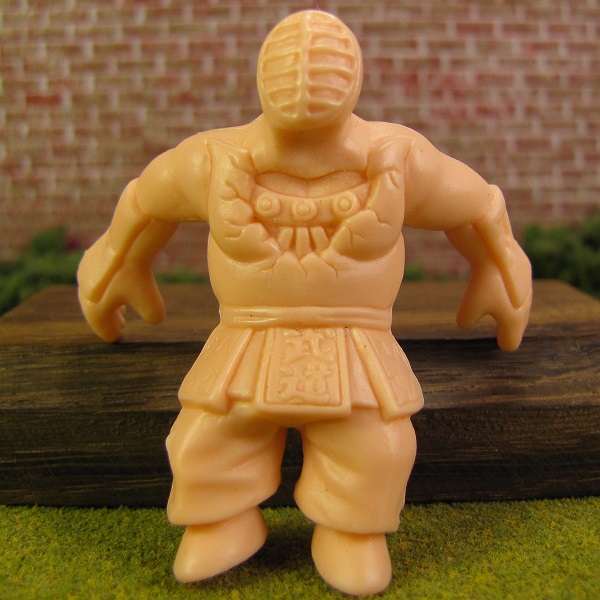 The