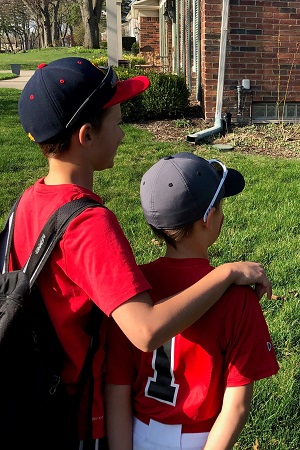 My youngest turned nine years old this week. It is unbelievable. It is even more unbelievable that this website is older than him. I mentioned his birth on the site, and took a short break for 20 days.
He played his first baseball game of the season on his birthday. He's playing "up" so he's playing with 10 and 11 year olds. He's normally cool and calm. If he does get nervous, then he gets quiet. That's why it was a little surprising to see him nervous when he was brought in to pitch. He rushed everything and struggled to throw strikes. Thankfully his league has a six-run mercy rule each inning.
Before he started the next inning I was able to talk to him and calm him down. He went back in and struck out two kids. He came off the field with such a huge smile.
I hope he always remembers that feeling; that smile. I know I will always remember it – especially on his birthday each year.
Nine years from now he will be 18 years old. Wow. I can still clearly remember driving to the hospital that morning for his delivery. It feels like yesterday. I hope the next nine years are as fun as the first nine years.
(This will be great for SUS in 2024.)
If there is a bright side to Auction Watch's indefinite hiatus, then it is having a few eBay things to mention in the Epilogue.
– What a fucking asshole. Seriously, I can't believe this guy. During the past six months eBay shows he has sold two M.U.S.C.L.E. lots, accepting offers below his, basically, $20 asking price. Their conclusion: Try to sell individual figures for $10 or more. How does any idiot come to that conclusion?
– There is a Satan Cross in this lot. I hope you get it for the opening bid.
– When I saw this listing my first thought was, "What are those little cards?"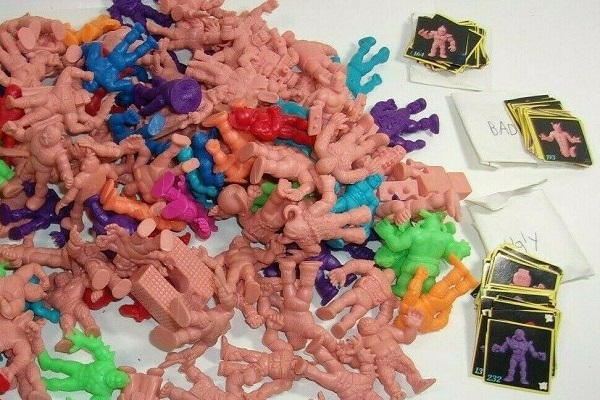 The answer floored me. It is a cut-up poster. I thought, maybe, it was a reproduction poster that had been cut-up, but look under the "cards." There are little envelopes with "Bad" and "Ugly" written on them. I imagine the third one says, "Good." I think a kid cut-up his poster and organized the "cards" into three groups. Adorable.
I would love to have the cut-up poster and envelopes. However, it isn't worth $100. I don't even thin the lot is worth $100. It's kind of a bummer that those cute, little cards and envelopes will probably be thrown away. I wish I could see how they were grouped.
So adorable.
– I need to add quite a few of these Quik figures to the virtual archive. The lot started at $10, which I think is very fair. If I needed to add to my collection, then I might bid. But I don't feel the need to add any to my collection.
– I always love an auction that starts at $0.01. I think this figure from David Healey is especially helpful because I have no sense of what the secondary market looks like for these figures. There's one guy trying to sell a $60 version (and he has two) and a $40 version (again, with two). Those prices seem way too high; absurdly high in my humble opinion. But I don't have anything to point at supporting my perspective.
I don't think custom figures should ever increase in value. There is nothing that prohibits the artist from making more. Plus, other people can make a copy. It wouldn't be terribly cool to do it, but isn't that how the custom M.U.S.C.L.E. market started? New M.U.S.C.L.E. figures weren't being made, so artists stepped in to make new copies – and then it grew from there.
For example, Marty Hansen started by copying M.U.S.C.L.E. figures. Years later he is a part of the Clawshine figure. Today, over eight years later, you can't order the figure. Couldn't a new artist restart the process? The timeline isn't much different than the original M.U.S.C.L.E. release to the first recast figures.
The last Epilogue got us our third AOTW Battle of the Champions Fatal-Four Way Winner.
This week we have four new combatants. Although I want to recognize this guy. Last week he had a Flesh figure for $50. He would have been a dangerous combatant. Unfortunately, he dropped the price to $10. While he's still an asshole; he's lost his competitive edge.
The AOTW #1 was selected for both its terrible price ($449.99 BIN) and it's unattractive assortment. If you want a 10-pack, then this isn't your lot. If you want a 4-pack, then this isn't your lot. This seller either needs to break up the lot or significantly lower the price (but we know that isn't happening).
The AOTW #2 initially was selected for its $32.07 BIN for 10 Flesh figures, but then I noticed the auction title, "…10 FIGURES W/RARE HTF…" and then I read the auction description:
VINTAGE Y/S T N M.U.S.C.L.E. Men 10 Figures Perhaps Some Rare & Htf Kinnikuman Collected & Displayed.

Condition: Preowned, well defined figures, found thes little guys in my good friend's garage, i did a little research on them, got names & numbers. all in very good to excellent condition.
He did the research. Apparently you will also need to do research, because he's not sharing his research.
The AOTW #3 made me audibly snicker when I saw it. The seller has a $29.99 BIN for one empty M.U.S.C.L.E. 10-pack can. These normally sell for about $5. He has five listed. He believes he is going to sell $149.95 worth of empty 10-packs. Wow.
The AOTW #4 almost didn't make the tournament. I thought I had used it before. I was wrong. It had been used in an Auction Watch two years ago. I think that makes the unchanged $649.95 BIN even worse.
Cast your vote and crown this week's AOTW Fatal-Four Way winner. Here are the four combatants:

| | | |
| --- | --- | --- |
| | vs. | |
Remember to cast your vote and crown this week's AOTW Fatal-Four Way winner:
[poll id="74″]
Since discovering that our
ULTIMATE
AOTW Battle of the Champions Fatal-Four Way Winner #1 is still trying to sell her empty box, I like to check in each week.
Twelve weeks ago it had dropped down to $160. Eleven weeks ago the price was $149. She sat firm for a period at $145. Six weeks ago it dropped to $139 and very recently it was dropped to $135.
Wow, she is choosing to sit tight at $135, again, this week.
This is the level-of-asshole it takes to be an ULTIMATE champion.
Amazing. She's one of the greats.