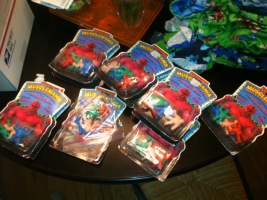 Five years ago the greatest love-letter ever was written to MUSCLEMANIA in MMMM #39. I feel comfortable making that kind of statment because I don't think another love-letter has ever been written. Technically that post is also the worst love-letter ever written.
My feelings are still the same. I love MUSCLEMANIA; it's fun. Every discovery has been fun. Everything about it has been fun. A respected collector once said something like, "You should stop saying you love it before someone ruins it."
Given how M.U.S.C.L.E. crumbled into disarray, it was a fair warning and justifiable fear. The good news (or bad news) is that nobody cared enough about MUSCLEMANIA to ruin it. Nobody will ever care enough to do it.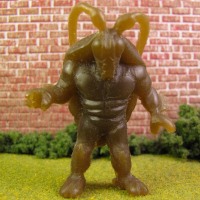 Speaking of love, I loved the Infestors. It probably hurts my reliability to declare my love for two things in a row, but it is true.
My regret with this line of figures is that I didn't properly promote it. I bought the figures, but they ended up on the shelf as the website went into a dark period. I don't think I would have helped them sell a million figures, but I wished I had helped more. I would purchase a new set without any preview or knowledge of the cost.
I might be the only super fan of both MUSCLEMANIA and Infestors.
M.U.S.C.L.E. Figure #203 was published on June 11th, 2014. So was the minor BvS update. This might be one of the handful of times that there was more than one post on a single day.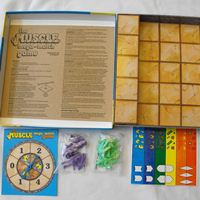 Looking back at AW #155 I wish I knew the price of the game instead of the Dark Blue #92 figure. I'm more curious about that price.
I predict that Class A figures will go the way of the dodo. We'll be able to eliminate Class B and Class A, because it won't matter. There won't be anybody chasing them. There are less and less people chasing the figures everyday.
One Master Set collector, with less than 50 (I forgot the exact number) picked up 15 figures the other day. That's great for him and terrible news for sellers. M.U.S.C.L.E. collectors often talked about the "M.U.S.C.L.E. price bubble bursting." Turns out it isn't the burst we expected; it's a slow and irregular deflating balloon.
I believe we will soon see the elimination of the Class A marketplace. There won't be anybody looking for them, which, by default, eliminates the Class B marketplace too. I imagine that will kill overpriced Class C too, because there won't be any high priced items to use as justification.
But what about the Non-Poster figures?!?!
You know my feelings about that.
Finally, there is the Epilogue. Last week I mentioned how the BvS picture crashed the site. Here's how it looked on my dashboard:


Five years later I still agree with my conclusion: M.U.S.C.L.E. is tiny and you can have a positive influence. Of course, some people like to claim it is "just business." I've heard that claim for years as the justification for underhanded practices. I think if you are using the acquisition of money to justify your behavior/actions with collecting and old toys, then there's a 100% chance you're doing something shady to illegal.
I can't think of a situation that disproves that idea.