Kinkeshi Premium
figures have been released as complete boxed sets (Volumes
1
,
2
,
3
,
4
,
5
,
6
,
7
,
8
, and
9
). Bandai added to the Kinnikuman Kinkeshi Premium figures by releasing a series of figures in vending machines (
Gashapon
). The capsule has a checklist and single sculpt. The main Gashapon series has six sculpts in three colors: (1) Flesh; (2) Blue; and (3) Red. Some sets have painted chase-figures. Some of the sculpts are two-piece, which was a trait of some original Kinnikuman figures. The
first series
,
second series
,
third series
,
fourth series
,
sixth series
,
seventh series
,
eighth series
,
ninth series
,
10th series
, and
11th series
have already been reviewed.
There are also special "best of" sets. These figures follow the same format, but the colors are Flesh, Green, and Clear. The first and second sets of this special "best of" figures have already been reviewed.
Bandai released yet another special set, "Kinnikuman Wazakeshi Premium." This new set features two-piece combinations of characters. The sets contain five two-piece sets. They only color that is available is the original keshi/M.U.S.C.L.E.-flesh color. The first and second volumes have already been reviewed. The most recent special edition from Bandai does not seem to have an overarching title or brand. The most recent set is simply called, "Clan Forces Gathered."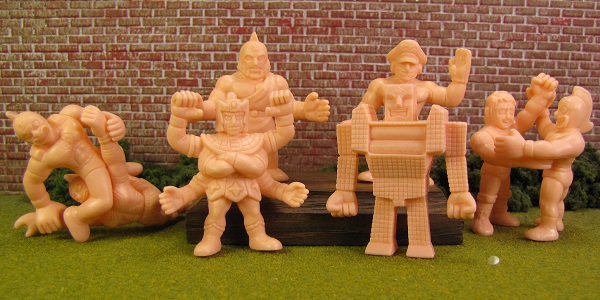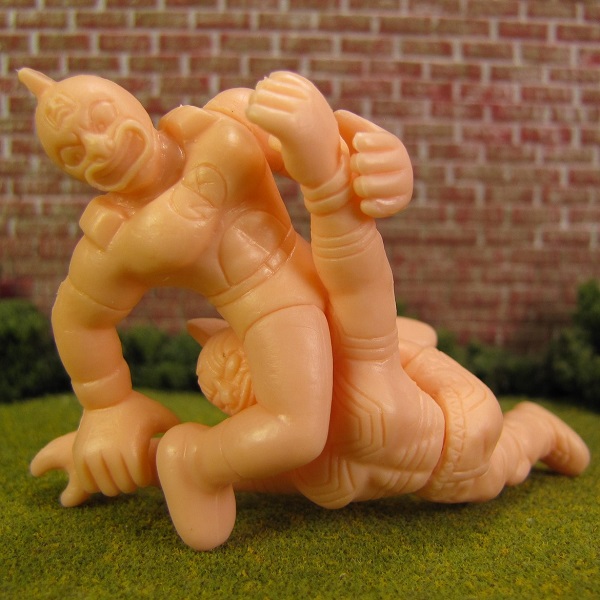 Purchasing these sets, slightly, out of order creates some unique experiences.
For example, for me, I feel like I'm seeing this two-piece combination for the third time.
The first time I saw the combination it was as a part of the second "best of" Gashapon set. I thought it looked ok then, and I don't disagree now. The combination is ok.
The second time was as a part of Wazakeshi Vol. 1 – or so I thought. The two-piece from that set has the same Kinnikuman pose but with Terry instead of himself.
Perhaps this is an quintessential Kinniukman pose. Perhaps fans of the comic can't get enough of it. I don't feel the same way. The figure combination is ok, but, in my opinion, it certainly doesn't deserve three versions.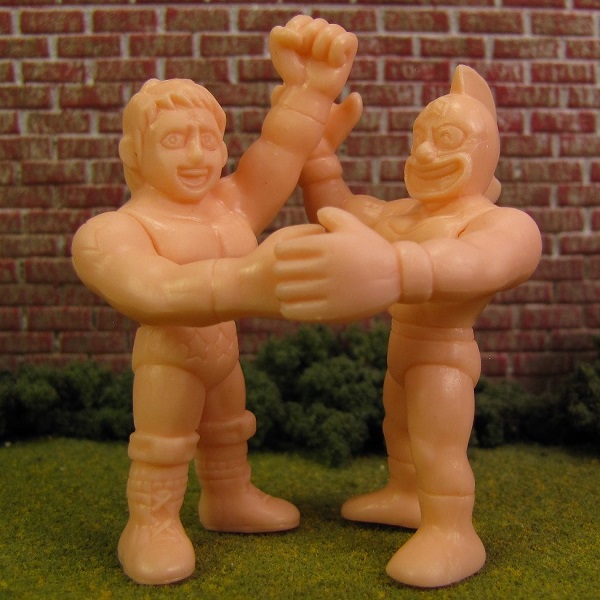 The second two-piece combination reminded me of that MMA/Kinnikuman set that came out several years ago. I didn't look it up, because it might make me feel differently.
Why does that matter? Because it helps me define that difficult to pin-down "M.U.S.C.L.E. feel." The M.U.S.C.L.E. figures of my childhood felt familiar but mysterious. It gave my imagination a firm jumping off point, but I was never "stuck" with a characters story. When I see this combination, it felt too real. It looks like Kinnikuman congratulating a real human fighter. It doesn't look like Terry to me. It looks like a cartoon version of a person.
I fully expect people to disagree with me. I know some people thought the Kinnikuman/MMA sets were cool. I never did.
In fairness, I do appreciate the technical acumen of the two-piece combination. In fact, if they Terry character was an odd, less human choice, then I might be praising the creative posing of characters.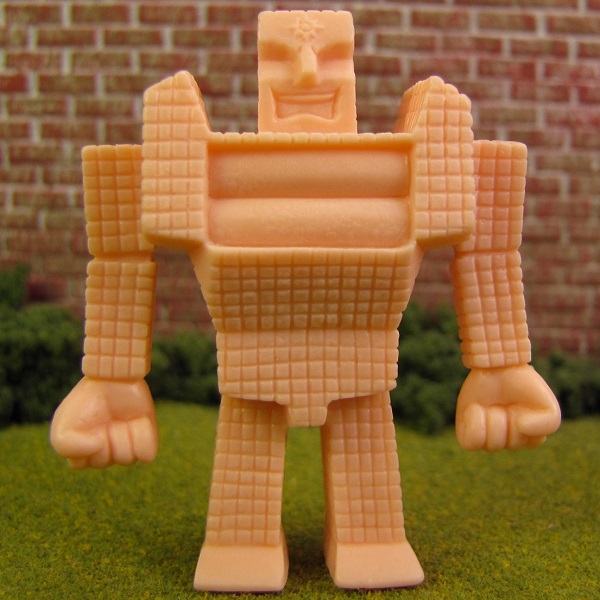 This is the second appearance of this Sunshine figure on this website. However, this is the original version. This figure, like the first two-piece figure, showed up in second "best of" Gashapon set.
I don't have anything different to say.
At first, I also thought that the six-armed Ashuraman was a repeat. It isn't. We've simply seen a fair amount of Ashuraman versions: (1) Vol. 1; (2) Vol. 9; (3) Gashapon #1; (4) the best version in Gashapon #7; (5) Clan Forces; (6) Wazakeshi Vol. 2; and (7) maybe the Chibi version in Vol. 5.
With about the same amount of versions as Akuma Shogun it seems like I should complain. I won't be complaining. Instead, I think the handling of the Ashuraman character is a great example of how to handle repetition. We get different poses; spread out in different sets.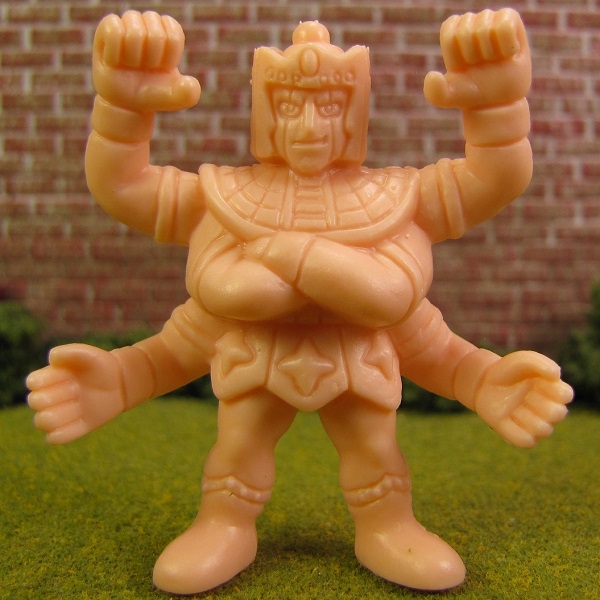 The last two figures cause two distinct and specific reactions: (1) indifference; and (2) dislike.
The Kinniku-looking dude doesn't do much for me. He's fine. Not one of my favorites (they all can't be) nor one of the very few I dislike. The figure is just fine for me.
The second figure, Brocken, is a Nazi. I don't like Nazi toys. That doesn't sound too unreasonable.
I know that in the comic the Nazi changes and becomes a good guy.
Swell. I don't give a shit. I know he's a Nazi toy and I can't move past it. Perhaps not moving past it reflects badly on me. Maybe. I'm ok with it. My soul isn't pained from not granting a Nazi a sympathetic break.
Oh, and this just popped into my head, I hate the booklet displaying down instead of across. I think all the other ones went across. I don't like them going down. Bandai must have felt the same way. I don't think they did it again.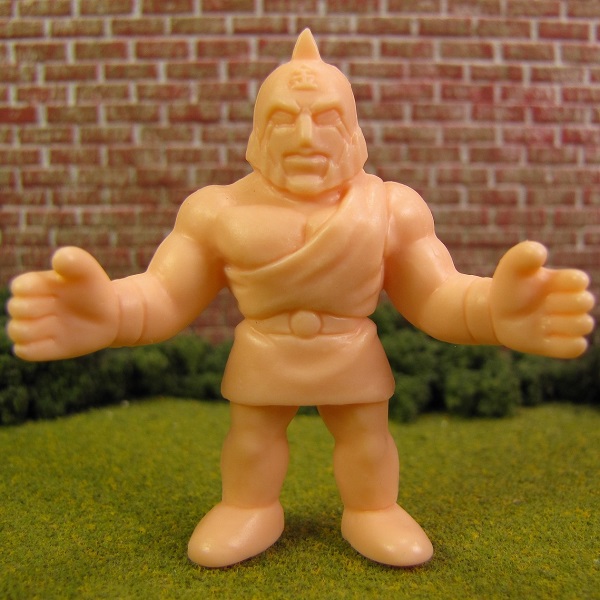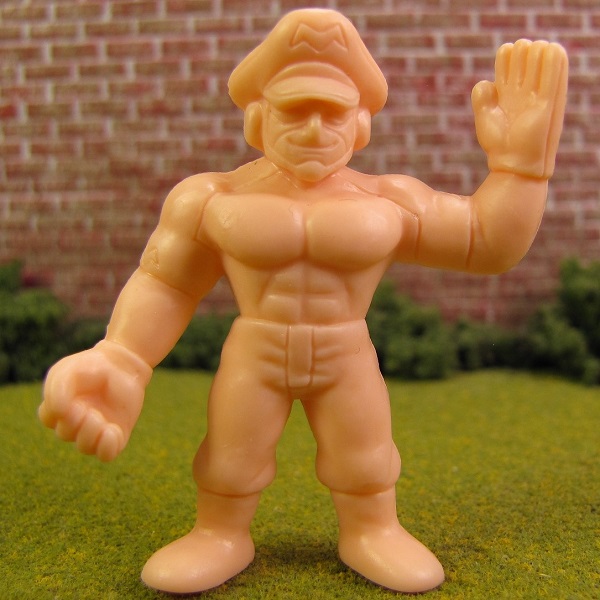 The