The Sunday Paper returns thanks to Peter Vander Haeghe. He sent his write-up to UofMUSCLE@gmail.com and, thankfully for me, he followed the guidelines. Thanks Peter!
Remember the Sunday Paper is open to anybody. If you have a M.U.S.C.L.E. topic/question/rant that you want the world to see, then please feel free to send it in. I know M.U.S.C.L.E. collectors would love an extra day of content.
---
---
My hunt for an "X-2" finally ends
After nineteen years of wanting one, I finally got my very own "X-2" AKA "Futuristic Goalie" figure. I've wanted one ever since I first learned about it while visiting early M.U.S.C.L.E. websites back in 2000. While I was relieved when news broke that it wasn't an actual M.U.S.C.L.E. figure, I still wanted one for my collection. I can't say that I had been actively searching for one for nineteen years, but I would look every now and then while browsing on places like eBay. The search came to an end recently when I spotted a flesh colored one from a seller in Japan at the BIN price of $42.48. Within in fifteen minutes, I made the decision to buy it and it arrived about a week latter. I think the main reason I was able to get it was because Kinnikuman wasn't listed in the title. Instead, it was correctly listed under Ramenman being from the Ramenman spin-off.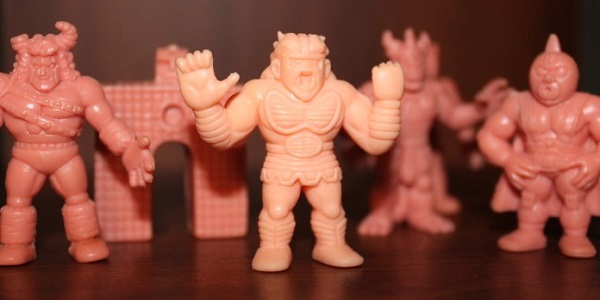 As for the figure itself, it did not disappoint. It's pretty cool. It's nicely sculpted and detailed. After learning a little bit about the character like the Japanese characters for his name, I was able to do some research and spotted pictures of yellow ones. So far, I'm aware that the figure came in orange, green, yellow, and flesh. Also, I saw images of the character in a comic and it got me to watch bits of the Ramenman animation subbed, which is great.
As of now, my X-2 is kept in the flat box I store my full set of flesh M.U.S.C.L.E. figures in. The figure has been long since discredited as a M.U.S.C.L.E., but he still sort of feels like one to me.

---
---
Thanks again Peter!
If you're feeling inspired, then please sent in your article and pictures to UofMUSCLE@gmail.com.