The Sunday Paper is being published back-to-back weeks thanks to Keith Seminerio. He sent his write-up to UofMUSCLE@gmail.com and, thankfully for me, he followed the guidelines. Thanks Keith!
Remember the Sunday Paper is open to anybody. If you have a M.U.S.C.L.E. topic/question/rant that you want the world to see, then please feel free to send it in. I know M.U.S.C.L.E. collectors would love an extra day of content.
---
---
M.U.S.C.L.E. Spans Three Generations
My younger brother and I were rabid M.U.S.C.L.E. fans during their initial run in the 80s. We would often stage WrestleManias in our living room, having various figures lose and gain the Heavyweight, Intercontinental, and Tag Team Titles.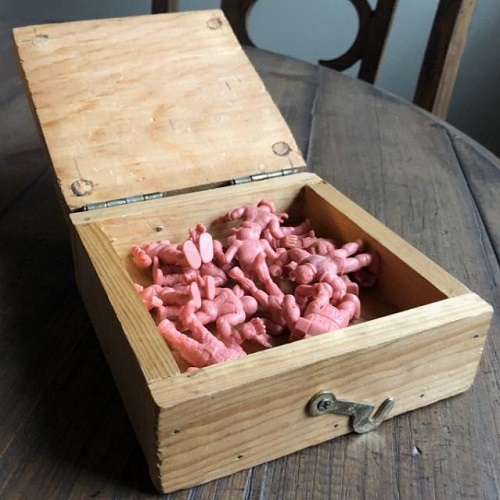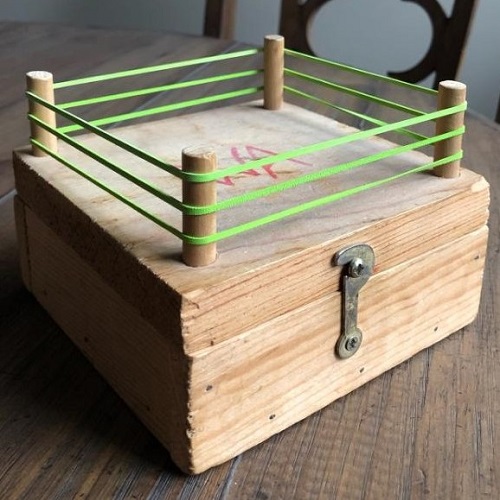 I remember getting the Hard Knockin' Rockin' Ring and enjoying it, however, you couldn't perform predetermined, choreographed matches with it. Upon hearing our displeasure, my father (who has always been a pretty competent woodworker) devised a remedy; he crafted a wrestling ring for us to carry out our battles in. It was a sturdy wooden one with dowels for posts and simple rubber bands for ropes. But the best part was that it also doubled as a box to store our M.U.S.C.L.E. figures in. You can see in the photo (the ring with the green ropes) that the compartment held roughly 10-15 figures, and a hook clasp ensured that it closed securely. My brother is the current keeper of this ring and all the figures still in it are our originals.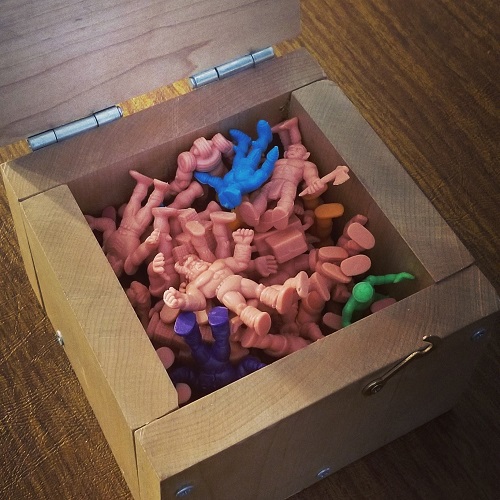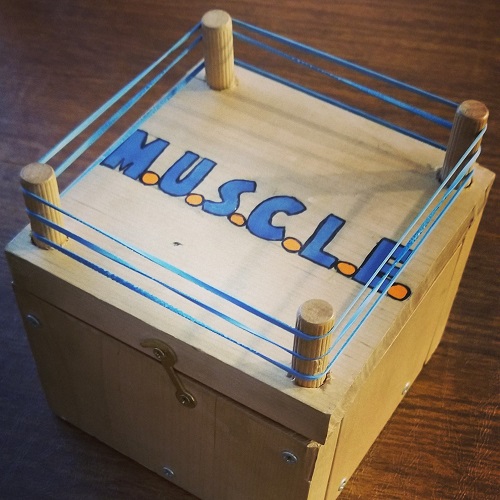 Fast forward 30 years later, with my own son being six/seven years old. I had proudly gotten him into M.U.S.C.L.E., and he had collected a number of his own. I wanted him to have as neat a container for them as my brother and I did, so I decided to make my own version of a ring for him. I modelled it after my father's with one difference: I would make the compartment of it substantially larger to hold more figures. You can see from the photos that the ring stands taller than the original therefore more figures can be stored inside (about 40). For my son's ring, I opted to keep the wood natural, like my father's, but painted "M.U.S.C.L.E." on the apron. In addition, I sawed small slits in the outside of the posts to prevent the rubber bands from slipping up and down the dowels.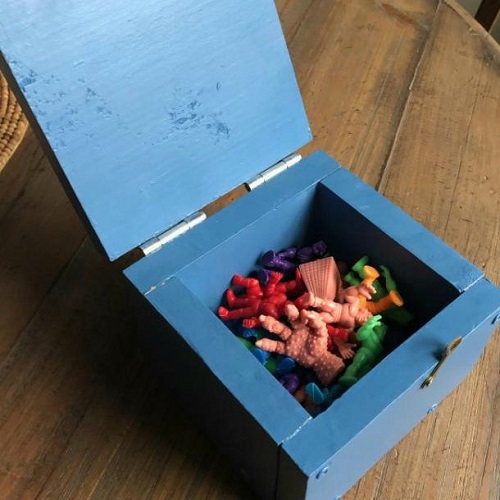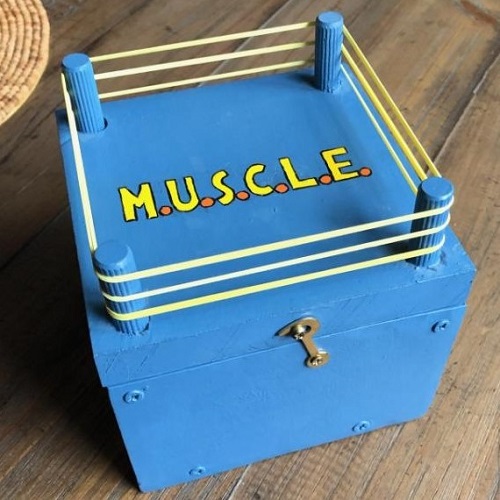 Upon seeing this new ring, my brother was impressed. He really liked how I had enlarged the design from the original and how I had made it thicker and more robust. So, I decided that I would make one to give him that Christmas! As you can see, I painted this ring a nice blue, used yellow rubber bands, and painted "M.U.S.C.L.E." in yellow. My goal was to have it resemble the packaging of a 4-pack and I think that comes across well. Needless to say, my brother loved it when he opened it on Christmas, and now it resides on a prominent shelf next to my father's.
As for my son's ring, he and I devised a game to play with it. Each of us have a certain number of figures, and a player can take an opponent's figure by catapulting their own off the ropes and knocking over their opponent's. There are also additional rules not worth getting into here.
I smile when I think about how three generations have been involved with my favorite toyline. However, ironically, I currently don't have a homemade ring for myself!

---
---
Thanks again Keith!
If you're feeling inspired, then please sent in your article and pictures to UofMUSCLE@gmail.com.