Auction Watch #294
has two stories to follow-up on.
The first is the SHA and Wesley story. It seems timely because, yet again, a similar thing happened.
I want to be clear. I hate all the scams and shenanigans we see collecting M.U.S.C.L.E. figures – but I understand it. These vultures are motivated by greed, hubris, compulsion, self-indulgence, and/or some other terrible combination of horrible traits.
Screwing up someone else's done-deal, because you can't have it, seems somehow worse. Maybe it's worse because the details never come out? People can hide; screw things up; and secretly slink away. Maybe it's not worse? I don't know. It's, at least, as bad as some of the worst scams we have seen.
In Wesley's case, he told me he wasn't doing that. He said: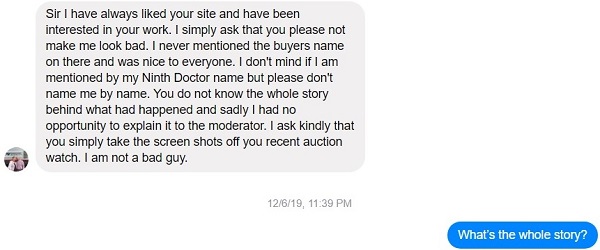 So far I hadn't heard anything new. It simply sounded like the NinthDoctor was embarrassed he got caught. I asked for the rest of the story.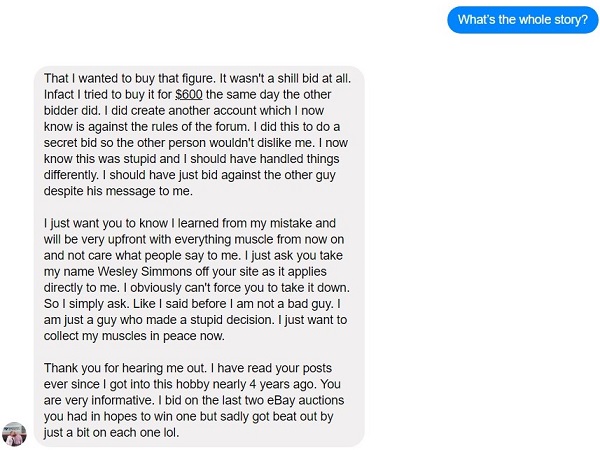 The only thing I have heard more than "I learned my lesson" after someone gets caught in the middle of shenanigans is "it wasn't a scam at all!" In my experience, grown men collecting, and dealing with, tiny pieces of plastic from the mid-80's never change their spots.
The second story is the Green #168 sale. It sold for $43.50. I don't care about the price.
Well, that's not 100% accurate. I was curious about the price, but I was more curious about the number of bidders. There were three bidders. I have already said why I believe M.U.S.C.L.E. prices are going to drop. I think watching the number of bidders will be a better marketplace indicator than the sale price.
Let's face it. Two lunatics can still invoke the M.U.S.C.L.E. Rule of Two (MRT) and create a crazy final price.
As I was preparing this AW I already had Class A bidders on my brain. Then I saw nnnickg had Class A figures for sale. This seller had already sold some Class A figures.
Before we get to the current figures the seller has listed, I wanted to look at the previous Class A listings. I was curious about the price, but far more curious about the number of bidders.
What is your takeaway? Mine is that not many people care about Class A figures. The ones that do care; seem to be the same handful of bidders. And as people acquire these figures, there will be less and less people looking for them.
I'm telling you guys; prices are dropping. Dare I even suggest we're near a free fall?
Before I suggest that, let's see what nnnickg is currently trying to sell. He has six Class A figures and all start at, basically, $38.
Again, the number of bidders will be of most interest to me. The MRT will likely decide most of the prices because, I expect, only a handful of bidders for these figures. Because of that, I won't even guess final prices.
However, I will say that the #165 won't sell. A Class A #165, that started at $0.99, only sold for $10.50 in August. I think we have witnessed a Class A figure lose it's 'collectibility' (for lack of a better word). The only people that will pay for this figure is a #165 super-fan (which, I'm pretty sure doesn't exist) or a collector that wants to own at least one Class A figure. That latter buyer probably doesn't want to spend $38 to do it.