For better or worse, I have had a lot of time at home lately. It has forced me to change, confront, and juggle things like never before. And it isn't all bad.
On the M.U.S.C.L.E. front I've been snapping pictures, starting experiments, and putting together an interesting expose (although I have slacked a little on that; back at it this week).
Being at home has also allowed me to confront some never-touched or abandoned M.U.S.C.L.E. projects. Obviously, that leads to the question, "Should I tackle them?"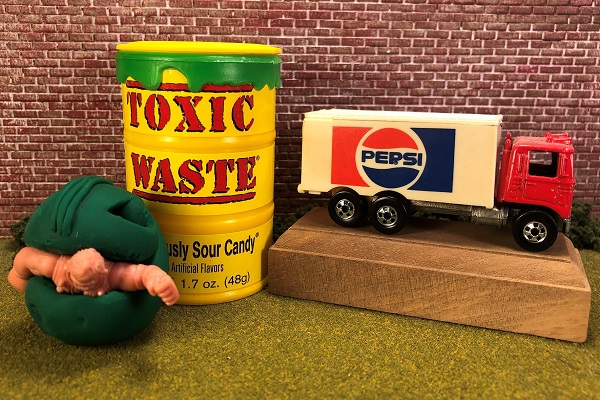 There are four potential projects to the right: (1) the custom figure; (2) the custom mini 10-pack; (3) another custom Hauler; and (4) a better figure stand.
I'll work backwards from that list. I know I'm not making a better figure stand. When I started this website I went to Michigan Toy Solider and bought four wooden stands, plus the brick wall background and paints. You can see the two pre-stained stands in pictures like this one. The lighter stand to the right was purchased because I had delusions of grandeur. I thought I might paint it, put a logo on it, and maybe even interchangeable figure numbers. That shit is not happening. Full stop.
I wouldn't mind working on the Hauler. I just don't think I have any paint. I also bought a newer Hauler too. I thought it might be fun to do both of those. Maybe even with my boys? I'll put those odds at 50/50.
The mini 10-pack was an idea I had for packaging the Dr. M.U.S.C.L.E. figure. My boys were obsessed with that candy and we kept buying those little trash cans. Stripping of the stickers and putting on a Dr. M.U.S.C.L.E. sticker seemed cool. I even imagined buying some shrink-wrap to really give it that 10-pack feeling.
Finally there is one of the two custom M.U.S.C.L.E. figures I ever attempted to "sculpt." I liked the idea of creatures eating M.U.S.C.L.E. figures. It seemed like a cool way to reuse pieces and parts of M.U.S.C.L.E. figures I couldn't bring myself to throwaway. Sadly, I lack any discernible sculpting skills.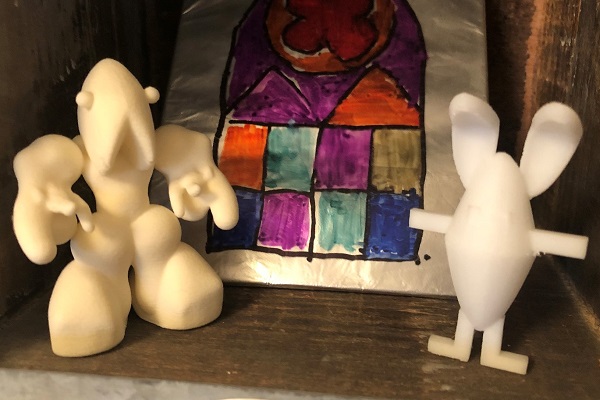 With the realization I lacked sculpting skills I thought my custom days were over. They probably should have been over. Instead I tried to make another figure with Sculptris.
That figure ignited the smallest glimmer of hope and I tried again. I never shared the second effort, which is the Battle Beast-like looking guy to the left. It was an improvement, but his size really bummed me out. I thought he was going to be, at least, half that size.
With a second failure, and about 10,000 things taking precedence, I never tried to make another figure.
However, as my oldest got a little older he found my second failure. He actually liked it. He put it up in our "art room." To my utter and complete surprise, he was inspired by it. He had a 3D printing/sculpting class at school. He wanted to make a figure like his Dad's.
I think he did a much better job and he was only…9 or 10 (I'm not 100% sure).
Even if that figure had sucked as bad as mine (c'mon, he is related to me), I would have been blown away. It always amazes me how we unknowingly influence our kids – or other people. There were real M.U.S.C.L.E. artists influencing me, which then influenced my son.
So thank you to all the minifigure artists that tricked me into thinking I had any talent to share. You helped me to be a better dad – even if I didn't know it. Maybe me and the boys will tackle some of these projects.
Or come up with new ones.