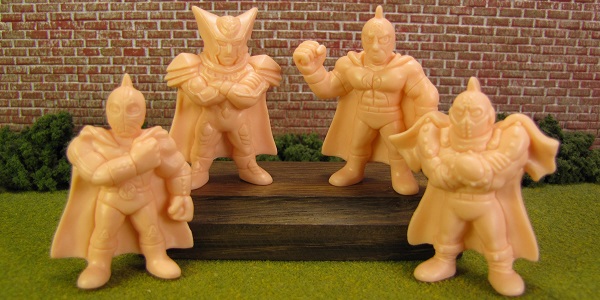 The Kinkeshi Premium figures have been released as complete boxed sets (Volumes 1, 2, 3, 4, 5, 6, 7, 8, 9, and 10). Bandai added to the Kinnikuman Kinkeshi Premium figures by releasing a series of figures in vending machines (Gashapon). The capsule has a checklist and single sculpt. The main Gashapon series has six sculpts in three colors: (1) Flesh; (2) Blue; and (3) Red. Some sets have painted chase-figures. Some of the sculpts are two-piece, which was a trait of some original Kinnikuman figures. The first series, second series, third series, fourth series, fifth series, sixth series, seventh series, eighth series, ninth series, 10th series, 11th series, 12th series, 13th series, and 14th series have already been reviewed.
There are also special "best of" sets. These figures follow the same format, but the colors are Flesh, Green, and Clear. The first and second sets of this special "best of" figures have already been reviewed.
Bandai released yet another special set, "Kinnikuman Wazakeshi Premium." This new set features two-piece combinations of characters. The sets contain five two-piece sets. They only color that is available is the original keshi/M.U.S.C.L.E.-flesh color. The first and second volumes have already been reviewed. The most recent special edition from Bandai does not seem to have an overarching title or brand. The most recent set is simply called, "Clan Forces Gathered."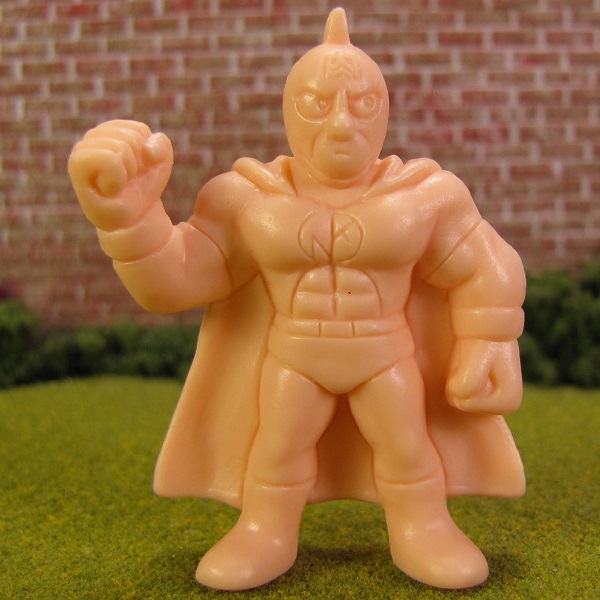 I have recently been suggesting (e.g., Gashapon #14) that these sets have figures that fall into one of three groups: (1) figures I love – 50%; (2) figures I accept – 33%; and (3) figures that confuse me – 17%.
Maybe this equation works with past sets. Maybe the equation only works for the Gashapon figures. It does not work with this set.
I should admit, I buy these sets blind. Sometimes an image(s) might come across my screen, but normally I simply buy the set as soon as one is available. This is the first time I regret it.
This is the arms folded set…of characters we have seen many, many times.
Hardcore Kinnikuman fans will probably explain that these poses are from a famous panel, story, or moment. I am very happy for those hardcore Kinnikuman fans. For me, it is disappointing.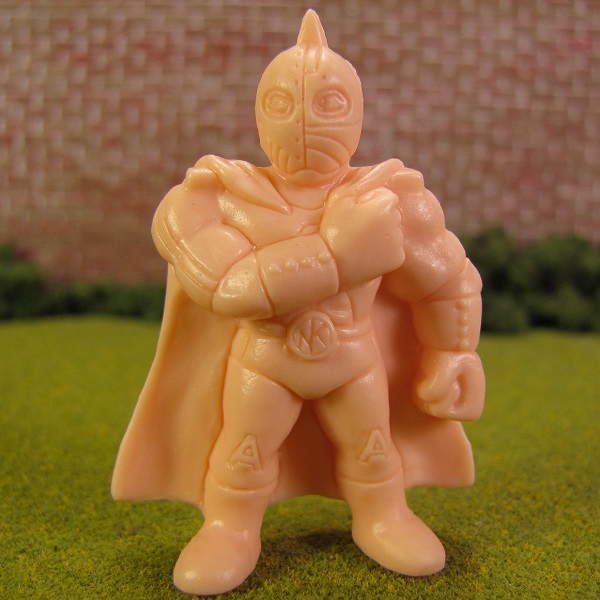 When I opened the box my first thought was, "What am I going to photograph?"
With previous boxed sets I highlighted the figures that felt like new M.U.S.C.L.E. figures. I largely skipped the figures that were very similar re-sculpts.
This set had some of the newer figures…with their arms crossed. It was underwhelming.
I don't hate the sculpts. I don't hate the set. I just didn't need this one.
In the end I grabbed the four figures from that set that looked the best or felt most original. Sadly, I don't have anything more to say about them. These are, in my opinion, the best of this set.
As a M.U.S.C.L.E. fan I would 100% endorse tracking down all of the other sets Bandai has made available. Even if you don't like every figure there will be one that justifies the price. Not with this set.