I couldn't wait for the results from the last AOTW match-up. The winner became our final combatant in the 3rd ULTIMATE AOTW Battle of the Champions Fatal-Four Way.
The quarantine, and lack of new entertainment, has nothing to do with my excitement. These ULTIMATE AOTW Battle of the Champions Fatal-Four Ways are so fun. It takes so long to finally get the combatants, but it's a battle of the absolute best.
You can click each winner to see the week they won and get a little bit more information. I don't think you'll need it this time. These assholes speak for themselves.
Cast your vote and crown the next 3rd ULTIMATE AOTW Battle of the Champions Fatal-Four Way winner. Here are the four combatants:

| | | |
| --- | --- | --- |
| | vs. | |
Remember to cast your vote and crown this week's ULTIMATE AOTW Battle of the Champions Fatal-Four Way winner:
[poll id="106″]
– Forget nurses, doctors, police, and essential employees; sellers like this one are the real heroes.
– Thank you for your service.
– ♫ ♫ You could be my hero… ♫ ♫
Ok. Joke hammered.
Wait. One more.
– The Greatest American Hero. (Make sure you get the protection plan too.)
Ok, now I'm done.
– How do you confuse this figure with this figure? Seriously.
– All those pen marks and it still has a bid?!?!
– Started a little high, but good lots sell.
– Are lots coming back?
– What's worse? The price or not getting all the figures in one picture?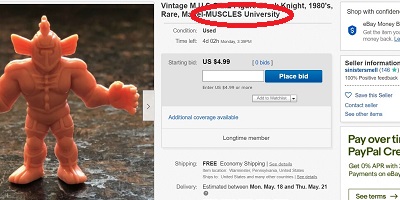 – Future AOTW.
– But she will lose to herself.
– Great lot. Started at $1.
– If this lot was $0.68 cheaper…
– Vintage M.U.S.C.L.E Figure-Black Knight, 1980's, Rare, Mattel-MUSCLES University
Umm…what?
I want to imagine the seller is keyword spamming. I really want to believe they think "MUSCLES University" will help them sell the figure. But I don't think that's the case.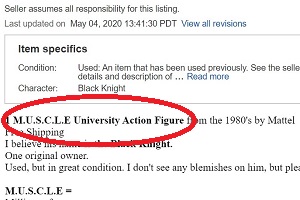 We may have found the most idiotic person on the planet.
Some people say I'm too negative. I would argue I'm more pragmatic, but I hear the note. I've always struggled to find more "positive" M.U.S.C.L.E. stories. They are surprisingly difficult to find. But I've mentioned LittleRubberGuys.com and M.U.S.C.L.E. Collectors (on Facebook) a few times recently.
I have always directed people to LRG. More recently I've enjoyed the activity that I see on the Facebook group. Those are the two places to find good deals with like-minded collectors. What did my 5 minute search on each site turn up?
On Facebook I saw: (1) a person selling figures for $1; (2) a person looking to trade figures; and (3) another person also looking to trade.
On LRG I saw: (1) a seller adjusting his pricing was someone politely said it was a bit high; (2) someone looking to trade; and (3) another person also looking to trade.
That was five minutes of passive searching. Imagine what could happen by participating in those communities. You'd never have to go back to eBay.
That's not true. You'd just get to avoid the shittiest, greediest sellers.