Posts Tagged Battlin' Belt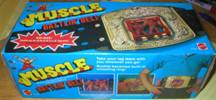 Surprisingly, this is the first time the M.U.S.C.L.E. Battlin' Belt has been featured as an Auction Watch item. This Battlin' Belt auction seems like an ideal debut.

The only completely original item produced by Mattel for M.U.S.C.L.E. was a carrying case shaped like a championship wrestling belt. The Battlin' Belt was positioned as both a carrying case and a wrestling ring. The design of the belt was filled with rather questionable choices.