Every Wednesday or whenever something funny, unique, and/or interesting pops up, the University of M.U.S.C.L.E. will take a look and offer some commentary.
The first auction to watch is from the best M.U.S.C.L.E./Kinnikuman seller in the world, his eBay name is littlerubberguys and he is the proprietor of both the LittleRubberGuys Online Toy Story and the LittleRubberGuys message board – which happens to be the best message board in the world for M.U.S.C.L.E. and other little figures.
Here he has a complete set of Flesh M.U.S.C.L.E. figures, plus the two figures from the Hard Knockin' Wrestlin' Ring. He is simply the best person in the world to buy M.U.S.C.L.E. and Kinnikuman items from. They are always top quality and he is simply one of the nicest and easiest to deal with people in the world.
This auction is also the template for effectively selling M.U.S.C.L.E. figures. There are clear pictures of every figure, plus an honest assessment of their condition. Additionally the word rare has not been used as the adjective to describe every noun – a common annoyance with many unscrupulous and unknowing sellers.
Plus, there isn't a ridiculous shipping/handling charge. And finally, he openly shares his reserve price of $170 – which works out to $0.72 per figure.
While the UofM likes to encourage people to hunt, trade, build relationships, and enjoy the process as much as, if not more than, the product it is hard to argue with this auction – 235 Flesh M.U.S.C.L.E. figures from the most reputable seller in the world.
This is the ideal auction for either the impatient collector with a need for instant gratification or the ultimate gift giver of a M.U.S.C.L.E. collector.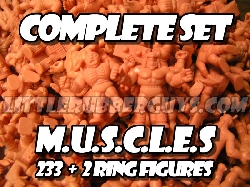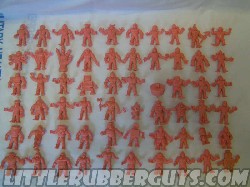 Follow-Up: This item did not sell. The price only hit $80 and the reserve had been set at $170. It was relisted.