I wish Terry had named this feature "Top Three Thursday." It would have been so much easier. It also would have paired better with minifigures – you know, because minifigures aren't as big a normal action figures. A Top Ten is the norm, so a Top Three would have been the mini-version. Fuck it.
It's my website. Let's try it. This week is Top Three Thursday.
Of course, the week I decide to do it – my idea is already sketched out for ten. And that list isn't as good with three choices. Ok creativity…what do you have?
Top Three Favorite M.U.S.C.L.E. Discoveries (That Weren't Really M.U.S.C.L.E.)
This is a perfect format for this specific topic, because I don't think I could have pulled ten of these examples together. Since the beginning of this website I've tried to capture everything M.U.S.C.L.E.-related in one place. Sometimes those "M.U.S.C.L.E. things" are not Mattel products nor a topic that fits into a perfect category. I happen to love those discoveries.
Listed below are my three favorite M.U.S.C.L.E. discoveries that aren't really M.U.S.C.L.E. items.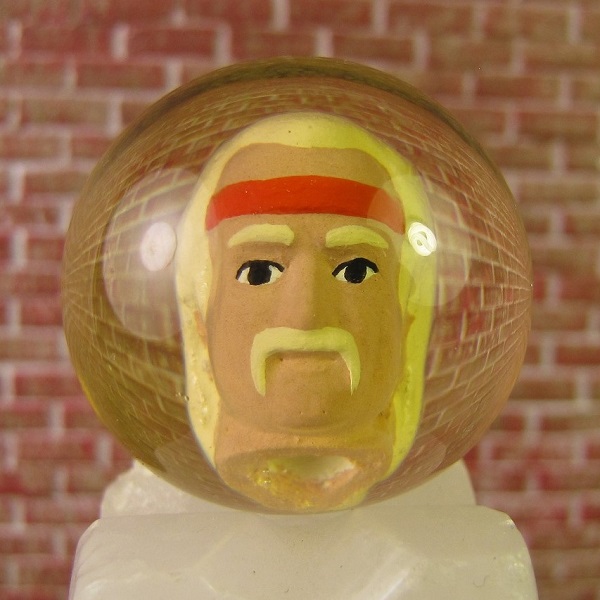 Collectors have always imagined what was happening at Mattel during the time of M.U.S.C.L.E. figures. I have been lucky enough to talk to several people that were actually there during that time. But, without question, my favorite conversation was with Stan Resnicoff.
I went on to read his book. And I was left with my best understanding of the culture of Mattel at the time. Years of stories coalesced into a much clearer picture in my mind. And, of course, the Body Building was the cherry on top.
But the Marbleheads story might be the most important part. It shows how projects lived and died at Mattel. A bent pipe sunk the Marbleheads brand. That's it. That was the killing blow. If it was that easy to kill a brand, then M.U.S.C.L.E. must have been a no-brainer at the time.
That's why I love my little Hulk Hogan marble so much. It's a reminder of my M.U.S.C.L.E. conversation with Stan, but it's more than that too me. It is a reminder to enjoy things. It reminds me of the fragility and temporary nature of things – whether it is a brand of toys or something greater. Yes, a marble does that for me.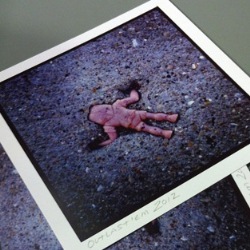 If the marble reminds me of fragility, then this print reminds me of resilience. It also makes me laugh when I think of collectors worrying about the condition of their figures. This M.U.S.C.L.E. figure is surviving in Chicagoland pavement.
I originally shared this discovery in AW #114. And I bought one too.
Somebody tipped me off to it, but I can't remember who. That's the only piece of data I have forgotten. I even remember a guy named Teddy, from Comikazeexpo.com, reaching out about the print. I found Sara's original Instagram post and it made this feel even more ancient.
Did anybody else order one of these? Did anybody else even care? I don't know the answers to either of those questions, but it doesn't matter. This print will always be one of my favorite M.U.S.C.L.E.-adjacent oddities.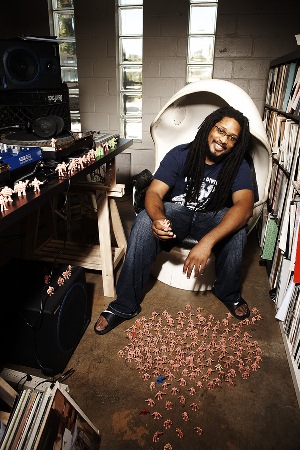 #3 – Fans, Not Collectors
The most cynical reader could suggest Sara's print also belongs in this section. I don't think so. In her case M.U.S.C.L.E. made an unexpected appearance in her life, and she captured that moment. With these two guys, M.U.S.C.L.E. influenced their lives and art – but didn't make them insane collectors like us.
The first example of this phenomenon is Curt Jackson. Apparently I discovered the Creatives Project the year it started. The only logical conclusion is my post in 2011 was the pushed needed for them to succeed. 😂
I loved talking with Curt because he was a guy following his passions, but had a specific passion for M.U.S.C.L.E. figures. While he never said it this way, I always felt like he was the first person to say, "I love M.U.S.C.L.E. figures, but I love my M.U.S.C.L.E. figures and memories."
I can't pretend this single conversation changed my perspective on M.U.S.C.L.E. collecting. But it was a piece of the puzzle. It can be too easy to become insulated and shut off from other M.U.S.C.L.E. fans. It can create a very narrow view of loving M.U.S.C.L.E. stuff. These types of interactions are invaluable to me.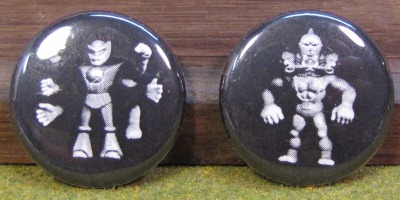 The second example of this phenomenon is Ryan Griffin. Again, just awesome talking to someone that loves M.U.S.C.L.E., but isn't obsessed with it or ingrained in the "community." (I was going to say "toxic, sludge pond.")
My best friend actually attended Ryan's grad show thesis project at Cranbrook. He said, obviously, it was really cool. That is how I ended up with the buttons and CD. Having such a cool M.U.S.C.L.E. moment so close to my house, and not being there, is certainly a regret. Had I been there I probably would have wildly overspent on buttons and CDs. Maybe it was for the best?
Literally decades ago I asked if M.U.S.C.L.E. was a guaranteed burnout hobby. At the time there were lots of thoughtful answers. Today, I feel 100% confident saying the answer is, "Yes." At some point you stop collecting, and routinely talking about M.U.S.C.L.E., and just become a M.U.S.C.L.E. fan. And that's fine.
Unless the M.U.S.C.L.E. treasures you are looking for change. I'm not talking about Romandos or original keshi. I am talking about all the stuff I've already mentioned plus: childhood M.U.S.C.L.E. pictures, M.U.S.C.L.E. stickers, and/or newspaper advertisements. There's no complete list. It's just opening your eyes to all the other M.U.S.C.L.E. stuff out there that isn't exactly M.U.S.C.L.E. stuff.