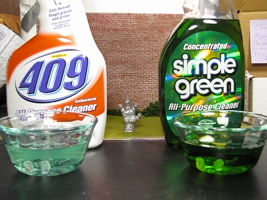 The somewhat infamous cleaning of the Purple Claw (#153) has been on-hold for almost exactly two years. A central cleaning techniques resource within the University of M.U.S.C.L.E. has also been missing.
The good news is that both projects are underway. Before attempting to clean the Purple Claw I wanted to have one more, semi-scientific, beta test with two cleaning products. This would allow me to uncover the better cleaning solution, in addition to completing a "cleaning test." More information about the cleaning will be forthcoming in another post.
The last hurdle is organizing the projects. "Cleaning Figures" could be filed under Archeology, but it doesn't feel like the best fit.
Another option could be Environmental Sciences. It's a little closer as a course, because many Environmental courses are about how humans impact the world (in this case M.U.S.C.L.E.) and even about the clean-up and restoration of Earth (again, in this case – M.U.S.C.L.E.).
The organization could look something like this:
ENVS 100 – Basic Cleaning Techniques
ENVS 200 – The Purple Claw Project
Or ENVS 200 could be "Advanced Cleaning Techniques" where more intrusive/harsh methods are used and the Purple Claw project would be a part of ENVS 200.
Feel free to vote and leave comments below. Thank you all in advance for your feedback!